Nissui products are Made Only at Nissui-Authorized Factories
Nissui handles everything from the access to marine resources to the processing of finished products, yet it only has one mission: to offer customers safe and tasty foods and products. The ability to guarantee food safety is the bedrock of and ultimate priority for companies in the food industry.
The plant operators themselves likewise work to maintain and improve quality at their plants. Inspections and traces are conducted on materials and products, and processes in plant operations are managed according to HACCP standards. Raw materials are subjected to particular scrutiny. Raw materials are inspected in plants, in addition to which visits are made to the suppliers of chief raw materials in order to conduct safety checks.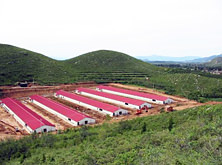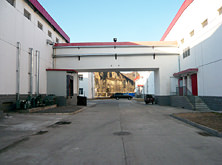 At present, China is facing a problem with avian influenza, but the plants in China that produce Nissui's processed chicken products are carefully and thoroughly managed at all phases of production, from farming to processing. The plants are stringently controlled and operated according to Nissui's HACCP-like standards, and there have been no problems whatsoever in terms of safety.
The rearing houses at the chicken farms are sealed off to prevent chickens from being exposed to wild birds and other animals, and the chickens are raised in environments completely isolated from the outside. The slaughterhouses are adjacent to the processing plants and the chickens are not exposed to the outside air, which ensures safety.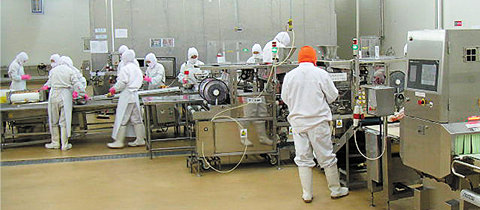 HACCP (Hazard Analysis and Critical Control Point):
This set of standards is not based solely on the results of quality inspections of finished products, but rather employs hazard analyses ("HA") of biological, physical, and chemical hazards to human health that may arise during entire production processes, from the acquisition of raw materials to the release of the final product. These hazards are considered critical control points ("CCP"), and are continuously monitored, eliminated or mitigated, thereby ensuring the safety of the finished product.
The Most Rigorous Inspection System Possible, Maintained and Managed through Our "Excellent Lab" Program
Nissui's inspection system is as rigid as is practically possible. Quality checks of materials and products at plants entail bacteria tests, sensory tests, and physical/chemical tests. Test categories are in place for each production process. The data is recorded and monitored for compliance with quality standards.
Inspections are there to check whether quality control systems and quality standards are being followed in production processes, and for this reason it is crucial that inspections are highly reliable. To guarantee that inspections conducted by laboratories at Nissui plants throughout the country stay credible, the whole group shares information on inspection methods and technical data. By exploiting a program called "Excellent Labs,"* which is designed to manage and keep group labs capable of conducting inspections, Nissui is establishing a system by which inspectors are properly trained, maintain their inspection skills, and render judgments that are correct in light of a given set of criteria. The knowledge cultivated through these domestic programs is currently being put to use at inspection labs in plants located in Thailand and China.
Products manufactured overseas must first go through inspections imposed at the point of export. For products imported by Nissui, after products pass these inspections, they are subjected to legal inspections such as quarantines and import procedures mandated by Japanese law, and then they must pass the voluntary import inspections conducted by Nissui. These procedures ensure product quality and safety. Voluntary inspections have typically been conducted either by third-party inspection agencies or at Nissui's Food Safety Research Department. However, when items fail to pass the voluntary inspections, it costs us a great deal of time and money, whether the substandard products have to be disposed of or returned. To address this issue, Nissui is putting in place systems whereby defects or other abnormalities can be detected earlier in Thailand and China, which are two of our most important production centers, by Quality Assurance Department Quality Control Section Thailand and Qingdao Nissui Food Research and Development Co., Ltd., respectively.
Moreover, in addition to granting Excellent Lab certifications to inspection labs at key plants, we are beginning to shift voluntary inspection functions to these plants, but only after the precision of their inspection results have been checked and it has been verified that their results are of the same quality as those conducted in Japan.

The Excellent Lab program
We at Nissui think of the all of the inspectors at the different inspection labs at plants nationwide as one group. The Food Safety Research Department provides a wide variety of services to this group. No matter which lab you go to, the inspection methods and level of technical expertise are the same nationwide. This system is beneficial in that it allows us to resolve questions as a group and share inspection know-how amongst all members.
By continuing this program, we believe we can not only reach and maintain a standardized level of technical expertise, but that we will develop the ability to respond rapidly to new inspection needs and implement more efficient techniques more quickly. This in turn, we believe, will translate into customer trust.