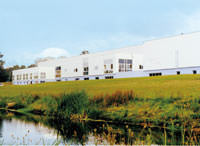 Cité Marine main plant
Nissui has been striving to integrate the sales function of a European distributor, the Sealord Group, Ltd. (New Zealand), which joined the Nissui Global Links in 2001 and that of Nippon Suisan (Europe), B.V. (Netherlands) as a top-priority strategy in order to expand the European market. In 2006, Nissui acquired Nordic Seafood A/S to boost sales in the food service and retail sectors, completing the development of the infrastructure for selling marine products across three sectors - industrial, food service and retail - in the Pan-European market.
As a further step, in June 2007, Nissui established a satellite laboratory in Wageningen, in The Netherlands as the R&D division of Nissui Europe. Nissui acquired Cité Marine as demand for processed food is increasing in Europe. In this way, Nissui has accomplished the building of its unique vertically-integrated system that covers the functions from access to marine resources, processing, sales and even R&D, centering on Nissui Europe.
Nissui Europe controls the European businesses as a holding company and has thus organized a system to deliver greater customer-oriented value created from marine resources.