SA Salmon
The southern coastline of Chile with its deep fjords and sheltered from ocean waves are well-suited for the installation of fish farming cages. S.A. had been producing Coho Salmon, Sea Trout and Atlantic Salmon. Coho Salmon is widely used for "shiozake (salt-cured salmon); Sea Trout is made for raw consumption such as in sushi or into slices to be cooked; and Atlantic Salmon is popular in the U.S. and Europe consumed raw or as salmon steaks.
S.A had a proprietary production structure that included every step from spawning from selected broodstock, hatching and breeding in fresh water, farming on the sea surface, production of feed, feeding, processing, and the sale of products. The products marketed under the "FIVESTAR"brand received high marks from the markets around the world for the strict controls over the products ensuring their traceability and high-quality.
However, in 2007 a series of unexpected events occurred. The first event was the closure of a plant due to the earthquake in Chile, which was followed by the spread of fish disease in the northern hemisphere. As a result, production of Coho Salmon was discontinued in 2007, and production of Atlantic Salmon was also discontinued in 2008. Only Sea Trout is being produced since 2009.
"Sea Trout is one of Nissui's specialties. By specializing in this fish, we are aiming to become the No. 1 Seat Trout-producing company in the world." (Teru Tanaka, President, Salmones Antartica S.A.)
In order to answer to the demands of the market, Nissui, since 2009, has begun the processing of Coho Salmon produced by a partner company in Chile. In 2010, production of Sea Trout was approximately 20,000 tons, while production of Coho Salmon was approximately 7,000 tons.
As Japan progressively becomes an aging society with a declining birth rate, the Japanese market offers little hope for quantitative increases in sales volume. For the Nissui Group, the Japanese market is thus becoming increasingly important as a market for high value-added products.
In 1993, the (former) Nissui Shimizu Plant produced bottled salmon flake, which was marketed nation wide as "Sakehogushi." This product had originally been developed for the Group's entry into the bottled products market, as part of a measure to counter the declining demand for canned products.
Subsequently, Hachikan Co., Ltd., a Group company, made repeated improvements by using Chum Salmon from Hokkaido and developed the product into a truly competitive product line. Today, it maintains the No. 1 share in Japan and has grown to become a major category in the shelf-stable foods business (Figure 2).
In 2005, Nissui, in an effort to enhance its added value, established Nissui (Thailand) Co., Ltd. ("NTC") in Hatyai, Thailand as a plant dedicated to processing. Although S.A. had been involved in processing as well as the farming of Sea Trout, NTC provides even more meticulous processing, which enables the production of high value-added products.Sockeye Salmon from Russia and Chum Salmon from Hokkaido are also shipped to NTC.
Even in terms of processing fillets for commercial use, the needs of Japanese customers are subtly different; some like their fish boneless, with bones, marinated in sauce, not marinated, etc. Our products have become high value-added products by answering to each of these needs."(Shuji Matsuzawa, President, Nissui (Thailand) Co., Ltd.) In addition to the above, various types of processing, including "tataki," roasted flakes, "sashimi," frozen prepared foods for household use and steamed flakes, are conducted to produce high value-added products intended for Japan.
Since 2009, NTC has also begun sales to areas outside of Japan. NTC sells sliced fish, sashimi products and fillets to Thailand and Singapore; Atlantic Salmon fillets for sashimi to the U.S.; and Chum Salmon portions to Europe. NTC has also begun trial sales mainly of sashimi products to the Chinese market. Although in most cases, sales are intended mainly for Japanese expatriates living overseas, the products are beginning to penetrate the local markets as the safety and reliability of Japanese brands attract increasing attention. (Figure 2)
Figure 2:Example of the flow of salmon and trout from procurement to processing and final product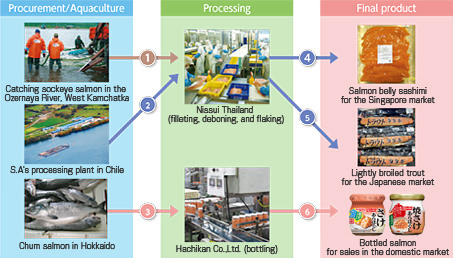 Marketing on the U.S. and European markets
Sales of Sea Trout produced by S.A. have increased dramatically on the North American market, thanks to F.W. Bryce, Inc. (Massachusetts, U.S.A.), which became a part of the Nissui Group in 2006.
Atlantic Salmon, served as salmon steaks and smoked salmon, had always been popular in North America. F.W. Bryce, Inc. had also been increasing sales of Atlantic Salmon on the strength of the "FIVESTAR" brand. However, once S.A. shifted its production exclusively to Sea Trout, the situation temporarily changed for the worse. In the U.S., Sea Trout is called Steelhead and is not as widely known as Atlantic Salmon.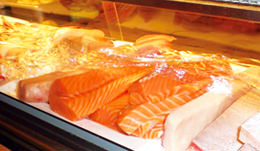 "By visiting wholesalers and conducting tastings of Atlantic Salmon and Sea Trout at food trade shows, we were able to demonstrate that there was no difference in taste and that the red flesh of Sea Trout had a brighter coloring than Atlantic Salmon." (Masashi Yoshida, President, F.W. Bryce, Inc.)
Furthermore, when Sea Trout was sold at selected locations of Costco, the membership warehouse chain, in 2009, its popularity immediately raised the product to basic item status and was stocked regularly at the Costco stores. Consequently, sales of salmon and trout at F.W. Bryce, Inc. has increased 1.5-fold from 2006 to 2010. And as a result of being sold at Costco, Sea Trout has gained wide recognition and even greater demand is expected in the future, as evidenced by its frequent appearance on the menus of restaurants.
The needs of customers who require Atlantic Salmon are being met by procurements by the Group company, J.P. Klausen & Co. (Denmark), of Atlantic Salmon raised off the Faroe Islands of Denmark, which are then processed as fillets for sashimi by NTC (Figure 3).
As the European market is the stronghold of the world-leading producers of farmed salmon and trout, it is a difficult task to expand the sales of Sea Trout produced by S.A. In spite of these circumstances, the Nissui Group has been increasing its sales of Sea Trout in Russia. Sea Trout produced by S.A. is being sold by Nordic Seafood A/S ("NS," Denmark) in the regions west of the Ural Mountains, and through the sales channels of Yokohama Trading Corporation in regions east of the mountain range. NS has doubled its sales in Russia from 2007 to 2010. Sea Trout is also being sold to the U.K. and Norway via NS.
Figure 3:Supply chain of the Nissui Group's salmon and trout businesses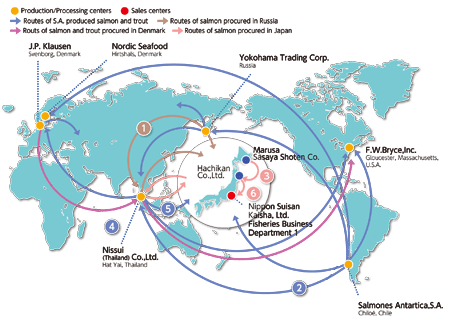 Company name (country)
Major products/functions/sales areas

F.W.Bryce,Inc. (U.S.A.)

Crab, salmon, trout, white fish, shrimp
Commercial and retail
U.S. and Canada

Nordic Seafood A/S (Denmark)

White fish, salmon, shrimp, squid,shellfish, and processed foods
Industrial, commercial, and retail
European countries with the exception of Spain and Portugal

Yokohama Trading Corporation (Japan)

Salmon, crab, Alaska, pollack, roe, etc.
Industrial and commercial
Trade with Russia, Asia, and other group companies

Nissui (Thailand) Co.,Ltd.

Salmon and trout processing
Industrial, commercial, and retail
Asia, and other group companies

Nippon Suisan Kaisha,Ltd.
Fisheries Business Department 1(Japan)

Crab, fish roe, and salmon
Industrial, commercial, and retail
Trade with overseas companies and domestic group companies

J.P. Klausen & Co. A/S (Denmark)

Fillets and other general white fish products as well as fish paste (surimi)
Industrial
All of Europe

Salmones Antartica, S.A. (Chile)

Aquaculture and processing of salmon and trout
Industrial, commercial, and retail
Japan, North America,South America, and Europe