Global Links Spotlight
Go Wild, Go Real, Go Fish ... Go Gorton's (Gorton's)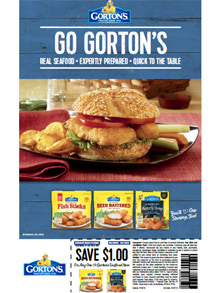 FSI
Gorton's new campaign to "Go Wild, Go Real, Go Fish ... Go Gorton's", has been running full steam ahead since the end of January. This is a great time to share some updates on early results and the ways we are using this campaign to engage with our consumers.
This "Go Gorton's" campaign represents a new and different direction for celebrating the values, heritage, and principles that have made Gorton's who we are, in a very upbeat, contemporary and appetizing way. For 2016, the focus of "Go Gorton's" is limited to our Gourmet Fillets and Simply Bake products, mostly in the digital space. However, it is our belief that this can serve as just the first in a multi-year effort to introduce a new way of talking about our brand and engaging more directly with consumers with messages that are directly tied to our heritage and values while highlighting what consumers have told us that they're looking to Gorton's for -Real Feel Good Food.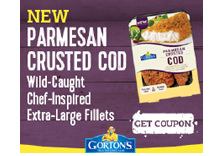 Online Banner Ad Examples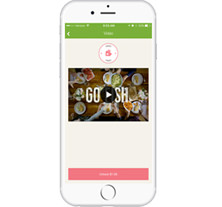 Ibotta videos - consumers must view prior to getting coupon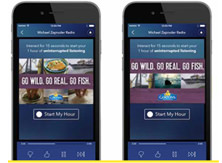 Pandora content - consumers must view and listen to prior to getting an hour of free listening
Some highlights from the 2016 campaign to date:
15 million streaming, unskippable, views of the Go Gorton's videos on Hulu and Food Network and other Stations - across shows as varied as the Good Wife to the Bachelor to Chopped.
1.6 million hours of sponsored listening on Pandora, where targeted consumers watched our Go Gorton's video and were able to enjoy their favorite music courtesy of Gorton's!
70,000 engagements with our Facebook advertising - we've gotten new fans and lots of engagement sharing with friends and downloading coupons.
431,724 signups for our GO GORTON'S Sweepstakes. By having a sweepstakes we are encouraging consumers to engage with our brand, showcase our new items and share our new brand messaging while also giving them a chance to win a dream vacation to one of four destinations. With today's consumer bombarded by messages, drawing them with an offer to further engage can be powerful.
35,000 coupons or offers redeemed through ibotta to date!
In additional we have clings and signs at the shelf/point of sale meant to drive awareness, and influence blogger outreach programs. Unique to digital programs, we are also able to optimize our programs every week, driving dollars towards our most effective programs. And every week offers new ways for consumers to engage with the brand. We encourage everyone to participate in the program! Consumers can sign up for our newsletter on our website, "Like" our Facebook page, download the ibotta app to see great offers, and visit "gogortons.com" for details on our Gourmet Fillets or Simply Bake items! And then share all of those with your friends and family!
Go Wild, Go Real, Go Fish! Go Gorton's!
UniSea Annual BBQ (UniSea)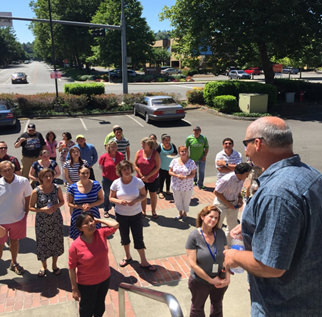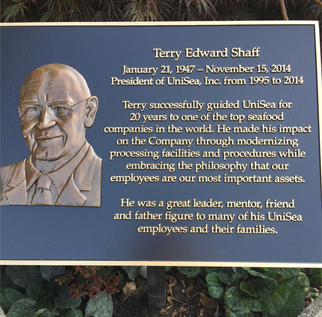 On July 2, 2015, during its annual summer BBQ and picnic, UniSea commemorated past presidents Dick Pace and Terry Shaff, by installing two plaques in their honor at the entrance of the corporate office.
Founder and president, Dick Pace, was known as a pioneer in the onshore seafood processing industry. Dick developed the initial infrastructure that has provided the foundation for UniSea's success for more than 40-years. Terry Shaff championed critical process improvements and lived and breathed seafood as a healthy protein source.
Tom Enlow, current president, unveiled the plaques on the front steps of UniSea's Corporate Offices to a crowd of employees, past employees, Nippon Suisan Kaisha (NSK) representatives, and guests. Enlow shared the messages engraved on each plaque.
James Richard "Dick" Pace
April 26, 1933 - November 6, 2003
President of UniSea, Inc. from 1974 to 1995
Dick founded UniSea in 1974, and began building the infrastructure of the Company that is still in place today.
He was a pioneer in the seafood industry and is credited, along with a handful of others, as an early developer of the seafood processing industry in Alaska.
Terry Edward Shaff
January 21, 1947 - November 15, 2014
President of UniSea, Inc. from 1995 to 2014
Terry successfully guided UniSea for 20 years to one of the top seafood companies in the world. He made his impact on the Company through modernizing processing facilities and procedures while embracing the philosophy that our employees are our most important assets.
He was a great leader, mentor, friend and father figure to many of his UniSea employees and their families.
Enlow also provided a brief history of their individual accomplishments and contributions to both UniSea and the seafood industry at-large. Enlow thanked NSK for donating the funds in support of the plaques.He introduced and welcomed Seiji Takahashi, who was recently promoted as President of Nissui USA. Enlow acknowledged the contributions of Rich White, Pace's original business partner in Universal Seafoods, and Phil Hanson a retired UniSea Vice President.
While the presentation of the plaques was the highlight of the annual BBQ, the food, the weather, and mostly the people combined to make it a memorable event. Employees from the corporate office, Cold Storage, and Western United Fish Company contributed a lot of time and culinary talent to the BBQ. Some of fare included grilled salmon, shrimp burgers, pulled pork, a vast array of salads, fruit, and even chocolate bacon. UniSea appreciates the participation and enthusiasm of its employees, affiliates, and friends.
F.W. Bryce Launches New Asian Processed Foods Line (F.W. Bryce)
In February of 2015 F.W. Bryce launched an exciting new Asian Processed Food line. F.W. Bryce has had an Asian Accounts division since 2006 but this new line focuses on Nissui branded products purchased mainly from NSK and sold mainly to Wismettac Asian Foods.
Tatsuya Gake, our Asian Sales Manager, introduced the line to our team in the spring of 2014. He and Kumiko Murakoshi, also in Asian Sales, then began explaining the new plan and how the process of purchasing directly and supplying to Wismettac would work. We began in February of this year with 24 new items, featuring a variety of Soybeans, Octopus, Shrimp and Crab dumplings to name just a few.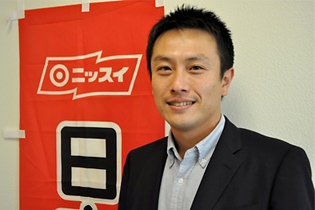 Tatsuya Gake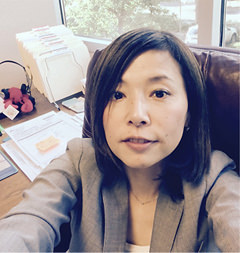 Kumiko Murakoshi
This product line has been received so successfully and has been such a great addition to our current Asian line that in July we decided to expand our offerings by adding 14 additional items. These products are being sourced from multiple suppliers. Two are in Thailand, one being Nissui Thailand and two other facilities in China.
Of the new products, we will be introducing Frozen Breaded Oysters, Battered Squid, Seafood Pancakes, and Sushi Ingredient items to name just a few. We expect some to begin selling as early as October. These items are targeted to Asian accounts all over the nation with sales into Canada as well.
We will continue to grow and expand this business in a measured approach as we see successes and proper matches for it in the market place. As always, when launching any new product line we give great consideration to whether it fits our core competencies, if we can be regulatory compliant, and of course if we can sell the items profitably. As each new item for this line is being proposed we will take into account that all of the above criteria are being successfully met. With this plan in place we are excited to keep introducing new items and grow this newest piece of our Asian Division.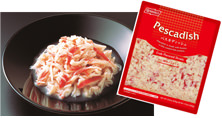 crab pescadish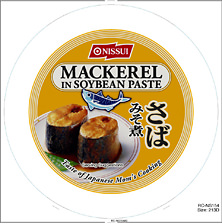 mackerel in soybean paste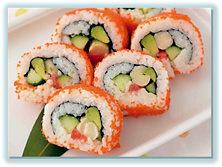 sushi pescadish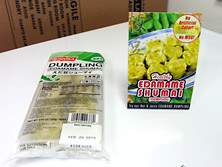 Edamame Syumai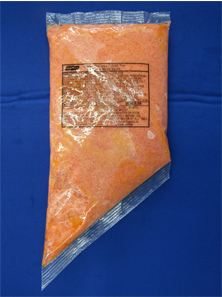 mentai-mayo
NFI Future Leader Visit - Brunswick, GA (King & Prince Seafood Corp.)
King & Prince Seafood was honored to host 39 Future Leaders from the National Fishery Institute (NFI) Program. The program focuses on teaching the next generation about the seafood industry. Dennis Noce and Elise Carlson are our company representatives in the NFI Future Leaders Class of 2015. The participants learned more about our history, culture and what makes us special. The highlight was the plant tour and everyone loved learning how to roll sushi and tasting our products. Initial feedback from the NFI Future Leaders is very positive. Thanks to everyone who wore their King & Prince gear, smiled and made our guest feel welcomed.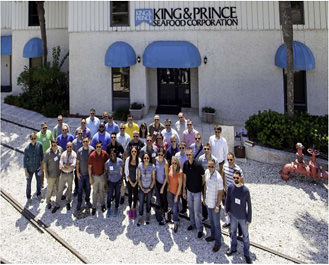 Golden Isles Career Academy (GICA) is a public charter school located in Brunswick, Georgia.
GICA was created to build a growing partnership between the Glynn County School System and the regional business and industrial communities of southeast coastal Georgia. GICA graduates provide a viable skilled workforce to businesses in a variety of occupational disciplines.
King & Prince Seafood and GICA collaborate to provide students with real-world experience. Recently, King and Prince Employees shared information and stories meant to help students understand the types of work skills needed to be successful. In May, several GICA students took a tour of the Brunswick facility.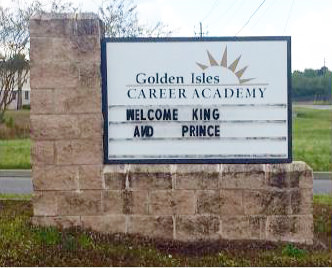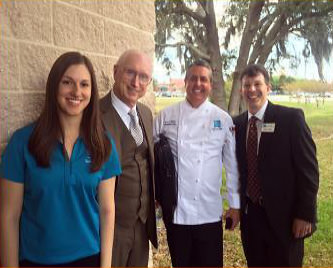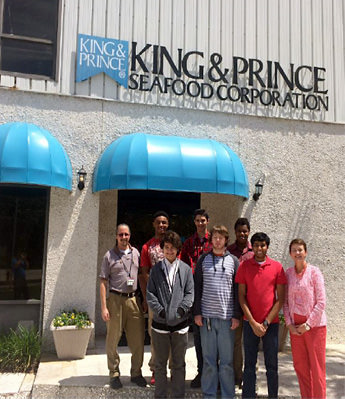 Seafood University (SU) is a long-standing tradition designed to provide vital information regarding not only seafood and our products, but how we do business. It is only recently that we have customized SU to include our own employees. Through participation in SU, we want our employees to understand why their role is so important to King and Prince, and how they impact safety, teamwork, quality, engagement and fairness within our organization. At King and Prince, we understand that the secret to our success is not in the seafood we make, but within the people who make the seafood.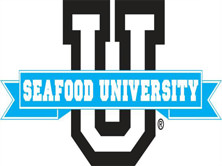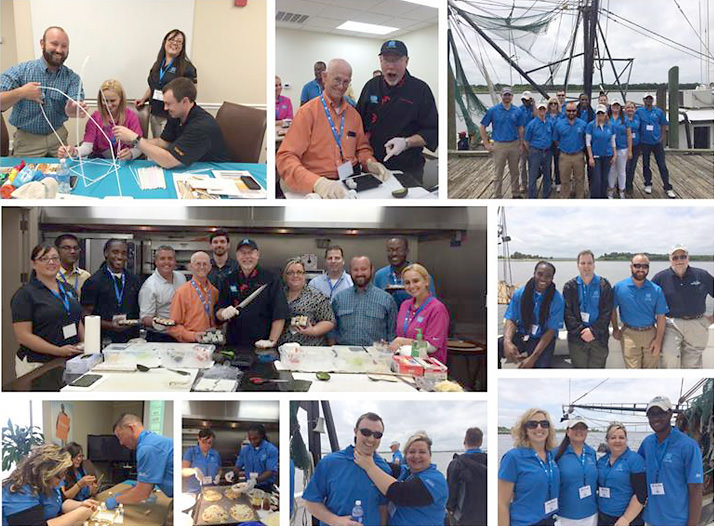 Gorton's Smart and Crunchy Tour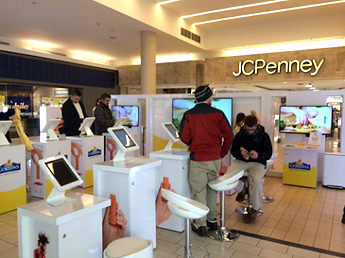 The Smart and Crunchy interactive display, taken inside of a mall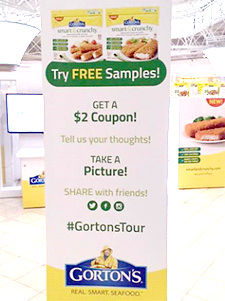 Promotional display showcasing the product, a coupon, and a hash tag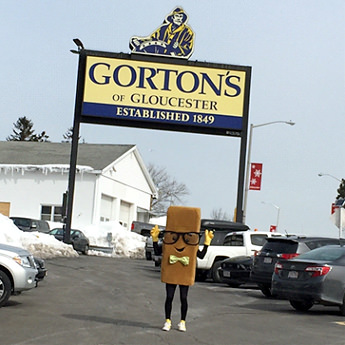 Smarty Crunchman outside of Gorton's Headquarters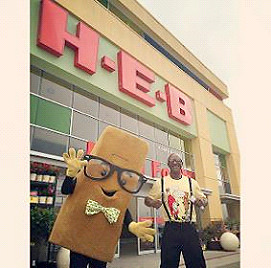 Smarty Crunchman visiting one of Gorton's retail stores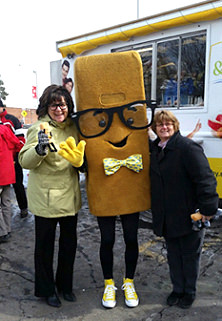 Smarty Crunchman with Gorton's employees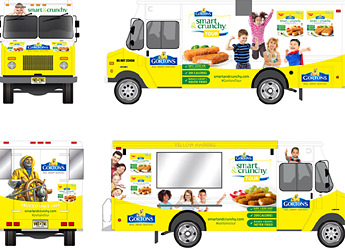 Gorton's Food Truck!
This past spring Gorton's kicked off the launch of their newest Core product innovation, Smart & Crunchy Fish Sticks and Fillets, with a coast-to-coast Smart & Crunchy Food Truck Tour! The Smart & Crunchy products are 100% wild caught Alaska Pollock breaded in a tasty panko breadcrumb that gives them a great crunch, they are never fried, have 50% less fat and are 200 or less calories per serving.
On the road for 12 weeks and covering a total of 9,389 miles, the food truck started out in Peabody, MA, then traveled across the U.S. to Baltimore, Atlanta, Houston, Hollywood and Seattle, and made some additional stops at retailers along the way. The truck was all decked out with fun and bright images of appetizing food and happy families, and received an estimated 948,000 impressions as it traveled from the East Coast to the West Coast.
During the tour, the truck stopped at high-traffic malls, a children's festival, and the Hollywood Walk of Fame to distribute over 17,000 high value coupons and almost 16,000 samples of Gorton's Smart & Crunchy Fish Sticks. The set at the events was very engaging and represented the Gorton's brand in a fresh, contemporary way. Trained brand ambassadors interacted with consumers and shared product information. They also encouraged visitors to take photos at a photo booth with the Smart & Crunchy mascot, Smarty Crunchman, a very tall, very friendly fish stick.
"Wow! Delicious and great for kids!" was just one of the comments we received from eager consumers who tried the product. Many visitors were able to fill out surveys about Smart & Crunchy Fish Sticks, which received a 95% positive response. Adults and kids alike shared their enthusiasm, saying things like "I can't believe this isn't fried" and that "A healthier option makes me happy."
In addition to the food truck, Gorton's had an integrated campaign including a sweepstakes where lucky consumers could win a pair of Smart glasses, a t-shirt, a Smarty Crunchman stuffed toy, or the grand prize - a $10,000 family vacation. Consumers were so engaged with the brand that Gorton's achieved an all-time record for sweepstakes entries, receiving 658,000 entries from consumers and sent thousands of visitors to the new Smart & Crunchy microsite, smartandcrunchy.com.
The new site showcases the benefits of Gorton's delicious new innovation, offers great recipe ideas, and captured all of the fun of the tour with great photos from each stop. Gorton's also shared photos, recipe ideas, calls to enter the sweepstakes, and links to product coupons in digital advertising and on social media. Social media proved to be a great platform for consumers to share their photos and engage with the brand. Gorton's received 6700 posts and over 20 million brand impressions via the hashtags #gortons, #gortonstour, #smartandcrunchy from public Twitter, Facebook, Instagram and blog pages. And PR efforts - which included national press releases, top influencer and blogger posts and mentions on radio and papers in the visited cities - added up to over 2100 media placements and 38MM brand impressions!
The Smart & Crunchy Tour was a huge hit with consumers, and the Gorton's food truck arrived back to the East Coast of the U.S. safe and sound and is now retired. But who knows, maybe Smarty Crunchman will reappear again!
Learning Yummy!(Nippon Suisan America Latina,EMDEPES,Antártica)
Here in the city of Santiago de Chile, there are massive number of Sushi bars and restaurants, but few try to prepare it at home nor eat raw fish. At some occasions in our office, we hold a lunch to share how to prepare Sushi rolls. This is a good opportunity for our people to know how our product is consumed in Japanese market. Nothing more than that, it's fun and Yummy!
As usual Ms. Yuki Fujishiro is the leader of the class. She explains the way to roll a Sushi; Futo-maki and Ura-Maki, where you should put the rice and the topping on Nori sheet, how strong you should roll it, what is the better way to cut the roll without collapsing the form of rolls, etc.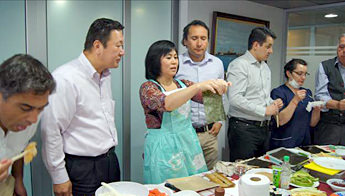 Yuki-san just starts the class!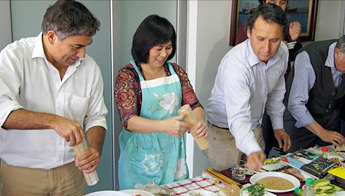 Andres Galvez and Carlos Saavedra follow Yuki-san's instruction.
This time Mr. Kenji Kimura make a Sushi Nigiri demonstration with Hirasu (Silver Warehoe).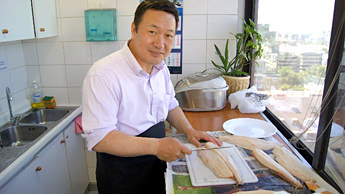 Kimura-san preparing Hirasu (Silver Warehoe) for Nigiri Sushi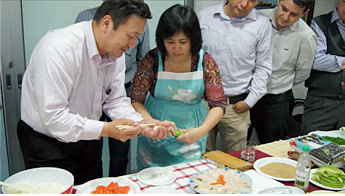 Demonstration of Nigiri by Kimura-san
Also Naoto Sato take a little part for Miso-Soup and Char-Siu (Roasted Pork).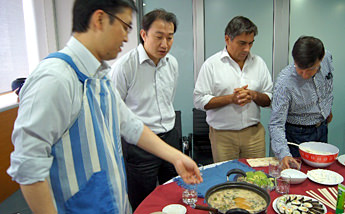 Sato explains about Miso Soup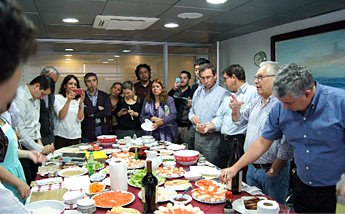 Many dishes of Sushi and Sashimi!
Surrounded with a beautiful plates by our colleagues, some learnt to cook, others learnt only to eat.
How lucky we are to get a chance to eat Hirasu sashimi from EMDEPES and Trout Salmon from Salmones Antartica!!! These are the best fish in Chile !!!
La Tiendita - Our lovely store (Salmones Antartica)
Chiloé Island
1000km down from Santiago de Chile to the south of the country, you can reach Chiloé Island in the end of the Los Lagos state, at latitude 42° S. The capital city of the island, Castro, holds 40,000 of its population, counting more than 200 years of the history, and preserves its traditional architectures such as Palafitos, or one of the wooden Churches registered as World Heritage.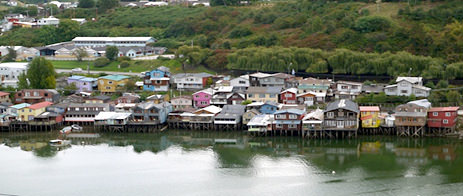 Palafitos in Castro City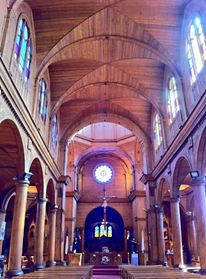 Castro Church (World Heritage)
La Tiendita - Our lovely store
In the April of 2013, we inaugurated our lovely antenna shop called La Tiendita in the center of Castro City. It's very truly special store sells our trout-salmon products only, also you will find a part of Japanese culture inside the store such as Tairyo-Bata (Big Catch Flag). This year La Tiendita celebrated its second anniversary thanks to the good reputation by our neighborhood.
We are looking forward to your visit to Chiloé Island and La Tiendita !
Opening Ceremony of Tiendita in 2013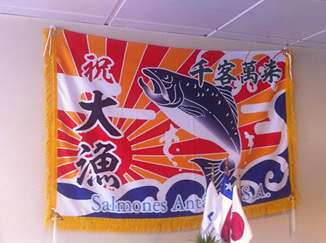 Tairyo-Bata (Big Catch Flag)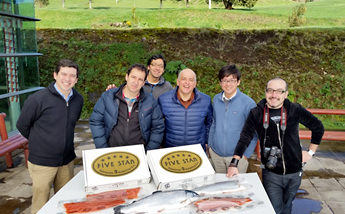 Shooting promotion materials
Enjoying Fireworks from vessels at Valparaiso (EMDEPES)
After the end of fishing season in December to the beginning of next season, our two vessels stay near the Valparaiso port for its maintenances, and the crew members take vacation to recharge their batteries for coming voyages.

For the New Year event, fireworks are shot off at more than ten sites around this port of Valparaiso. You can enjoy all of those in a single spectacular panorama from the VIP sheets at the bridge of our two trawling vessels, with the city of the world heritage in the background.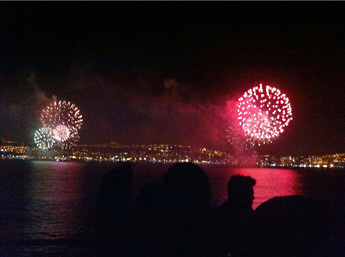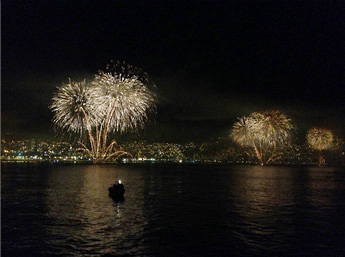 EMDEPES has operated the two trawlers UNIONSUR and UNZEN from the year 1978 to the date in the south of Chile, and provide the marine resources of the country to the markets over the world, of which Southern Blue Whiting (Minami-Tara) and Hoki were not developed in the era of '70s until our exploration. All of those products are processed and frozen onboard with its freshness preserved in the product format as Surimi, fillet, or HG etc, along with the market demands.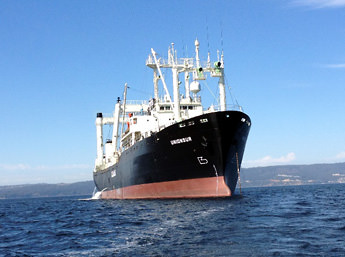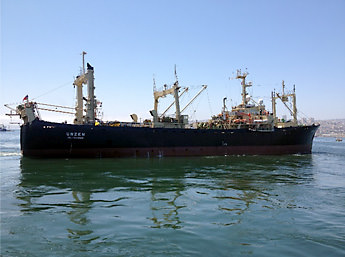 Welcome Shinsuke Oki san (Seaload)
Rain didn't dampen the ethusiasm for a warm welcome for some eminent visitors to Seaload's Nelson site recently.
Among them was the new Chief Executive Officer (CEO) of Nissui, Shinsuke Oki San, accompanied by his predecessor Norio Hosomi San - now Nissui's Chairman - and Sealord Board member Hisami Sakai San.
The visitors were greeted with a haka powhiri by Sealord's kapa haka group, followed by a welcoming speech in te reo Maori by Seaload Chairman Whaimutu Dewes.
Although on the day of the visit Nelson wasn't living up to its reputation for an abundance of sunshine hours, it is still the heart and soul of Sealord's business, and it was to this that Chief Executive Officer Steve Yung referred in his speech.
"I look forward to working with you and the visits you will make to New Zealand and also our visits an management to Tokyo as part of Global Links, "Steve added.
"We hope to see you again in May when we launch our new vessel and celebrate a real step forward in the journey and life of Sealord and the New Zealand fishing industry."
Delighted to have been shown such hospitality. Oki San thanked those gatherd, which included the Sealord Board of Directors and Executive Team.
"I would like to declare that I would continue to respect the great genes of Maori, Moana and Sealord, as well as Nissui," Oki San, who also toured the Coated and Wetfish factories. "We will continue to work together as we have developed until now and realise the bright future for all of us."
Refugees at Home with Sealord (Seaload)
To this day Bot Kim cannot believe how lucky he feels to be here in Nelson, with his family and a job that he loves at Sealord.
Gold Award For Sea Safety Initiatives (Sealord)
Departmental Feature Coated Factory (Sealord)
There's a surprising amount of science and mathematics involved in making mealtimes easy for people - just ask our team in the Coated factory.
The range they produce is loved by those who enjoy fish and in need of something convenient, tasty and nutritious. However, making sure every portion fulfils expectations involves attention to detail. Charts and graphs feature prominently on the walls of the factory and offices - number crunching essential to ensuring perfectly crisp batter, deliciously crumbly crumb and, of course, delectable fish.
"The team are very passionate about being world class processors," says Factory Manager Sue Hill, whose job it is to support and keep things running smoothly. For the last 18 months Sue has worked closely with Operations Manager Charles Heaphy. "Everyone works well together and it's a happy environment - some people have been on the production line for 25 years," adds Sue.
With 70 different configurations of product, from fish fingers to beer battered hoki fillets and a variety of fish cakes, all made from the same factory space, it takes precision planning for things to run like clockwork - a feat that Coated Production Planner Paul Hilton likens to working in air traffic control.
Preparation for production starts overnight, when specialist cleaners arrive to strip down each piece of machinery and make it spotless. Everything is then carefully pieced back together by Team Lead Craig Chambers and the Prep End Specialists, who arrive at 3am to reassemble each part and set the production line ready for the shift, according to what is to be made that session.
"The line does something different every day and sometimes it varies between morning and afternoon shift," says Production Lead Blair Mathie, who joined the company 26 years ago and has been with the Coated team ever since the factory began operating in 1991. It's Blair's role, together with the other Production Leads - Wendy Walker, Tony Coulthard and Kelly Carston - to see that production for each shift runs smoothly.
At the start of the production line, large rectangular fish blocks, frozen at sea, are unwrapped to begin their conveyor belt journey. "If there was anything wrong with one of the blocks, thanks to the labels on the packaging we could trace it not just the vessel but the voyage, shift and time it was packed," says Team Lead Craig.
The frozen blocks are then machine-cut to finger sized portions before passing through batter - perfectly smooth - and being sent onto a bed of crumb to coat the underneath. They then all travel through a cascade of crumb, and under a roller to compact the coating.
WILL WATCH - ALL HANDS ON DECK (Sealord)
CARING FOR OUR COASTLINE (Sealord)
CSR Section (Nippon Suisan Kaisha)
DEPARTMENTAL FEATURE: QUALITY (Sealord)
When you're dealing with food there's no room for mistakes with quality, hygiene and safety. Many teams work together at Sealord to make sure standards are kept high. One key player helping to emphasise the importance of attention to detail is the Quality department.
Their packed year planner is covered in cards indicating when numerous projects need to be completed, with emphasis on checking that all products meet customer and export requirements.
To this end their role involves verification that all necessary assessments are carried out correctly. This includes a number of tasks, such as inspection for adherence to factory dress code, backup checks to ensure equipment is clean and not damaged, monitoring of the work environment to prevent the introduction of foreign objects, and verification that scans for hazardous materials such as loose items are maintained.
"Basically we're in the business of brand protection, working closely with the teams in Compliance and Processing to achieve that," says Mason Palliser, Quality and Laboratory Manager. "It would just take a couple of small things to fall over and markets could close to us or restrictions occur."
The Quality team also oversees additional inspections of batters for Coated to check nutritional charts remain accurate and that there's no cross-contamination of ingredients that cause allergic reactions.
WWF Japan (Nippon Suisan Kaisha)
Nissui has joined WWF Japan as a corporate member.
Nissui considers it especially important to utilize resources in a sustainable manner and preserve the earth environment as a company relied on the bounty of the earth and the sea.
Departmental Feature: Warehousing (Sealord)
"A lot of people don't realise how much is involved in the Inwards Goods department," says John Lunn, Group Warehouse and Logistics Manager. "The amount of items that come through is massive. What's more, due to the nature of what's coming in, these guys have to be trained in biosecurity, hazardous goods, dangerous goods, chemical training and chemical transport."
DEPARTMENTAL FEATURE: HEALTH & SAFETY(Sealord)

The Health and Safety team with (l to r): Donovan Hoar, Nicole McKnight, Nikki Anderson, Anne Campbell and Paul Hoverd, with (inset) Pat Copp
"Everyone always thinks it'll never happen to them," says Donovan Hoar, Health and Safety Manager for Sealord Fishing.
"There's risk in everything but internationally fishing is considered to be the most hazardous industry. When you're dealing with the sea there's always potential for things to go wrong. What we do is manage that effectively and make sure strategies are in place to mitigate risk."
Fortunately the mandated processes in New Zealand and at Sealord put us in a strong position within the NZ fishing industry. Sealord has focussed on health and safety (H&S) for many years with a 'safety first' culture, says Donovan. As a team we can rightly be proud of our focus and improvement over the years noting that H&S never goes away and will remain as important tomorrow as it is today.
New legislation - the Health and Safety at Work Act 2015 - comes into play this April and, running alongside that, is Maritime New Zealand's new system called the Maritime Operator Safety System (MOSS). MOSS encompasses both the physical condition of the vessel, the management systems and crew qualifications as well as emergency planning and responses.
"There're lots of changes at present but all contribute to making our industry safer. Fortunately for us it won't involve significant change in how we do things day to day due to the systems Sealord already has in place."
Part of the Health and Safety team's role is to keep on top of all these changes and provide up-to-date information to the wider organisation. This may be through one on one advice, inductions, seminars, or briefings like Sealord Fish Safe and Sealord Stay Safe.
There are a number of new members of the team and currently roles are divided by vessel and location.
Donovan's role includes looking after the Otakou, Thomas Harrison, Will Watch, By- Products, and the support areas on-site. Paul Hoverd, who joined the team last year, looks after the three BATM vessels as well as the Coated factory. Covering for Nicole McKnight during her maternity leave is Pat Copp, who will be looking after the Ocean Dawn, Rehua, Aukaha and the Wetfish factory. Nicki Anderson, who joined last year, is H&S Administrator and provides support across all areas, as does Occupational Health Nurse (OHN) Anne Campbell.
SWIM FOR LIFE TURNS FIVE!(Sealord)
11th Nissui Group Local Surroundings Cleanup(Nippon Suisan Kaisha)
Nissui Group had local surroundings cleanup in October, 2015. This is the 11th group-wide activity in Japan, and 1,228 people from 93 shops were involved in this activity. It is delightful to learn that the number of people involved in this activity has been growing every time.
Local surrounding cleanup includes not only cleanup activity but communication with local community, and helps raising environmental awareness of the employees.
Fumie Kato, Environment Office, Nippon Suisan Kaisha, Ltd.
DEPARTMENTAL FEATURE:BY-PRODUCTS TEAM(Sealord)
Open-Air Lecture of Basic Environmental Course at Kasai Rinkai Park(Nippon Suisan Kaisha)
As an employee of Nissui, whose business relies on the bounty of nature, it is important to learn about biodiversity and living creatures. It is useful to combine class room and open-air lecture to gain a better understanding.
On September 26, we had an open-air course of basic environment at Kasai Rinkai Park. 36 people from Nissui and its group companies including their family learned about the creatures in tideland and their preservation under the guidance and cooperation of "NPO Ocean family".
Fumie Kato
Environmental Office
Nippon Suisan Kaisha, Ltd.
Keeping one step ahead (Sealord)
"It's a complex process. We look at trends happening worldwide."
Students learn of Sealord's sustainability commitment (Sealord)
Students from Massey University's Masters course inEnvironmental Management visited Sealord in Nelson recently in a bid to learn more about sustainability.
The 19 students were hosted by Fresh Fish Business Development Manager Mike McKegg, with Vessel Coordinator Ronni Symon and Product & Process Project Manager Meaghan Dodd also talking about their careers in the industry.
Tour organiser for Massey University, Neil Langley, said the trip left a good and lasting impression on all attending.
"The reason we choose Sealord is because it's recognised internationally as being a benchmark as far as sustainable fishing resources is concerned in New Zealand," he says.
During the presentation Mike talked about New Zealand's quota management system. "This is often referenced as the best in the world," he says. "It's a process of continuous improvement though, with industry constantly investing in technology and continued research. Without that new information it wouldn't be possible to ensure the system is managed well for the future.
"We also talked about how it's vital that as a responsible business we are able to react quickly if there's a problem."
The speakers fielded lots of questions from the students. "Some of them were quite detailed," adds Mike. "I think it's great they gained first-hand insight into our sustainability commitment.
"It's important to get these bright minds thinking these issues through, especially as they're potentially going to participate in environmental matters of the future.
"I hope they took away the message that as a company we focus on operating in a truly sustainable and transparent manner. We wanted to show that Sealord plays a proactive role in ensuring healthy fisheries for the future."
The visit was coordinated by Karen Bidlake, Team Leader Admin Support. It's the second year students from the course have been welcomed by the Nelson team and the feedback proved they highly rated their trip.
10th Nissui Group Local Surroundings Cleanup
Nissui Group had local surroundings cleanup in June, 2015. This is the 10th group-wide activity in Japan, and 1,176 people from 83 shops were involved in this activity under unstable weather due to rain season and non-seasonal typhoon.
Fumie Kato, Environment Office, Nippon Suisan Kaisha, Ltd.
Oita Marine Biological Technology Center
The Catch - celebrating sixty! (Sealord)
We're celebrating 60 issues of The Catch, delivered to you since December 2010. A recent staff survey told us that our readers most enjoy learning about "Sealord people". That's what we love to write about, and will keep doing, so we encourage you to keep telling us your stories.
The Catch is produced for staff by Sealord's Public Affairs & Communications team, managed by recent recruit Frederika (Freddie) Walls. Freddie has just joined the team from GE where she was their Communications Leader. She has more than ten years' experience in the public relations industry, working with companies across a range of sectors.
She is looking forward to getting to know the Sealord business and its people.
Nelson-based Fiona Terry has been commissioned to write The Catch articles, so she will be looking for your stories in future. A feature writer for more than 20 years, Fiona also wrote regularly for The Sunday Times' business section and worked on corporate magazines before emigrating from the UK in 2006. Since settling with her family in Nelson, she has been generating ideas and writing features for magazines that include North & South and New Zealand Geographic.
Special thanks to Rebecca Sellwood who is moving on from Sealord having worked on The Catch since day one. She and her family have moved back to wild and windy Wellington. Rebecca says thank you to everyone at Sealord who has shared their stories, or enjoyed reading their colleagues' stories, since its inception.
"I appreciate the trust you placed in me over the years. It's through your generosity and curiosity that The Catch succeeds in reflecting the heart of Sealord," she says.
To share your stories or ideas, contact Fiona by email fzt@sealord.co.nz, or phone 03 545 9511 or extn 8511.
Winners Bring Values To Life (Sealord)
More crew photos (Sealord)
Our crews see some beautiful sights on their trips to sea. Here are some more of their entries from the recent Crew Sunrise Sunset Photo Competition.
Sealord Caistor goes Coast to Coast (Sealord)
The Operations team at Sealord Caistor pushed their pedals for three days in May, cycling some 165 miles from Whitehaven to Whitby to raise money for the Lincs & Notts Air Ambulance.
Steve Johnson (Head of Operations), Shane Joyner (H&S Manager), Stuart Baker (Engineering Manager) and Paul Rounsley (Project Engineer) wanted to raise money for a local charity and the air ambulance was a logical choice. It had recently air-lifted a colleague to hospital.
The team rode from Seascale to Sedbergh, Sedbergh to East Cowton, and East Cowton to Whitby, with 5,000 metres of climbing.
Some highlights:
Day 1 - About 53 miles over the Hard Knott Pass, with 30% gradients and a total of 2100m climbed. Stu cycled every inch but the rest walked a little when it got too steep. They passed two cars that couldn't make the climb, so didn't feel too bad!
Day 2 - About 59 miles, with a strong wind and 1750m climbed. The hardest part was climbing up Tan Hill, location of the highest pub in the UK - there was a real incentive to get to the top for refreshments.
Day 3 - About 53 miles over the North York Moors, with 1200m climbed. Rain made this a harder day. The team stopped for a drink about 15 miles from the end and were told that it was all downhill from the brow of the next rise - but were lied to!
"There seemed to be hill after hill and we were delighted to finally see the sea and bike downhill into town. We stopped for fish and chips and, when we told the ladies who served us what we were doing, they donated the bill to our charity!" their blog says.
The team is grateful to Chris Smith from Chris Smith's Electrical, who provided support, and transported their gear and first aid kit.
So far the guys have raised £1563 online and the Sealord Caistor site raised an additional £363 at a Bake Sale and Raffle, bringing them closer to their £2500 target.
To help them get to their goal, go to
www.justgiving.com/SealordC2C
Meanwhile, Sealord Caistor IT Manager Simon Paul was further north doing his own charity cycle. He slogged his way solo over 150 miles, from Whitehaven to Whitley Bay, some 50% of it off road and climbing almost 15,000 feet in total. Simon says the ride was hard going but the scenery was stunning, and he recommends it to anyone.
Simon was raising money for the British Heart Foundation, in memory of his my Mum who died 10 years ago from heart failure. To support Simon, go to
www.justgiving.com/Marguertia-Paul
Environmental Office
Our People (Sealord)
Sealord people are busy outside work as well, as you can see below. Tell us about your sporting or community activity and we'll share it in The Catch. Send to catch@sealord.co.nz
Aucklanders all go
Mid-April, some serious training paid off for nine Auckland Sealorders competing in local sporting events.
HR Manager Catherine Simanu competed in her first swimming event, King of the Bays, held on the North Shore and attracting some 1600 swimmers. Dubbed Queen of the Bay by colleague Debs Forde, Catherine "swam awesomely in terrible weather conditions to complete the 2.8kms in a very respectable 1hr 11mins".
Next day, eight other staff competed in the Mission Bay Triathlon. Sealorders Stu Yorston, Gary Neill, Simon Dick, Sarah Sandoval, Darryl Gore, Ann de Liefde and Nikki Mathews, plus friends and family, formed four teams to complete the team distances of 1.5km swim, 40km bike and 10km run. Of the group, Darryl was fastest runner at 50.02mins, Nikki fastest swimmer at 25.40mins and Gary fastest cyclist at 1hr 9mins. Ann participated in her first bike leg, smashing her goal of 2 hours in just 1hr 48mins.
Joel Bourke competed in the shortened sprint course as an individual, completing his first triathlon in 1hr 24mins.
Corporate Strategic Planning & IR Office, Nissui Tokyo