Global links Update
KIA-ORA TOKATU ARRIVES WITH OUR BLESSING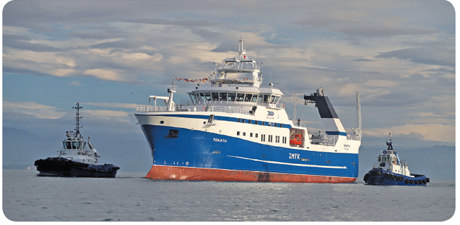 Crowds greet Tokatu near the city' s Harbour Cut.
There was great anticipation among those gathered to greet our new vessel Tokatu to its home in Nelson. And in no way did the $70 million vessel disappoint.
A grand spectacle to say the least, her arrival was welcomed by crowds lining Nelson's sunny waterfront, not just at our Vickerman Street site but also along the wharfside overlooking the city's iconic Harbour Cut. Sealord folk were on hand to answer questions and distribute chocolate fish to those keen members of the public and families of staff who'd come along and, at Vickerman Street, both the Coated and Wetfish factories ceased production temporarily to enable everyone to mark the occasion.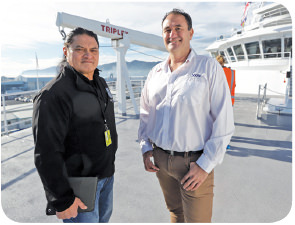 kaumátua Luke Katu (left) with Doug Paulin.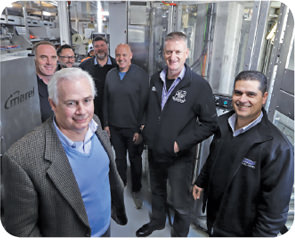 Steve Yung. front left, tours the new vessel's factory with some of the Senior Executive Team, (l to r) Tim Silverstone, Stu Yorston, Jason Plato, Richard North, Gary Neill, and Rui Ventura.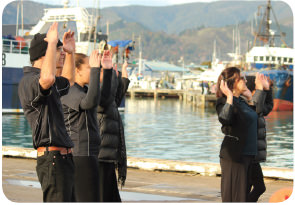 members of Sealord's kapa haka group welcomed Tokatu to Nelson.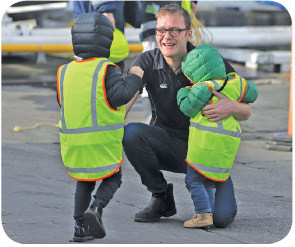 Skipper Steve Fridell is given a hero's welcome by his children, Mia and Jasper.
A mini flotilla of tugs, coastguard vessels and waka ama had been waiting to greet her and, as New Zealand's largest factory freezer trawler approached, a keen toot of the horn signalled the final stretch of her six-week passage from Norway via the Panama Canal. At McKellar Wharf, Sealord's own kapa haka group initiated the welcome ceremony with due aplomb, and the assembled crowd watched on as Skipper Steve Fridell skillfully manoeuvred the towering vessel into position.
Steve - who's actually half Norwegian - first set off for the shipyard at the end of January. Among the crowd were his children Mia, 5, Jasper, 3, and his wife Cecilia. Also on board was their grandad Kerry Killorn who'd travelled as technician to the delivery crew of 20. The grandchildren of Factory Engineer Richard Saunders were there to see him return from the voyage too. "Very cool!" said Adelaide, 9, as the boat was tied up. 'It's really big!" added six-year-old Conna.
After the reunions and the final customs clearance, the immediate families of some of the crew were invited on board the 82m-long vessel for a celebratory lunch and tour, including Jennifer, wife of the boat's other Skipper Rex Chapman, who travelled with the vessel from Norway to the Panama Canal.
Also present was the vessel's designer Inge Straume and the Sealord Senior Executive Team, including CEO Steve Yung. "It's fantastic to see such a big project come to fruition," said Steve.
"Thinking back three years to the initial concept for the first new deepwater fishery vessel in two decades, and then to see it actually arrive here makes everyone immensely proud and feel good that the company is investing in the future."
One early visitor welcomed aboard was kaumátua Luke Katu, to bless the vessel in accordance with a tikanga organised with Archdeacon Harvey Ruru, who was overseas on the day of the vessel's arrival. "I asked the kaitiaki, the guardians, to look after them while at sea," he said. "I asked for blessings to clear all obstacles or all troubles that could get in the vessel's way, to carry people safely on board, to return the boat safely and the crews to their families."
Luke was accompanied by Skipper Rex and General Manager Group Operations Doug Paulin.

Members of the Coated and Wetfish factories were among those on the wharfside to greet Tokatu.
Dorje Strang.
"The last time in Norway I saw it in bits but this is very exciting," said Doug. "I'm proud to see it all came through - it's been a fantastic effort by all the people involved and great to see so many here today engaged in bringing in what is one of the biggest purchases for Sealord."
For one of the Sealord team in particular it was a day that had been a long time coming. Fishing Operations Project Manager Dorje Strang had seen the project through from its inception back in 2015, with many late-night conferences, meetings, and time away from family in Norway, working with Fishing Technical Advisor & Project Manager Graham Thomson.
"We were very happy that the sea trials in Norway had gone off really well with no major issues, especially with timing critical for hoki season," says Dorje, who is grateful to his wife Andrea for holding the fort at home during his several trips to the Norwegian shipbuilders.
"It's definitely been a highlight of my career. Factory freezer trawlers are incredibly complex boats. It's not like producing a Toyota Corolla where they come off a production line making hundreds a day, so of course there were going to be some teething problems along the way, but those we encountered were thankfully only minor.
"A big part of how well this has all gone is thanks to the people we have at Sealord having a huge amount of skills and being an amazing bunch. The proof's going to be in the pudding, so we're looking forward now to seeing how she fishes."
The vessel's arrival created interest not just from the local press but also national media, including Radio New Zealand and a feature on TVNZ's Seven Sharp show. The newspaper in Flekkefjord, where she was built, also ran an article.
Those watching on from McKellar Wharf were pleased to be part of such an auspicious day. "It's massive and very impressive," said Leyden Petterson, General Hand in the Coated Factory, who remembers the day her team went out to welcome the Thomas Harrison to the company. Fresh from the Rehua, which had just docked in Dunedin, was Factory Hand Donald Warren. "This is quite something!" he said. "I was here 20 years ago to see the Rehua when it came in for the first time as a new vessel. This is pretty special."
Tokatu - which originates from the phrase 'He tokatu moana', the rock that withstands the ravages of the sea', is expected to return from its first fishing voyage off the West Coast mid-July.
"It's exciting and is potentially a gamechanger in terms of how we fish in New Zealand, but each of our boats is a critical piece of the puzzle," says GM Fishing Rui Ventura. "We cannot afford for any one of them not to perform at their best. I'm now looking forward to seeing Tokatu return from sea again, but next time full of fish!"
For more information about the vessel's features, see previous issues of The Catch: Sealord's early project team - May 2017. Engine news - June 2017. Factory news - July 2017. Living spaces - Aug 2017. Winch technology and sustainability - Nov 2017. Background details - Sept 2016, April 2017, Sept 2017, Oct 2017, May 2018 and June 2018. Following soon: a look at the history of some of our other vessels.
Kurose Suisan acquired the world first ASC certificates of farmed Buri Yellowtail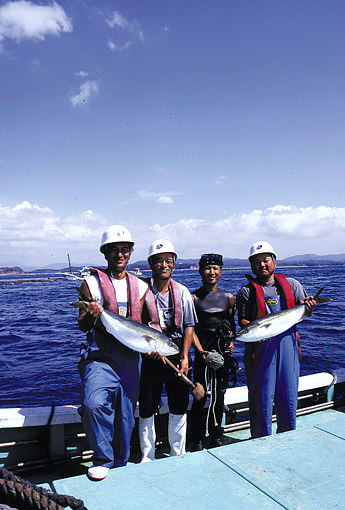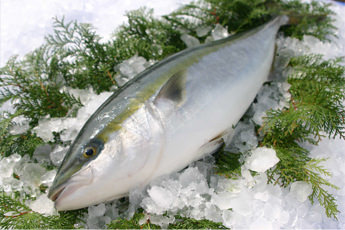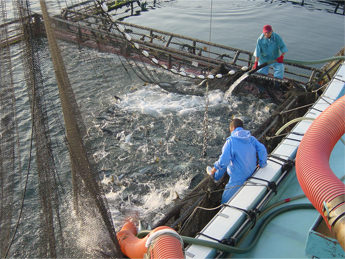 Kurose Suisan, wholly owned subsidiary company of Nippon Suisan, acquired the world's first ASC certificates of farmed Buri Yellowtail on December 16, 2017.
Kurose Suisan acquired CoC certificates as well to deliver its farmed fish.
NGLC Intermediate Conference 2017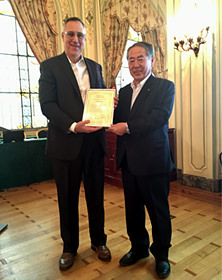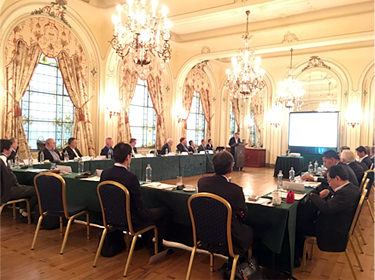 NGLC Intermediate Conference was held on April 24, 2017 in Brussels. 23 people from 13 companies world-wide got together to discuss and share information regarding issues we were facing.
At the beginning of the conference, Hosomi san made an opening address mentioning that Nissui's would make another record operating income in FY 2016. He also revealed the confidence of achieving the mid-term business plan of which FY 2017 was the final year. All of the group members reaffirmed their determination to achieve the goal.
After that, information sharing session regarding an issue Nissui Group were facing, stagnant white fish market was held, and all of the members discussed actively to cope with the difficult situation.
Finally Keith san of F. W. Bryce received MVIP award three years in a row and got applause from all of the attendees at the Commendation Ceremony.
The Brussels Seafood Show2017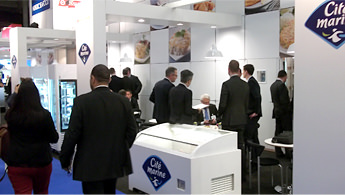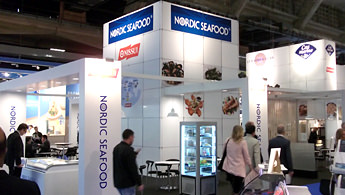 The Biggest seafood show in Europe, Seafood Expo Global 2017, so called the Brussels Seafood Show was held on Tuesday April 25 to Thursday April 27, 2017 in Brussels, Belgian with more than 1,600 exhibitors from 80 countries in the world.
Nissui Group ran a booth led by the European Affiliates, including Nordic Seafood, Cite Marine, Europacifico and J. P. Klausen, at the center of the exhibition hall. In addition, many of the Global Links Members, including UniSea, Glacier, EMDEPES, Salmones Antartica, Nordsee, and Nissui Pharmaceutical got together at the booth and conducted active promotions and business negotiations.
NGLC2017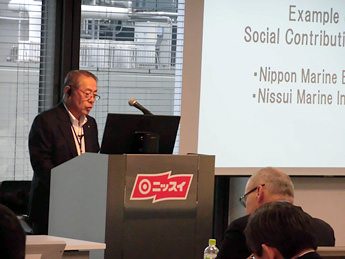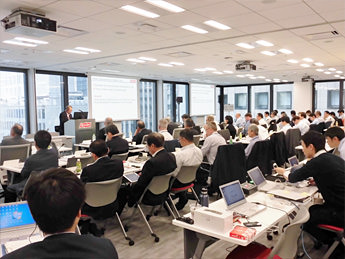 Nissui Global Links Conference 2107 was held on November 15 and 16, 2016 in Tokyo, Japan. 69 members from 27 companies got together to discuss and share information about next year's plan of each company.
At the beginning, Hosomi san made an opening address. He mentioned that the performance of the Nissui Group had been ahead of the plan, and forecast of FY2016 was revised upward. However, a little more stretch was necessary this year to achieve mid-term plan which would be the final year in 2017.
At the same time, he also introduced CSR activities on which Nissui started to focus officially from 2016.
After the explanation of the consolidated performance of the 2nd quarter FY2016 and public stock offering in August by Koike san, each global links company presented the policy of next year's plan followed by the discussion.
2 days conference was completed with active exchange of opinions and Hosomi san concluded the conference with his powerful statement of achieving mid-term plan MVIP2017.
Australian Longline acquires new fishing vessel "Antarctic Discovery"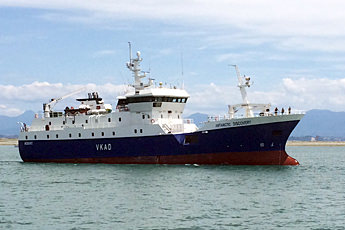 In November 2015 Australian Longline Pty Ltd purchased its second Toothfish Longline vessel the 55m Antarctic Discovery. The vessel recently departed from Nelson and is now on its maiden fishing trip undertaking an 80 day research fishing voyage in Antarctic waters south of Australia with a crew of 22 plus 2 scientific observers on board. It was the largest longliner ever built in Norway.
The Antarctic Discovery has recently undergone a significant refit throughout the vessel, upgrading the diesel electric propulsion systems, accommodation and electronics as well as ensuring that the vessel is capable of meeting the environmental and safety standards required by vessels fishing for toothfish in Australian and Antarctic waters.
The addition of the Antarctic Discovery will provide Australian Longline with increased fishing capacity ensuring that the company continues to harvest its increasing Toothfish quota from the Australian southern ocean fisheries located at Heard and McDonald Island and Macquarie Island without relying on charter vessels. It will also provide increased opportunity to develop other potential toothfish fisheries.
Hosomi san received the Officier of L'ORDRE NATIONAL DU MERITE
Hosomi san, President & CEO of Nissui, was awarded the Officier of L'ORDRE NATIONAL DU MERITE by the French Government. He was commended for the development of Cite Marine, which had produced 200 additional employments and reached total of 800 employments in 2013.
The ceremony was held at the French ambassador's residence in Tokyo on July 16.
L'ORDRE NATIONAL DU MARITE was institute in 1963, and is awarded from the French Government by the decision of the President of the Republique. Recipients are French citizens as well as foreign nationals who contribute to France.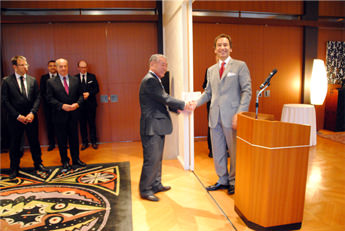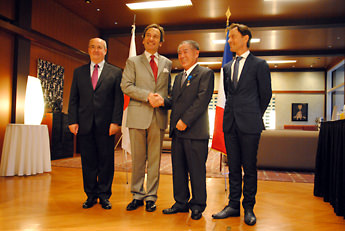 The Brussels Seafood Show
Seafood Expo Global 2015, so called the Brussels Seafood Show was held on Tuesday April 21 to Thursday April 23, 2015 in Brussels, Belgian. More than 25,000 people from more than 150 countries visited the exposition.
Nissui Group ran a booth led by the European Affiliates, including Nordic Seafood, Cite Marine, Europacifico and J. P. Klausen, at the center of the exhibition hall. In addition, many of the Global Links Members, including UniSea, Glacier, EMDEPES, Salmones Antartica, Nordsee, Nissui Pharmaceutical and Kurose got together at the booth and conducted business negotiations.
Nissui Group booth was always crowded by the visitors, and it is safe to say that, was one of the busiest in the exhibition.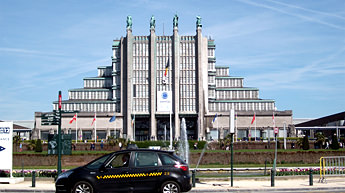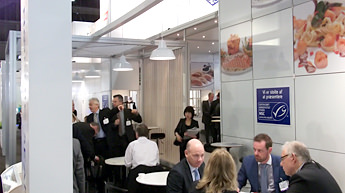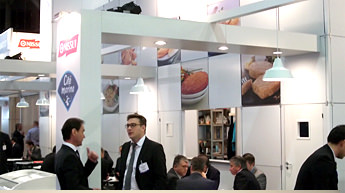 NGLC Intermediate Conference
NGLC Intermediate conference was held on April 20, 2015, in Brussels, Belgian. 20 Global Links members from 13 companies got together and discussed regarding continued growth of Nissui Group.
At the beginning, Hosomi san, president & CEO of Nippon Suisan made an opening address. He mentioned that Nissui Group would be expected to achieve record profit in fiscal year 2014 thanks to the strong performance of overseas group companies. He touched on the new mid-term business plan as well, in which Nissui Group focus more on the growth.
After opening address, MVIP award commendation ceremony was held and 4 companies including F. W. Bryce, King & Prince, Cite Marine, and Nordic Seafood received the award. MVIP Award is inter-group commendation program for good performances and efforts.
Other Global Links members including PESANTAR, Salmones Antartica, and Europacifico, which were not present at the conference, received the award as well.