In October 2007, Nissui acquired 59% of the issued shares of Cité Marine, a French producer of processed seafood from the founding family and the firm thereby became a member of the Nissui Group. In order for Nissui, which has developed a distribution network for marine products in Europe, to further expand its business, it was a prerequisite to obtain a producer that can "create greater customer-oriented value from marine resources."
Cité Marine was founded in 1990 with its head office based in Kervignac in the Bretagne region in the northwest part of France. Its main plant is on the premises of its head office and it also has another plant, the Malabry plant, in Prenessaye, which is located 80 km to the east. The main plant mostly produces fried and ready meal products (frozen and chilled foods) through six production lines, while the Malabry plant produces natural and frozen fried skewered products in four production lines.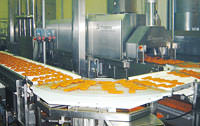 Pre-fry and oven-baked continuous cooking line implemented at Cité Marine
One of the top characteristic technologies of Cité Marine is represented by its battered/breaded seafood products, which are fully cooked product, so they called "cooked-at-heart". In general, most battered/breaded products are pre-fried (products are fried in the processing stage), while the heart portions remained uncooked and raw. Cité Marine, however, produces chilled and frozen products that are fully cooked to the heart by implementing a cutting-edge pre-fry and oven-baked continuous cooking line. This technology has enabled the Company to extend freshness dates and shorten cooking times. Cité Marine currently has a 70% share of this category in France.
With its compression molding technology that it uniquely improved on its own by modifying a general-purpose machine, Cité Marine also provides compression molded fillets and portions according to customer needs. In addition, Cité Marine's battering technology has earned a solid reputation for adding incomparable flavor to its Meuniere products, as well as for its ingenuity.
Furthermore, Cité Marine's strength is also shown in its oven-baked vegetable products and ovenbaked fish & vegetable products. Not only does the company possess complete equipment, it also has an established infrastructure that consists of a competent engineering team, an R&D team and a system where customer needs and desires obtained from the market are reflected in production at the plants. These advantages enable Cité Marine to bring about these technologies and products.
Since the announcement of the acquisition, Nissui has received very positive responses from the customers of Cité Marine. Nissui's intention to integrate Cité Marine's capability as a producer and Nissui's resource-accessing power was clearly understood and has been well received by customers. We have been receiving favorable feedback, including an inquiry about Cité Marine from a large-scale retailer in Northern Europe and Nordic countries through Nordic Seafood A/S (Denmark), one of the European distributors of the Nissui Global Links.