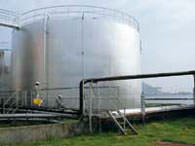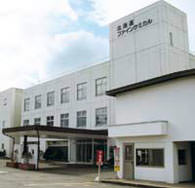 The fish oil tank of Hokkaido Fine Chemicals Co., Ltd. and the head office building
In April 2009, Hokkaido Fine Chemicals Co., Ltd. (Hokkaido FC), upon being acquired through a transfer of business from Nikkashi, commenced its operations. Hokkaido FC is also involved in the manufacture of EPA, DHA and other functional lipids of fish origin and various synergies are anticipated, as they become a part of the Nissui Group. Hokkaido FC's functions include: (1)storage tanks that can contain a total of 25,000kl of fish oil, including 19 tanks with 1,000kl capacity that may be directly loaded from ocean vessels via pipeline, (2)primary purification of fish oil (neutralization bleaching), (3)manufacture of functional lipids and pharmaceutical ingredients, (4)manufacture of natural food seasoning, and (5) pilot plant for developing technology.
Although sardine oil, a crucial ingredient in pharmaceuticals and functional lipids, has been imported from Peru, the frequent occurrence of El Nino in that region has made it difficult to secure a stable supply of the oil. Therefore, Hokkaido FC's ability to store fish oils is expected to play a major role in ensuring stable production. In fact, its facilities are currently capable of storing three years' stock of sardine oil. Moreover, as the transport system for connecting Hokkaido FC with the Kashima Plant using domestic tankers has been established, Nissui has been able to not only cut down on the costs of oil storage and transportation but also reduce CO2 emissions.
It is significant that Nissui now has three production bases for functional lipids including the Tsukuba and Kashima Plants: The three bases enable production to take place at the optimum locations according to the different materials and products. Unlike the continuous processing lines at the Tsukuba and Kashima Plants, the flexible processing lines at Hokkaido FC, in particular, may be counted on to handle small lot production as well as a backup tacility for the Tsukuba and Kashima Plants. Furthermore, if, in the event of a natural disaster, one plant has to shut down, the other two could make up for the lost production, thus satisfying the requirements of crisis management as well.
As the pilot plant for developing technology, Hokkaido FC is currently collaborating with the Central Research Laboratory to establish plant-level extraction technology for commercializing phospholipids derived from krill. Hokkaido FC will continue to cooperate with the group in considering new commercial technology in the future.
Flow of crude oils and ethyl esters of EPA-E NISSUI