The Nissui Pioneer Exhibition was constructed on the first floor of the Nissui Tobata Building in the Tobata district of the city of Kitakyushu. There is a reason that the Tobata district was chosen. It begins with the decision of Ichiro Tamura, the founder of Nissui, to send Kosuke Kunishi to England to learn how to build trawlers. In 1911, Tamura established the Tamura Steamship Fishery Division in Shimonoseki. In 1929 it was relocated to Tobata, where its role as a supplier of marine products was consolidated.
Facing Dokai Bay, Tobata is blessed with natural beauty. A municipal government was established in the area in 1924, and together with the reclamation of the Ichimonji shore in the Dokai Bay area, construction proceeded to connect the inland and coastal areas more efficiently. A harbor rail line was also constructed, which prompted Kosuke Kunishi, crucial figure in the founding of the company, to remark, "The key to the success of this business is to find people that are qualified and who can adapt to the changing times," and, "If we do not make a decision now, there is an overwhelming chance that we are destined for failure," which led to the decision to relocate from Shimonoseki to Tobata.
After relocation, Tobata became not just a new base for trawlers, but also a fishery supply center, providing ice, refrigeration, freezing, processing, distribution, and sales. If Shimonoseki was Nissui's "hatchery", so to speak, then Tobata was where it spread its "wings" as a real business, which is why Tobata is considered the home of Nissui.
The Nissui Pioneer Exhibition was constructed on the first floor of the Nissui Tobata Building, which was built in 1936. Built along Dokai Bay, the building became an important center of the city of Kitakyushu once the 200 nautical mile rule went into effect. In 2009, the building was given the Kitakyushu City Urban Landscape Award for its unique and alluring contribution to the cityscape of Kitakyushu.
The award provided the impetus for restoring the entire building. The marine radio antenna, which was the first of its kind employed by a private company in Japan, was left on the roof at the front of the building, and the structure was restored to its original appearance at the building's completion 75 years ago.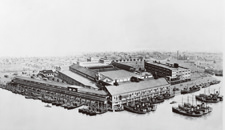 Tobata Harbor just after relocation