President & CEO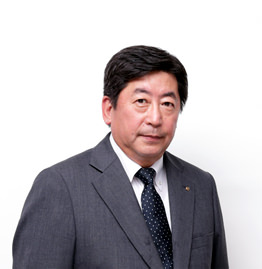 Nissui has been conducting business for more than 100 years owing deep gratitude to marine resources at every moment based on our founding principles, "A tap water supply system is exactly what marine products should be like in production and distribution".
History of Nissui which started with only one fishing vessel has been filled with distress. During and after world warⅡ and during Japan's economic boom and 200 miles EEZ period, we have continued transforming business structure coping with the change of the times. In addition, Nissui is responding to sustainability of marine resources and preservation of the earth environment as important issues at this time.
Nissui has been executing the mid-term business plan "MVIP 2017" aiming at achieving further growth and the increase of corporate value for 3 years from 2015 to 2017. Nissui holds out the goals including "to be the manufacturer with differentiated and unique technologies coping with the changes" and "contributing to the society widely by promoting the management based on CSR as well as enhancing corporate vales through strengthening financial structure". We will make a concerted and group wide effort to achieve the goals. Thankfully, financial performance until 2016 has been strong and we would like to express our heartfelt thanks to the customers and stakeholders supporting Nissui.
Nissui, whose business relies on the bounty of nature, will champion the sustainable utilization of marine resources and the preservation of the earth environment, continue to create diverse value from resources, including marine resources, and provide individual consumers with safe and high quality products thus helping them to maintain a fit and healthy lifestyle.
We sincerely appreciate your continued understanding and support.
June 2017
Shinsuke Ohki
President & CEO,
Nippon Suisan Kaisha, Ltd.