Message from President & CEO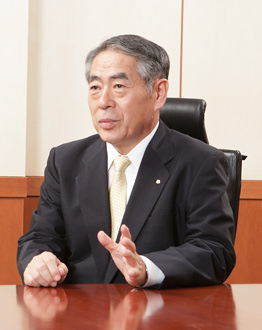 The business climate for fiscal 2013 was very severe Nissui and the Nissui Group. As a result, we did not pay interim or term-end dividends. We at Nissui operate a broad range of businesses, including fisheries, aquaculture, seafood processing, processing (of other foods), fine chemicals, and logistics. Members of the Nissui Group located in Japan, North and South America, Europe and Asia all work together at the various stages of the process of turning resources into products, and the synergy at work drives the construction of a global supply chain that maximizes the value of marine resources. Only by further developing and utilizing this global supply chain can we evolve into a truly global company and bring marine resources with new value to people all over the globe. Moreover, as a company that relies on the benefits of nature, we are committed not just to ensuring the sustainability of marine resources, but also to saving energy, conserving resources, reducing waste, decreasing the weight of packaging, making green purchases, and to other efforts to reduce our environmental impact so that we may coexist in harmony with natural environment of the earth.
Currently, the Nissui Group, in preparation for future growth, is engaged in the formulation of the next Medium-Term Management Plan. In August 2014, we will relocate our Head Office for the first time in 48 years, and in our new surroundings we intend to step up our efforts to enhance our efficiency, strengthen our business foundations, and strive for quality business management.
We sincerely welcome and appreciate your continued guidance and cooperation.
June 2014
Norio Hosomi
President & CEO,
Nippon Suisan Kaisha, Ltd.