Reducing CO2
Nissui is promoting the systematic reduction of CO2 emissions through various measures, including energy- and electricity- saving efforts based on the ingenuity of our employees.
We are aiming to reduce CO2 emissions by 3% in three years compared to the levels of FY2011.
Amount of CO2 emissions
Total CO2 emissions of Nissui's domestic Group companies for FY2013 were 180,950t, representing an increase of approximately 7.5% compared to the previous year. This was due to the increase in the emission coefficient per kWh electricity usage of the electric power suppliers. If we are to calculate CO2 emissions based on the same standards as FY2011 (using fixed CO2 coefficients), then total CO2 emissions would be 149,607 t, representing an approximate 4.0% decrease from FY2011, and thus we were able to achieve our target. This decrease was a result of the efforts made to save electricity and energy, as well as the promotion of further elimination of waste, the introduction of LED lighting and other initiatives taken at each business location.
A breakdown of CO2 emissions by the type of energy used shows that CO2 emissions attributable to the use of electricity accounted for 55.4% (56.8% in the previous year), more than half of the total. This was followed by city gas with 21.4% (17.8% in the previous year) and heavy fuel oil grade A with 11.4% (13.0% in the previous year)
Initiatives to reduce CO2 emissions
Initiatives to reduce the use of city gas
The five Nissui plants under direct control that mainly used city gas conducted a teleconference to share and implement best practices in initiatives to reduce the use of city gas.
Subsequently, various measures, including the addition of insulation materials to piping and equipment, regular checks for escaping steam and energy-saving operations of the boilers, were implemented, which proved effective and led to a reduction in the use of city gas.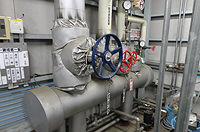 Reducing electricity use through the removal of scale*
The water used in the outdoor units of freezers and air-conditioners contains minerals which accumulate inside the pipes as scale. Once scale accumulates, it becomes a burden on the freezers, resulting in the use of excess electricity. In response, each business location has installed devices to minimize the build-up of scale, in addition to conducting regular inspections and cleaning, thereby cutting down on increased freezer load.
*Scale: Calcification of minerals contained in water