Nissui's own standards for safety / Managing all information on raw materials to ensure safety
Nissui handles everything from the access to marine resources to the processing of finished products, yet it only has one mission: to offer customers safe and tasty foods and products. The ability to guarantee food safety is the bedrock of and ultimate priority for companies in the food industry.
Nissui has developed its own set of quality control standards to ensure the safety of its products. As part of these standards, Nissui implements an assortment of quality checks and other measures to ensure safety at all levels of operations, from the procurement of raw materials to inspections and distribution.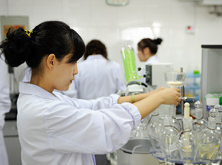 Nissui's Own Standards for Safety
Nissui's businesses are inextricably linked to providing good food and health. Because of this, Nissui has developed its own quality control standards to better enable it to provide customers with safe products. Nissui applies these standards to raw materials procurement, production, inspection, and distribution, each of which is done in strict adherence to the pertinent laws.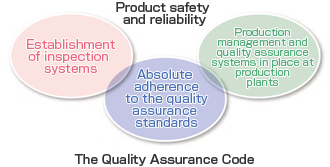 At the core of Nissui's efforts is its Quality Assurance Code, which was established in October of 2002. The basic policies and philosophies underlying the code are three-fold: 1) to follow rules assuring quality; 2) to implement production control and quality control at plants; and 3) to utilize a robust inspection system.
The unit set up to implement the Quality Assurance Code is the Quality Assurance Department. The Quality Assurance Department is tasked with a broad mission, one that includes formulating and managing in-house standards, providing education, improving customer satisfaction, quality cost management, plant audits, handling complaint reports, raw materials information management, product labeling, quality control instruction at Nissui plants and affiliates in Thailand, Vietnam, and China, and many other duties.
At the same time, Nissui has established a Quality Assurance Committee, which is chaired by Nissui's president. The Quality Assurance Committee, whose members also include the Senior Managing Director and the relevant executive officers and department heads, as well as members from outside the Company, is convened twice a month to discuss the formulation or review of sets of quality assurance standards, to share information on and flesh out solutions to any recurring problems that come to light as a result of customer feedback, and to deliberate on improvements to be made at the Nissui Group's plants based on audit reports.
Diagram of the quality assurance systems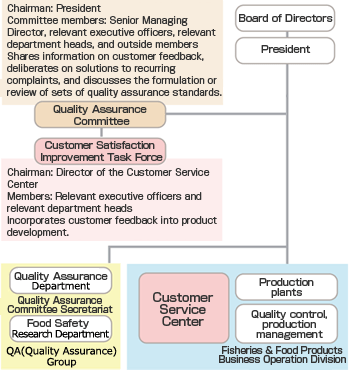 Managing all information on raw materials to ensure safety
Product Safety and Reliability Initiative on the parts of Nissui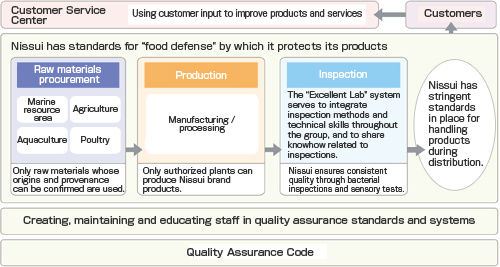 We have also established standards designed to ensure the safety of the raw materials that go into the making of Nissui brand products. Under this system, only raw materials whose origins and provenance can be confirmed are used. We receive a Nissui-designated "Raw Materials Compliance Guarantee Form" from suppliers and use that data to manage all information on materials. This enables us not only to ensure the traceability of raw materials, but also to provide proper responses to inquiries from customers concerning materials.
Another requirement is that the raw materials used in products made at overseas plants must meet Japanese standards. Before importing products, Nissui conducts inspections for pesticides, fertilizers, antibiotics, etc., and imports only those products that have passed these inspections.
Nissui takes painstaking steps to ensure that major production centers are managed properly. In Thailand, for example, Quality Assurance Department Quality Control Section Thailand is responsible for raw material and product safety checks, for training employees at local production plants, and for providing instruction on levels of quality control that comply with Japanese laws and Nissui's standards. In China, these functions are performed by Qingdao Nissui Food Research and Development Co., Ltd.
Qingdao Nissui Food Research and Development Co., Ltd.
Established as the Quality Control Center China in 2003, it became a separate entity, the Qingdao Nissui Food Research and Development Co., Ltd. in April of 2008. Qingdao Nissui conducts safety inspections of raw materials and products for the Nissui Group in China. It also develops products to be produced in China.