Business Activities Summary
Marine Products Business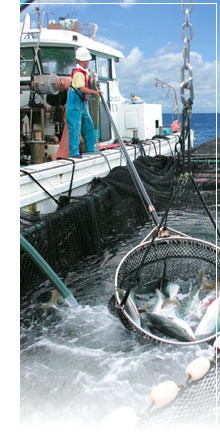 Marine Products Business, the core business of the NISSUI Group, maintains a system enabling us to deliver safe, secure and delicious fish at all times by performing a vertically-integrated operation including fishery, aquaculture, processing and sales through the stages from access to marine resources to delivery to the tables of our customers.
Fisheries
In North America, UniSea, Inc. has been procuring and processing resources since the 1970s. In South America, EMDEPES operates fishery in Chile.
In Asia and Oceania, Sealord Group is operated in New Zealand as a base for accessing marine resources.
Aquaculture
We at NISSUI continue to focus our efforts on domestic aquaculture business to reinforce our food supply system, ensuring its stability in the future. In 1994, NISSUI established its Oita Marine Biological Technology Center (1994) to develop unique and unprallelled aquaculture technologies; the facility engages in research on breeding, fish diseases and fish foods in order to create a vertically-integrated aquaculture system.
Developers of NISSUI's aquaculture business also include: Salmones Antártica in Chile, which, from 1988 has established a vertically-integrated production management system of salmon aquaculture.
Furthermore, in Japan, Kurose Suisan engages in yellowtail aquaculture and Seinan Suisan and Kaneko Sangyo engages in Bluefin tuna aquaculture.
Processing and Sales
NISSUI's overseas sales bases encompasses several areas, including F.W.Bryce in North America; Nordic Seafood, Europacifico and J.P. Klausen in Europe. Each company plays an integral part as sales and marketing functions in both the global and local supply chain for the NISSUI Group.
We at NISSUI are also improving our techniques not only in delivering marine foods (fresh and frozen fish) but are making thorough use of marine resources such as oils and fats (fish oil) and meal (fishmeal and aquaculture feed) in order to pursue new value-added products.
Food Products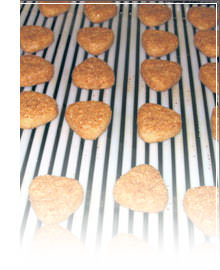 Food Products Business, a leader of the NISSUI Group in tandem with Marine Products Business, is operated by Nippon Suisan Kaisha, Ltd. This business produces and sells an enormous variety of products in Japan, such as frozen prepared foods for household and commercial uses, canned and bottled foods, fish sausage, chikuwa, and imitation crab and fish paste products; additionally, products are furnished to chilled foods companies that serve as vendors for convenience stores. Each company has been growing with our customers in combination with the powerful R&D capabilities, merchandise planning ability, procurement and logistic capabilities and processing technologies of the Group.
In North America, the Group entered into the field of production and sales of precooked frozen seafood in the latter half of the 1990s. Afterwards, Gorton's and King & Prince joined the Nissui Group in 2001 and 2005, respectively. In Europe, Cité Marine (France) joined the Group in 2007 as a first step toward developing our food production bases. And in China, Tai Mei Food which has engaged in production and process of agricultural products over the years, joined the Group in 2007. NISSUI also has partner that produce and process processed chicken products.
With the globalization of the market, NISSUI is making all efforts to establish an efficient supply chain system by effectively combining the capabilities of overseas sites that have potentials for procurement of raw materials, production and processing, and development of the market toward the future with the capabilities of domestic sites that mainly produce value-added goods.
Fine Chemicals Business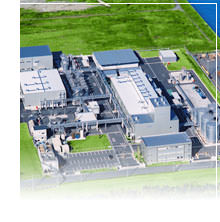 Fine Chemicals Business has simply practiced our corporate philosophy, "creating new values with the knowledge and technologies that we have built on the basis of marine resources." One significant example is research and development on EPA/DHA (Omega 3 unsaturated fatty acid). These acids, mainly contained in sardine and mackerel, help to reduce lipid levels in the blood and prevent arteriosclerosis.
NISSUI jointly developed and commercialized high-purified EPA as pharmaceutical ingredients with Mochida Pharmaceutical Co., Ltd. and supplies EPA/DHA refined for foods as nutritional products, food products such as baby formula, and supplements in Japan and overseas, including Western countries and Asia.
The Company also sells "IMARK," specialized health food containing EPA and DHA, by mail order in Japan. As one of the Group companies, Nissui Pharmaceutical concentrates on dealing with natural pharmaceutical products, supplements, culture media and diagnostic products. Furthermore, in addition to the Tsukuba Plant and the Kashima Plant (Ibaraki Prefecture) that specializes in functional oils and fats. NISSUI continues to pursue the values of "health and beauty" by creating various physiologically active substances from marine resources.
General Distribution Business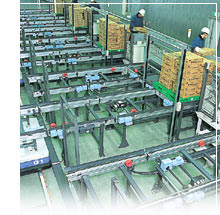 General Distribution Business of the NISSUI Group, which supports Marine Products Business and Food Products Business, was integrated into Nissui Logistics in April 2007 so as to make use of its comprehensive power. The firm operates the business in three segments by utilizing the know-how of chilled product distributions.
The first core segment is Cold Storage Business, which comprises a network of cold storage operations established over Japan. The second is Third Party Logistics (3PL) business, which is entrusted to operate general distribution for mass merchandisers and the food service industry. And the third is International Marine Logistics business, which supports the global supply chain of the NISSUI Group. Each segment aims to perform safer and more secure distribution and strengthen its capabilities.
Other Business
Nissui Engineering one of the Group companies, engages in building, repairing and operating ships, and sells equipment and plant hardware used in the processing segment based on technologies and manpower that Nissui has continued to cultivate.
Additionally, Nippon Marine Enterprises provides opportunities for Marine Technicians or engineers who have acquired professional techniques to consistently tackle new challenges and trials in supporting marine research.