Management Policy
We clarified "vision for 2030" as a long-term vision after redefining our mission (meaning of existence) based on the "Founding principle and five genes" and "Declaration on Action of Sustainability."​

Mission
With the wellbeing of the ocean and people as our compass, we are driven to offer the world better food choices.
We are determined to harness the power of our pioneering spirit and industry expertise to create a healthier, more sustainable future through innovative food solutions.
Nissui's mission is based on these thought.
(1) to be a company that continues to pursue the possibilities of "food"
(2) inherit the corporate culture nurtured and forged by the sea
(3) the determination to move forward to the sustainable future
Long-Term Vision (How We Want to Be in 2030)

Based on our mission, we have set our goals for 2030 as "A leading company that delivers friendly foods for people and the earth."

In order to achieve our long-term vision of "Good Foods 2030," we will strive to improve our corporate value by promoting "sustainability management" that creates value for a sustainable society with consideration for multi-stakeholders and strengthening "business portfolio management" that concentrates management resources in growth fields through the use of ROIC.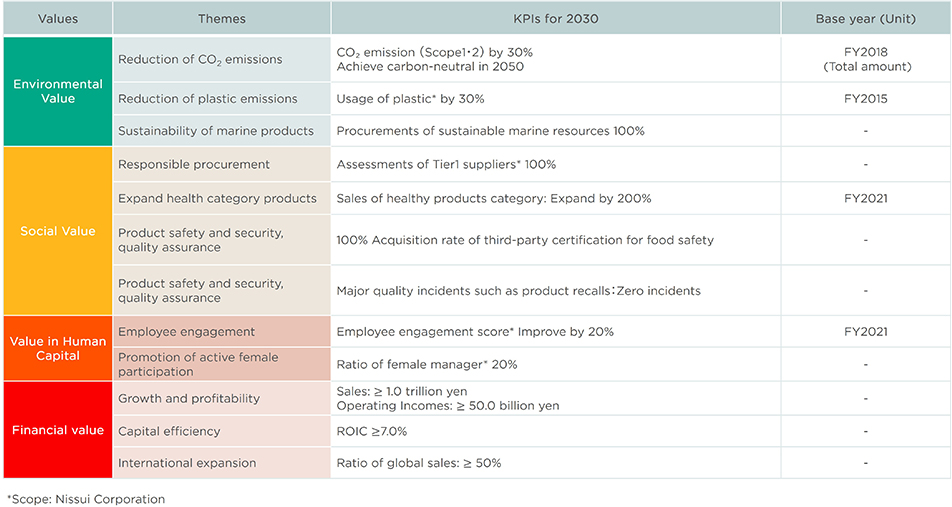 We will accelerate growth in overseas markets, growth and differentiation in the aquaculture business and fine chemical business, and create environmental value, social value, and value in human resources.
We will aim to be a company that can earn 1 trillion yen in net sales, 50 billion yen in operating profit, with 50% of net sales at overseas location.