Nissui's Initiatives for EPA
Since its founding, Nissui has been working to utilize the finite marine resources to their maximum potential to provide for society. EPA is a symbol of such initiatives.
What does EPA mean to Nissui?
Research in fish oil that began from the company's establishment
The beginning of Nissui's fine chemicals products including EPA can be traced back to when the company was first founded.
Japan's first private fishery research organization, the Hayatomo Fishery Institute, was established in Shimonoseki upon the suggestion of Kosuke Kunishi, a person of merit in the establishment of Nissui. This group relocated to Tobata in 1930 and set up the Chemistry Department which began surveys and research on the useful ingredients of fish. Particular attention was focused on fish oil research.
"The future rationalization of fisheries will depend on the results of scientific research. It is hard to predict whether the substances we now discard as waste will become drugs or industrial raw materials as a result of research." (Anthology of Writings and Speeches of Mr. Kosuke Kunishi.) Honoring Kunishi's thoughts, research aimed at processing and using fish oil was started in 1934. This would later blossom into research on EPA.
Nissui partnered with Chiba University for research and was able to verify efficacy of EPA in 1980. Joint pharmaceutical development with Mochida Pharmaceutical led to approval for manufacturing pharmaceuticals in 1990. With the development of advanced purification technology, the manufacture of purified EPA was achieved for the first time in the world.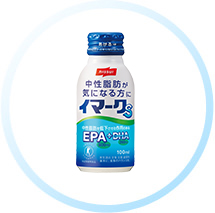 Manufacture of purified EPA
Creating a supply system for high-quality EPA
Sardine oil makes up roughly 20% of EPA content. For pharmaceutical use, this concentration is raised to over 90% so that it is in a highly-purified state. As EPA is very sensitive, its quality is degraded when it comes into contact with oxygen and it also starts to dissolve.
Nissui overcame such challenges and problems and succeeded in the mass production of purified EPA. Currently, concentration levels of over 96% have become achievable.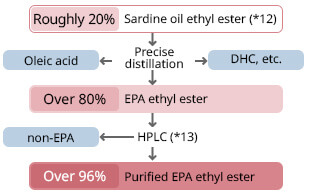 *12: Ethyl ester


Chemical compound made with ethanol instead of glycerin. Ester refers to the compound formula (-COO-) which maintains the structure even when compounded with glycerin.

*13: HPLC


Device called high-performance liquid chromatography. It utilizes a separation column and pressurized liquid to separate mixtures and is used in the simultaneous analysis of amino acids.
Commercialization of EPA products
Nissui established a division in 1987 which would later become the current fine chemicals business division, and has since been working in the production, marketing, and product development of a broad range of products, from pharmaceuticals to health foods, that contain EPA.
In 1988, Nissui began online sales of an EPA-formulated health food in capsule form, "Umi no Genki EPA".
In 2004, sales of the "Tokuho" specified health product "IMARK" drink began, followed by "IMARK S" in 2012.
Nissui also focuses on convenient general foods that allow people to readily consume EPA.
General history of commercialization
1987 Umi no Genki EPA
1990 Pharmaceutical product Epadel
2004 IMARK ("Tokuho" specified health product)
2011 EPA+ (Epa Plus) Soy bar
2012 IMARK S ("Tokuho" specified health product)
2012 EPA+ Soy cookie
2013 SPORTS EPA (PLUSPO)