Fine Chemicals Business
We have been refining unique technologies to stably supply and further sophisticate chemical products derived from marine resources with a focus on eicosapentaenoic acid (EPA).
Nissui began conducting epidemiological research on eicosapentaenoic acid (EPA) contained in sardines and other blue-backed fish jointly with Chiba University's School of Medicine in 1980, and has since been working on the research, production and commercialization of EPA for about 40 years. Having established advanced purification technology for EPA, Nissui's joint research with a pharmaceutical company has resulted in the approval of EPA as a drug for arteriosclerosis obliterans and hyperlipidemia in 1990 and 1994, respectively, for which Nissui produces and supplies EPA in the form of pharmaceutical raw materials.
Furthermore, Nissui, whose attention is focused on the diverse effects of EPA, produces and supplies EPA as a functional ingredient, and also develops and provides foods for specified health use, foods with functional claims, supplements and other health food products. For the procurement, storage and processing of sardine oil, which is the raw material of EPA, a global supply chain for EPA unique to Nissui has been built in collaboration with its domestic and overseas Group companies. In addition, Nissui handles docosahexaenoic acid (DHA) and other distinctive materials derived from marine resources, which are utilized in various fields.
EPA, the existence and efficacy of which have come to be known as a result of epidemiological research on Inuit people in the 1970s in Denmark, is an omega-3 essential fatty acid that is contained in fishes like sardines and such. It is difficult for the human to EPA in body and thus it needs to be ingested as food. The approved efficacy of EPA includes the mitigation of heart disease risks, the reduction of the serum triglyceride level and an anti-inflammatory effect.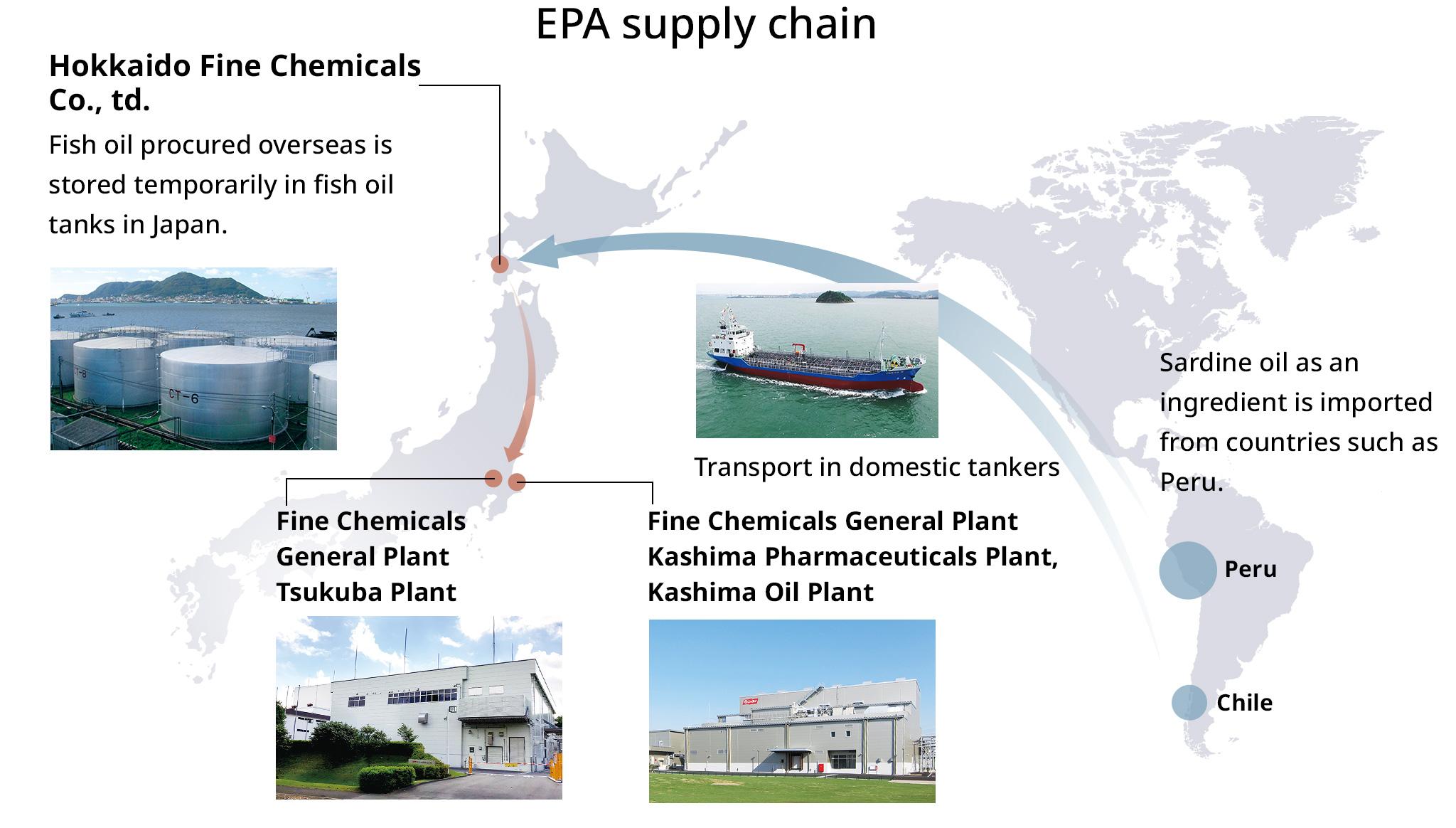 At EU/HACCP*1 and GMP*2- certified plants, the oil is processed into high-purity oil, fishy odors are removed, and any pollutants such as dioxins are removed using technologies developed by Nissui.
*1

HACCP(Hazard Analysis and Critical Control Point)
*2

GMP: Good Manufacturing Practice, standards for the manufacturing and quality control of pharmaceuticals and quasi-pharmaceutical products
Ever-increasing Potential of EPA
In 2018, the results of " REDUCE-IT" -- a large-scale clinical trial on the effects of pharmaceutical-purpose EPA conducted in the U.S. -- were published and substantiated that high-purity EPA suppresses the occurrence of circulatory diseases. Based on these findings, the high-purity EPA drug formulation market is expected to expand in the U.S. With such prospect in mind, Nissui launched the operation of Kashima Fine Chemicals General Plant "Kashima Pharmaceutical Plant" in January 2018 and put in place a structure to dispatch EPA to pharmaceuticals markets worldwide based on quality and manufacturing control that meets cGMP standards, which are indispensable for the supply of pharmaceuticals to markets outside Japan.
*cGMP: current Good Manufacturing Practice; The latest standards for the manufacturing and quality control of pharmaceuticals and quasi-pharmaceutical products.