Fine Chemicals Business
We have been refining unique technologies to stably supply and further sophisticate chemical products derived from marine resources with a focus on eicosapentaenoic acid (EPA).
Nissui has been working on the research, production and commercialization of EPA for roughly 40 years since its participation in epidemiological research in collaboration with the School of Medicine at Chiba University in 1980 on EPA found in bluefish such as sardines.
EPA is an omega-3 essential fatty acid that cannot be produced in the body and must be taken in the diet. Nissui has established advanced purification technology for the commercialization of EPA, and joint research with a pharmaceutical company has resulted in the approval of EPA as a drug for arteriosclerosis obliterans in 1990 and hyperlipidemia in 1994. We now manufacture and supply EPA as a raw material for pharmaceuticals.
Nissui also develops and provides ingredients for functional foods, "Tokuho" specified health products, functional foods, supplements and other health-related foods that contain EPA in order to allow everyone to utilize the diverse functions that EPA has in maintaining health in daily life. Sardine oil is procured, stored and processed as raw material with the cooperation of group companies and subsidiaries inside and outside of Japan, utilizing the unique Nissui EPA global supply chain. Nissui is also handling DHA, orange roughly oil and other marine resource-based ingredients to be used in various fields.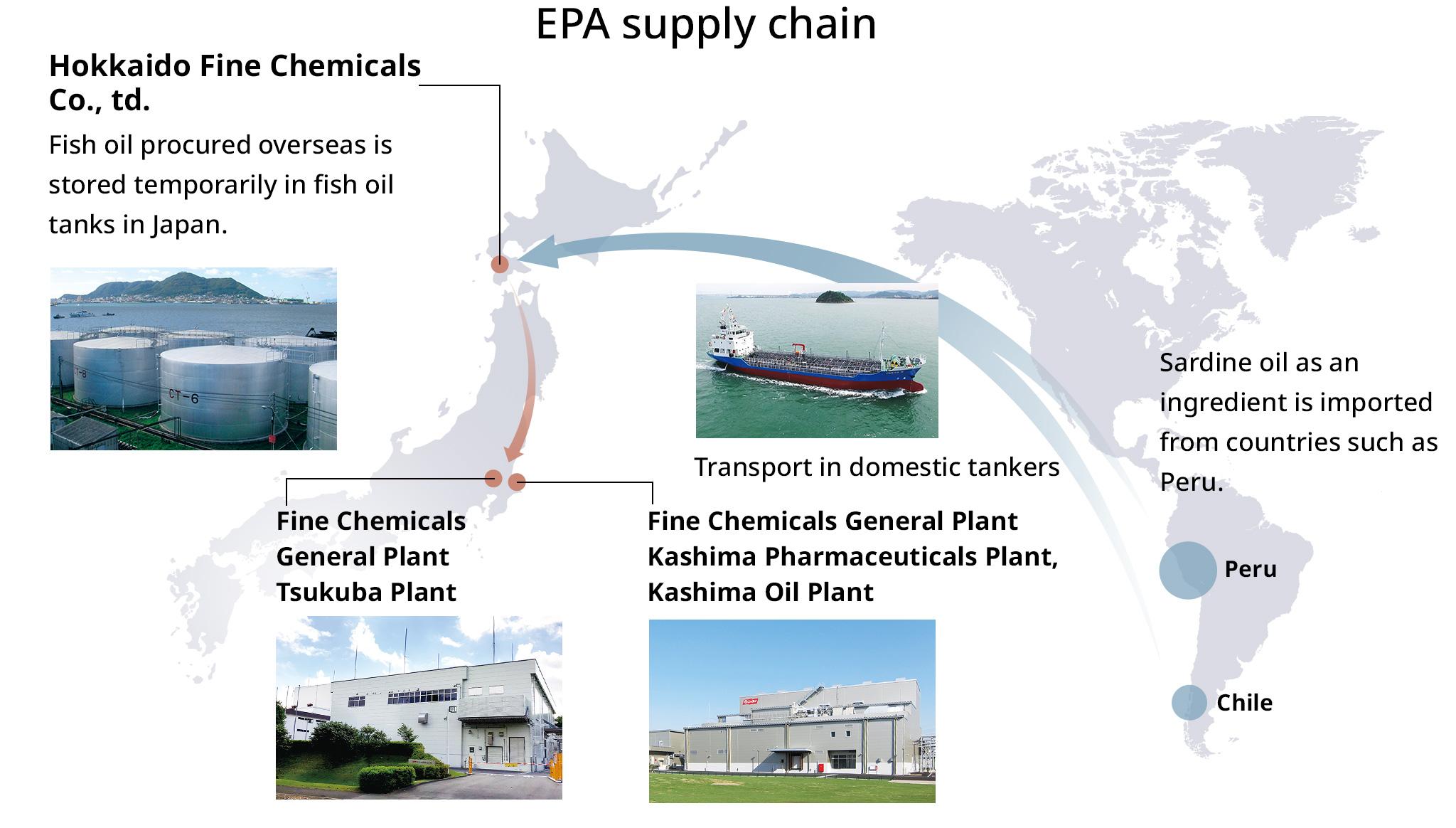 At EU/HACCP*1 and GMP*2- certified plants, the oil is processed into high-purity oil, fishy odors are removed, and any pollutants such as dioxins are removed using technologies developed by Nissui.
*1

HACCP(Hazard Analysis and Critical Control Point)
*2

GMP: Good Manufacturing Practice, standards for the manufacturing and quality control of pharmaceuticals and quasi-pharmaceutical products
Further potential of EPA and DHA
In 2018, results of REDUCE-IT, a large-scale clinical trial in the U.S. for studying the effects of pharmaceutical EPA, were announced. It showed that purified EPA helped mitigated heart disease risks, and an expansion in the high-purity EPA pharmaceutical market in the U.S. is anticipated as a result. Nissui thus began operations at the Fine Chemicals General Plant in Kashima in January 2018 and acquired GMP certification required for supplying pharmaceuticals overseas as well as other preparatory moves to bring EPA to the global pharmaceuticals market.