The Nissui Group Aquaculture Business
Nissui's Unique Approach to Aquaculture
Nissui engages in salmon and trout aquaculture overseas, and yellowtail, bluefin tuna, coho salmon, mackerel and sea bream aquaculture in Japan.
As a food manufacturer, Nissui is focused on 'tastiness' and begins there to advance various research and technology development in all stages related to seedlings, breeding, farming method, processing, and distribution.
Nissui representatives take the comments and requests of our customers, from major retailers to food service and restaurant businesses, and feed them back to the relevant divisions within our group so that technology can be developed accordingly.
Improved quality using feed containing red pepper
Consumption of marine products is increasing on a global scale and this trend is expected to continue. Nissui is putting effort into aquaculture both in Japan and abroad in order to provide safe, reliable and delicious fish.
Marbless was continually fed at fish farms, and studies over time showed that fish fed with Marbless (1) had just the right amount of fat (=prevented too much fat from accumulating on the flesh), (2) had an improved texture, (3) showed delayed deterioration in color of the dark meat (slowing-down effect of color deterioration) (Patent No. 3895133, Patent No. 4382795, Patent No. 4809914, Patent No. 4856858). Yellowtail is actually a type of fish which easily discolors in the dark meat and even when there are no issues with freshness, sashimi will easily become unappealing to the eye and the commercial value will drop. Marbless was shown to have a delaying effect in discoloration in dark meat (Figure 2) (Figure 3).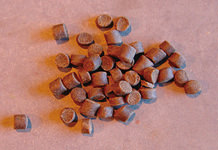 [Figure 1] Characteristics of Marbless
Marbless, fish feed containing red pepper, delays discoloration in dark meat of Kurose Yellowtail and promotes good texture, the right amount of fat content and firm flesh.
[Figure 2] Comparison of the dark meat of Kurose Yellowtail and yellowtail of other companies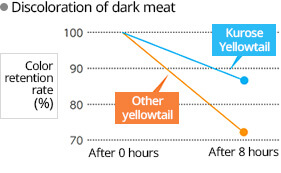 The rate of met formation*1 is measured, and the color retention rate is calculated using the color of the flesh at the time of processing into sashimi as the criterion.
*1 Met formation: Refers to the process of flesh turning into a brownish color, which is caused by the pigment protein myoglobin contained in the dark meat oxidizing and turning into methemoglobin.
[Figure 3] Sensory test comparing Kurose Wakaburi grown from artificial juvenile fish with matured yellowtail grown from wild caught juvenile fish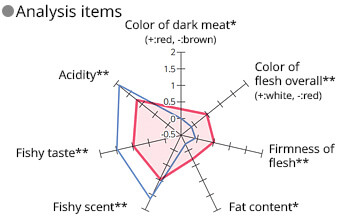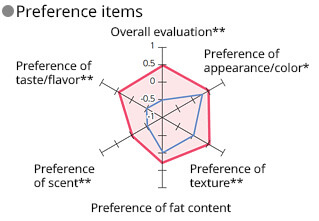 **indicates risk rate below 1%, *risk rate below 5% showing significant difference between Wakaburi and matured yellowtail grown from wild caught juvenile fish.
Our group company Kurose Suisan Co., Ltd. (Miyazaki prefecture) has been marketing Kurose Yellowtail fed with Marbless during the last stage of farming before harvest, since May 2004, and has been receiving high recognition from fish markets and retailers. Kurose Yellowtail has become a forerunner in the product differentiation and brand value marketing with its fish feed. It has even acquired EU-HACCP certification, which has the strictest criteria for exporting to the European region.
Given the success of the Kurose Yellowtail, elevating the brand value of farmed yellowtail with its improved texture continues, by combining it with other regional products such as citrus fruit and other efforts aimed at product differentiation.
Healthy cultivation of fish
Nissui puts effort into research for managing the health of farmed fish and monitoring its environment so that high-quality fish can be bred in a stable manner. In order for aquaculture companies to effectively use the results of such research in aquaculture production, the Nissui Aquaculture Health Management System (N-AHMSR) was established. At Kurose Suisan (yellowtail), divers go down to the fish cages to check the health of fish and any with abnormalities are brought back up to be dissected so that the gills and organs can be checked for bacteria and other causes. Results are shared with group companies, including Seinan Suisan (bluefin tuna), Kaneko Sangyo(tuna, sea bream), Yumigahama Suisan (coho salmon, mackerel), and Salmones Antartica (salmon and trout) so that the health of farmed fish can be managed and the aquaculture environment monitored.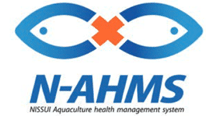 Example of Nissui's aquaculture initiatives
That one extra step taken for keeping fish chilled
Nissui's research on the characteristics of blood circulation and respiration in yellowtails has helped reduce stress levels of the fish during harvesting, leading to the development of a new technique in maintaining freshness longer in yellowtails (Patent No. 5276359). This new method allows for a higher energy sufficiency rate than previous methods, which helps preserve freshness after fish are killed in state of Ikijime (Japanese techniques to kill fish to preserve the best taste). This method of harvesting is used on Kurose Yellowtail. With this method, it has become possible to keep fish chilled even in the summer when the sea water temperature is high.
Yellowtail are harvested by a harvesting boat tied to a fish cage using a brail net and immediately killed after being tossed into a slaughter machine. The belly of the ship is loaded with salt water frozen to a sherbet consistency, where the yellowtail killed by ikejime techniques are directly plunged into to be bled and cooled simultaneously. The sherbet ice is very fine and keeps the flesh from being bruised while instantly lowering the body temperature of the fish. The sherbet ice also has a sodium concentration similar to that of sea water which prevents deterioration of the flesh from changes in osmotic pressure.
The post-harvest bleeding process results in massive amounts of blood as byproducts, and if this blood were released untreated, it would cause contamination of the water in the bay. Therefore, Kurose Suisan treats the blood through microbial decomposition at an effluent treatment facility adjacent to the processing plant, and releases purified water into the river.
The yellowtail, after being killed by ikejime techniques, bled, and cooled, is immediately transported from the boat to Kurose Suisan's processing plant. The plant was awarded EU-HACCP (authorization of fishery products' business operator facilities by MHLW/MAFF) certification which is the strictest criteria for processing plants in the world in 2007 after undergoing renovations and giving employees the necessary training. In order to strengthen initiatives to provide safe, reliable and delicious fish with an integrated system from the farming stage to processing, Kurose Suisan acquired ISO22000 certification in 2011.
Delicious yellowtail in the summertime
Yellowtail spawn from the spring to early summer months. After laying eggs, yellowtail become lower in quality, losing body weight and fat content in the summer months. Yellowtail have shown to have low fat content and soft flesh at around the same time. In addition, young yellowtail are not fully mature by the following spring. Although these immature yellowtail born the previous year do not lay eggs, their quality is reduced with maturation associated with the development of their gonads.
Nissui has been working in conjunction with the Fisheries Research Agency in the development of technology for the production of early maturation broodstock. This technology allows Nissui to cultivate yellowtail in water tanks to spawn a few months earlier than wild fish, and that in large volume. Kurose Wakaburi grow to an ideal size by the summertime, with good fat content and firm flesh. Being able to provide delicious yellowtail in the summer has enabled the emergence of a new market.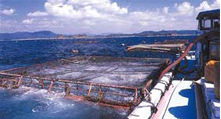 Sea cages for cultivating Wakaburi
Kurose Suisan (Kushima-shi, Miyazaki prefecture)
Outlook for sophistication of the aquaculture business
In order to make the aquaculture business more advanced, "collect, analyze, and evaluate data leading to the next strategy" is a cycle that should be followed repeatedly for progress.
Producing a selection of yellowtail
In order to establish a consistent aquaculture business, Nissui is advancing research in the development of artificial seedlings and breeding that is not dependent on wild caught fry. Research on yellowtail began in 2005, and in recent years Nissui has accumulated technology enabling mass production and selective breeding. Selective breeding involves producing 2nd generation fish with broodstock having superior traits, which in turn are selected to produce 3rd generation breeds, and so on. Yellowtail are tagged to ensure specific selection. Selective breeding is also being used in the salmon and trout farming. Research is also underway at present for the selective breeding of bluefin tuna.
On-demand Feeding
In fish farms on the open sea, it is necessary to feed in a very limited window of time, and there are days when feeding boats are unable to reach the offshore fish cages due to weather conditions. Conventional automatic feeding systems only provide feed at given times using a timer or a computer program, thereby creating the risk of unconsumed feed going to waste, which not only creates unnecessary costs, it also pollutes the water and causes environmental damage.
To address these issues, Nissui developed a feeding system called Aqualingual (Patent No. 5324997), which combines automatic feeding and spontaneous feeding that allows for real-time monitoring by transmitting information and images of the fish to PCs, tablets and smartphones through the installation of appetite sensors, underwater cameras, and sensors for dissolved oxygen and water temperatures in the fish cages. This allows feed amounts to be controlled to an appropriate amount and prevents waste, so that fish can grow healthily and pollution of the environment can be reduced (Figure 4).
[Figure 4] Feeding with Nissui's AqualingualR (Coho salmon cultivated in Sakaiminato, Tottori)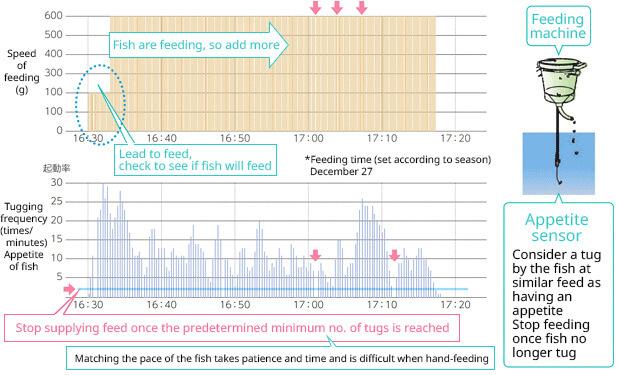 Ideal feed for bluefin tuna
Bait fish (small fish) are generally used in cultivating bluefin tuna, and formula feed is considerably slow to catch on compared with other cultivated fish. Nissui is working in collaboration with the Fisheries Research Agency to research bait preference and feeding behavior of bluefin tuna. In addition to developing feed different in form from traditional feed for cultivated fish (Patent No. 5030043), Nissui established its own manufacturing method and mass production process. A new plant producing formula feed was built in Karatsu, Saga prefecture in 2013 and production and marketing began. Formula feed for bluefin tuna was made using ingredients according to the development stage of the fish and the season to produce good quality growth and flesh texture. The burden on the environment caused by aquaculture is eased, and the sustainability of bluefin tuna aquaculture is heightened so that we can deliver safe, reliable, and delicious bluefin tuna.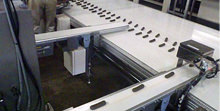 Production line of bluefin tuna formula feed
Nissui Imari Fish Feed and Oil Plant  Karatsu Bluefin Tuna Plant
Connecting full life cycle farmed bluefin tuna to business opportunities
Nissui is working toward practical use of fully farmed tuna. Tuna farming typically involves collecting fertilized eggs from spawn of broodstock that are bred in dedicated pens, and producing fish seeds. This method is very unstable, as it is not known which of the broodstock will produce and when.
Since bluefin tuna seedlings only eat bait fish, parent fish for striped beakfish and other fish to be used as feed were produced and fish larvae from that was used as feed for bluefin tuna seedlings. One bluefin tuna seedling would feed on up to 1,000 fish larvae a day, leading to high costs in bluefin tuna cultivation.
Since 2009, Nissui has conducted research on artificial insemination by collecting sperm and eggs from harvested bluefin tuna, and in 2011 bluefin tuna coming from artificial seedlings through artificial insemination produced fertilized eggs, and succeeded in 2014 in full life cycle cultivating bluefin tuna.
In 2014, Nissui was successful in developing formula feed that would serve as an alternative to live feed for bluefin tuna fingelings, an industry first. This feed was made up of plankton and microparticulates specially processed to promote the growth of bluefin tuna seedlings, and this led to the production of seedlings without the use of fish larvae from striped beakfish and other fish.
In bluefin tuna fingerling production, growth and survival rested largely on the quality of the fertilized eggs. Data was collected, analyzed and evaluated to further improve growth and survival and we in commercializing full life cycle farmed bluefin tuna in 2018.
Fish farm for coho salmon "Sakaiminato salmon" cultivated integrally from fry

Freshwater fish farm (left), Miho Bay aquaculture site (right), Yumigahama Suisan (Sakaiminato, Tottori prefecture)