Global Links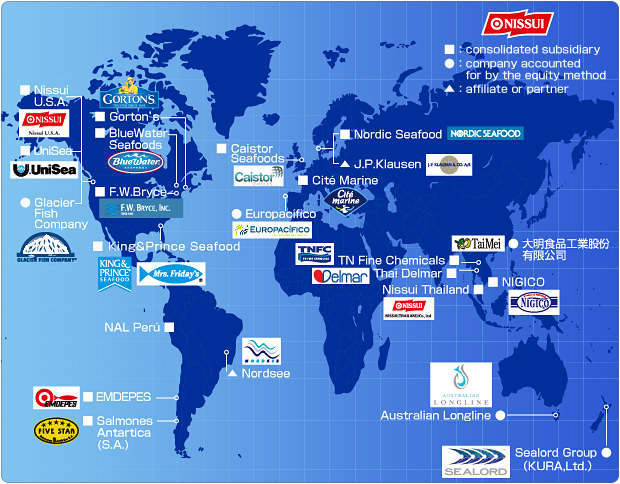 Nissui's "Global Links" that connect us worldwide and the "Local Links" that further evolve them.
NISSUI has expanded business bases throughout the world. Though Nissui had once concentrated its business on deep-sea fishery, after the 1970s, when countries adopted the Fishery Conservation and Management Act (a policy establishing a 200-nautical mile conservation zone), NISSUI strove to work in cooperation with other countries having resources in order to foster the stable use of marine resources, improve aquaculture-related technologies, and establish a mechanism of global and direct access to marine resources. At the same time, the Company has established a supply chain by extending its sales bases as consumption of marine products rose in other countries. These mutual connections between procurement, production, processing and marketing capabilities boasted by the companies of the NISSUI Group are described as the "Global Links" where our worldwide production bases are linked to the tables of our customers around the world.
The environment encompassing NISSUI is changing due to a worldwide increase in price of resources. In order to further evolve the Global Links, Nissui decided to add the concept of "Local Links" to its business model in 2007.
Through NISSUI's "Global Links" and "Local Links", we will meet the expectations of our customers by delivering diverse values with capabilities supported by the people both in Japan and abroad.