Collaboration with Global Links is essential to extensively develop the seafood processing business in Europe. First of all, it is expected in supplying raw materials. Nissui owns a framework for globally accessing white fish resources including Alaskan Pollack, Hoki and Surimi (fish paste), as well as other marine resources such as salmon and shrimp, from its various bases around the world. Cité Marine is one of the important customers of UniSea, Inc.(USA), a North-American company of Global Links that presently distributes fish blocks and surimi (fish paste) of Alaska pollack for the European market. UniSea also uses fish blocks of Hoki sold by a South-American company of the Nissui Global Links.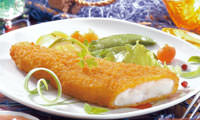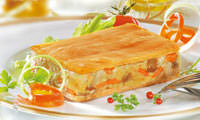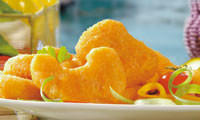 A variety of processed seafood products created by Cité Marine's excellent technical expertise. From the top: fried hoki fillets, salmon mille-feuille and white fish nuggets
Secondly, it is expected in imports of value-added products. While Cité Marine makes efforts to produce value-added products as its strategy, imports from Global Links companies, especially from the production bases in Asia, are anticipated to contribute to its growth. In recent years, Nissui has achieved satisfactory results in Europe in distributing a variety of frozen prepared food products within Global Links, such as the supply of breaded & deep-fried calamari rings and battered & deep-fried calamari rings from NIGICO Co., Ltd. (Vietnam) for food service in England. In addition to NIGICO, Nissui now aims to proceed with the development and import of value-added products produced by Shandong Sanfod Nissui, Ltd. (China) and Nissui (Thailand) Co., Ltd. as soon as possible. At the same time, Nissui highly anticipates the utilization of the distribution function of Global Links such as Nordic Seafood and Europacifico in order to sell Cité Marine's products outside of France.
Nissui finds it necessary to add more food processing companies to the Group so as to further expand the food processing business in Europe. The Company would require about 200 million euros in sales in order to gain a presence in the European food processing business industry. 200 million euros is roughly equivalent to a top 10 position among marine product/food processing companies in Europe.
Through enhancement in acquiring food processing companies, Nissui plans to boost sales in the European market to a total of 600 million euros (approximately 100 billion yen), consisting of 400 million euros from the distributor group and 200 million euros from the food processing business in five years time (2012).
The seafood market in Europe continues to grow. Keeping up with this upward trend is one of the most important factors for a global seafood company to continue to grow in the future. As a basic function necessary to achieve this, Nissui has obtained the functions of production, distribution and R&D. Although its existing functions would sufficiently enable the Company to cover Western European countries, we believe that how we deal with growing markets such as Eastern Europe and Russia is the key to the next stage of growth. How will we deliver the "blessings from the sea" to the more than 700 million people living in Europe and Russia? The Nissui Group is tackling this great challenge.