The balance between the supply and demand for salmon and trout has changed drastically in recent years. In terms of production, while wild stocks of salmon and trout have been flatten over the last decade, farmed salmon and trout doubled from 700,000 tons to 1,600,000 tons. In terms of ratio, although farmed salmon and trout accounted for less than 40% of the total production of these species in 1995, they totaled nearly 70% in 2002 and still maintain a high level today (Figure 1). This increase in the aquaculture production of salmon and trout is supported by the establishment of large-scale salmon and trout aquaculture facilitating an increase in production and by the fact that Norway and Chile, the world's leading fish farmers, have expansive sea areas. Among them, aquaculture of Atlantic Salmon, a popular species in western countries, is increasing.
Figure 1. World Production of Wild and Farmed Salmon and Trout (based on weight of raw fish)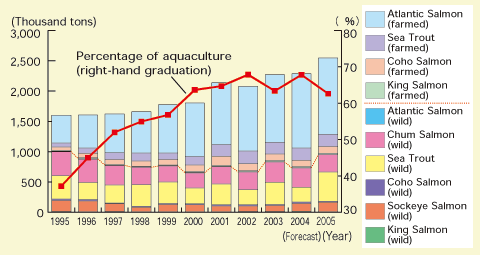 Source: "2006 Power Data Book of Marine Products" by Suisan Tsushin Sha, K.K.
The increase in aquaculture of Atlantic Salmon can be explained by reasons such as its favorable fattiness and the fact that it can be consumed both cooked and raw, the fact that markets for Atlantic Salmon exist around the world, allowing sales to be expanded easily, the fact that yearround harvesting is possible and the fact that productivity at processing plants is high because the size upon harvest is bigger than other species. In view of annual consumption by country and region, Europe is predominant, marking growth of 1.5 times in 2005 compared with 1995. Although Japan and North America are also big markets, consumption has fallen. Meanwhile, the emerging countries such as so-called BRICs Russia, China and Brazil, are showing a rapid increase in consumption: the total combined annual consumption by these three countries increased 6 times in 2005 from 1995 (Figure 2).
Figure 2. Salmon and Trout Consumption in Japan, Western and Emerging Countries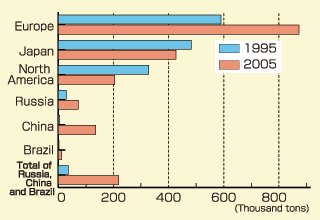 Source: FISHSTAT
Using one of our group companies, Salmones Antartica,S.A.(SA) in Chile, as our operation core, Nissui has been expanding and strengthening its salmon and trout business in both aspects of manufacturing and sales by keeping pace with these changes in the balance between supply and demand. Firstly, in light of manufacturing products, in March 2006, Nissui started the operation of a new processing unit at SA in addition to their integrated aquaculture operations from broodstock and fish ovum to finished products. Moreover, in February 2005, the Company also founded Nissui (Thailand) Co., Ltd. in Hatyai, Thailand in order to establish an intermediate plant specialized in processing salmon and trout. The construction of the plant was completed in December 2005.
In light of sales, Nissui acquired shares of F.W. Bryce, Inc. (Gloucester, USA) in North America, Europe's Nordic Seafood A/S (Hirtshals, Denmark) and Brazil's Nordsee Comercial Importadora Y Exportadora, Ltda. (São Paulo) in April 2006. The Company has been steadily moving forward with the establishment of a global supply chain for the salmon and trout business.
NISSUI's Global Supply Chain for Salmon and Trout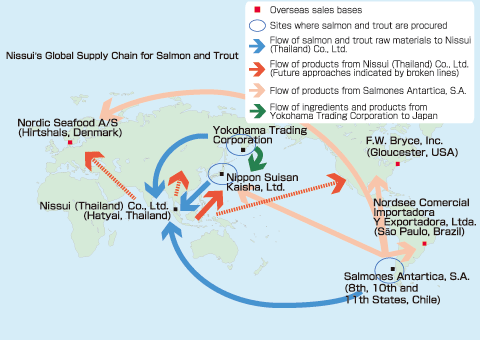 Photo on the left: Processing operation at Nissui (Thailand) Co., Ltd.,
Photo in the middle: Sea Cage Site at SA
Photo on the right: Popular "FIVE STAR"; brand product of SA.