In addition to being consumed directly as food, fish is also processed into fishmeal and fish oil for use as a material in various products, including feed or fertilizer for farmed fish, livestock and agricultural crops, industrial materials, pharmaceuticals and health foods. Nissui is the largest purchaser in Japan of fishmeal and fish oil.
The history of Nissui's fishmeal and fish oil business began in the Taisho period, when Nissui was known as Kyodo Gyogyo Co., Ltd. Although the business was initially unprofitable, soon-to-be group company Hokuyo Suisan began turning a profit from its fishmeal factory ship in 1958 thanks to growth in overseas demand for fishmeal, and in 1960 Nissui's fishmeal factory ship "GYOKUEIMARU" also began producing, fishmeal and fish oil. With the subsequent withdrawal of competitors from the market, "GYOKUEIMARU" remained the only specialized fishmeal factory ship in Japan for some years. In 1963, Nissui switched the operation of "GYOKUEIMARU" to Alaska Pollack and later succeeded in developing a system for onboard mass-production of surimi. In 1967, Nissui thus equipped "GYOKUEIMARU" with full-fledged surimi production facilities, turning it into a mother ship for the production of surimi, fishmeal and fish oil.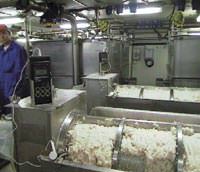 Surimi in production on a trawler owned by Alaska Ocean Seafood
With the establishment of the 200-nautical miles EEZ (Exclusive Economic Zone) around Japan in 1977, Nissui once again changed tactics and began procuring fishmeal and fish oil from other Japanese companies. As bumper catches of Sardines were enjoyed off the coasts of Japan in those days, Nissui turned the Onagawa Fish Feed & Oil Plant in Miyagi Prefecture, which was then used as a Whale processing plant, into a fish oil refining plant, thus strengthening its production of fish oil in Japan. At the same time, Nissui endeavored to procure higher quality fishmeal by advising partner plants in Japan on production technology and quality control.
The "Unionsur" which operates in South America
With the subsequent decline in the Sardine catches, Nissui shifted to importing fishmeal and fish oil produced by overseas group companies and others. In 1989, Nissui gained a head start over major trading companies in commencing the import and sale of fishmeal made from Chilean horse Mackerel through South American group company EMDEPES. Naturally, Nissui continues to seek higher standards of quality from this supplier by leveraging the strengths it has built up over the years as a fishmeal maker and providing technical assistance to the plants from which it buys. Today, Nissui not only produces fishmeal from its own ships and overseas group companies, but also procures from other local Japanese and overseas makers.