In order to achieve our target of raising overseas sales from 13% of total sales (as of March 31, 2005) to 30% over the medium-to-long term, we are dedicated to "developing a global supply chain" by linking together the procurement, production and selling functions of Nissui's hubs around the world.
Figure 1. Seafood Demand in Europe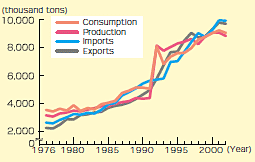 Along with Japan, North America and Europe are positioned as key markets in Nissui's endeavor to develop a global supply chain in the vertically-integrated white fish business. In North America, we have successfully developed a verticallyintegrated operating structure spanning from white fish procurement to processing and sales. The next key strategic challenge for the white fish business is boosting sales in Europe.
Seafood consumption in Europe is rising annually, and the continent accounts for more than half of the world's total consumption of white fish. In order to meet growing demand for seafood and white fish in particular, Nissui acquired stakes in two local distributors: JP Klausen & Co.A/S (Denmark) in 2003 and EuropacificoAlimentos Del Mar SL (Spain) in 2004. At the time, both of these companies already had powerful distribution networks as the European distributors for New Zealand's largest fishery company, Sealord Group, Ltd., which joined the Nissui Group in 2001.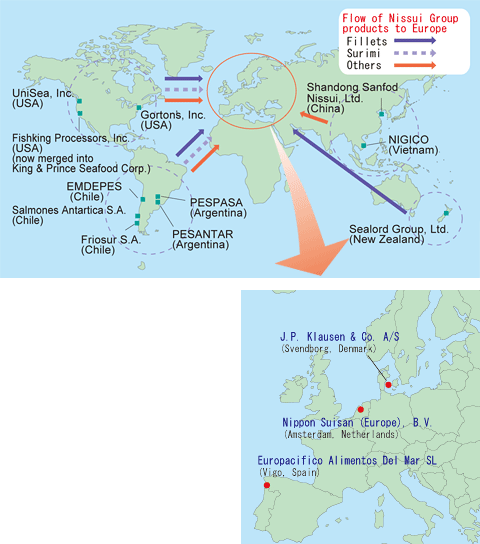 By consolidating sales routes into JP Klausen in Northern Europe and Europacifico in Southern Europe, we managed to eliminate overlapping functions and cut costs. Ultimately, our aim is to raise the competitiveness of the Nissui Group as a whole and increase its share of the European white fish market. Annual sales for the three companies including Nippon Suisan (Europe),B.V. headquartered in the Netherlands amount to around 130 million Euro, ranking the Nissui Group as the second largest seller of seafood in Europe.