Figure 1. World Shrimp Consumption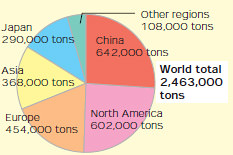 Source: Calculated based on FAO NMFS and trade statistics
According to data from fiscal 2002 (Figure 1), Japan consumes 290,000 tons of shrimp a year, making it the fifth largest consumer of shrimp in the world. Since the figure for China includes river shrimp which are generally not handled in the shrimp business, Nissui considers North America to be the world's top shrimp consumer in real terms.
Shrimp consumption in North America has roughly doubled within the space of ten years (Figure 2). The most popular shrimp dish in North America consists of shrimp deep-fried without bread crumbs. Cajun-style butterfly shrimp sautéed with garlic is another favorite, along with chilled shrimp cocktails made from boiled shrimp tossed in a ketchup-flavored sauce. In addition, peeled shrimp fritters can be eaten as a snack and have become a popular menu item listed under the name of "popcorn shrimp."
Figure 2. Changes in Shrimp Consumption by Major Regions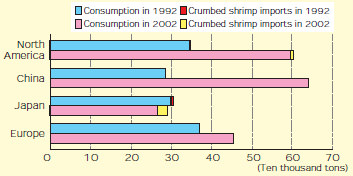 Source: Calculated based on FAO NMFS and trade statistics
While shrimp consumption is rising in North America, China and Europe, it has been declining in Japan since 1997, when it peaked. No longer able to say that "the Japanese are the world's number one consumers of shrimp", Nissui has turned its sights to the entire world and is pushing ahead with a global management strategy.
Global shrimp production amounts to roughly 4.3 million tons. Of this, Asia accounts for 1.7 million tons, China 1.3 millions tons, Central and Southern America 556,000 tons, North America 287,000 tons and Europe 227,000 tons. By contrast, Japan produces a mere 28,000 tons. (China is separated from Asia in these shrimp statistics because China is both an extremely large producer and consumer.)
Figure 3. Nissui's Main Shrimp Products and Sources of Supply
Source of Supply
Group Company/
Partner Company
Shrimp Species and
Characteristics
Coastal waters
off West Irian,
Indonesia
(fishery &
farming)
WIF & IMP
(fishery)
Tiger, Banana, Endeavor, etc. Nissui purchases around half of the shrimp exported from these waters,including purchases made by partner companies.
Nissui Indonesia
(farming)
Black Tiger Shrimp (sea farmed). Engages in integrated operations on Seram Island, from hatching, producing and farming young shrimp to processing via single freezing.
Mexico
(fishery &
farming)
SELECTA
SEAFOODS INC
(fishery & farming)
Nissui is the exclusive purchaser of Mexican Brown Shrimp from partner company Selector Seafoods.
White Shrimp (sea farmed).
Vietnam
(processed
shrimp)
NIGICO
Peeled White, Pink and Cat Shrimp. Engages in integrated operation, from catching young shrimp in natural enclosures to farming and processing them via single freezing.
Argentina
(fishery)
ARUBUMASA
Nissui is the exclusive purchaser of Argentinean Red Shrimp from partner company ARUBUMASA.
Zhanjiang, China
(farming)
ALLITED PACIFIC Co,.Ltd
The partner company engages in farming and processing of Banamei Shrimp.
Russia (fishery)
BINOM COMPANY
& KAMMAG Co,.Ltd & others
Nissui purchases Northern Shrimp and Botan Shrimp for use as sashimi from partner companies.
In today's global age, there is a strong need for a borderless approach of "producing shrimp in the most suitable place in the world and delivering it to dinner tables worldwide." In all of our businesses including the shrimp business, we regard our system of performing every stage in the production process within the Nissui Group, from accessing resources to delivering the final product to customers, as "integrated production." Nissui's overseas group companies and partner companies are indispensable partners in developing a global supply chain. Nissui and these partners are charged with taking the lead to implement strategies while paying close attention to local environmental and resource conservation and complying with local laws and regulations.