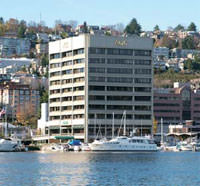 GFC Headquarters in Seattle, Washington
In June 2008, Nissui, through its wholly-owned subsidiary, Nippon Suisan U.S.A., Inc. (Nissui U.S.A.), acquired shares of the U.S. fishery company, Glacier Fish Company, LLC (GFC) and made GFC an affiliate to be accounted for by the equity method. This was done in conjunction with the merger between GFC and Alaska Ocean Seafood LP (AOS), in which Nissui held the maximum 25% of shares allowed under the U.S. Fisheries Law through Nissui U.S.A. Through the exchange of AOS shares with GFC shares and an additional equity investment, Nissui acquired 25% of GFC shares.
GFC, with its headquarters in Seattle, Washington, is engaged in the white fish business, which includes Alaska Pollack, Pacific cod and Pacific whiting (PW) and produces/sells fillets, fish paste (surimi) and fish roe. GFC has always been characterized by their strong dedication toward catching and producing fish, which has resulted in their early adoption of new-types of filleting machines and their constant efforts to improve and maintain their fishing fleets. GFC may also be characterized by their insistence on economic rationality, which may be seen in their ceaseless pursuit for yield. As a result of the merger with AOS, GFC now owns three factory trawlers and two freezer long-liners; and sales are expected to reach USD 112 million in FY 2008 from the USD 89 million in FY 2007. And GFC employees now number approximately 400.
Through the merger with AOS, the catch quota for Alaska Pollack and PW will nearly double while the catch quota for Alaska Pollack alone is expected to triple, with the addition of the catch quota leased from NSEDC (GFC's major shareholder). The volume of products (fish paste (surimi), fish meal and Pollock roe) handled by the Group is also expected to increase accompanying the increase of the catch quota.
Although the volume of fillets handled by the Group is not expected to increase immediately, as GFC had been a long-time supplier to Gorton's, the merger has ensured stable supply and the advantage of preferential procurement through increased production. This additional investment will significantly contribute to the enhanced accessibility to resources, which is a key measure under the New TGL Plan (the Medium-Term Management Plan for FY 2006 through FY 2011). This is also expected to enhance the competitive edge of the Group as a whole by linking resources to markets in an integrated manner. In particular, this move, against the backdrop of diminishing catch quotas for Alaska Pollack, is expected to increase the Group's capacity to supply high-quality products by means of processing on the sea, and to generate synergies among the Group's global product and sales networks.