The benefits of seafood as health food are widely known throughout the world. In recent years polyunsaturated fatty acids such as EPA (eicosapentaenoic acid) and DHA (docosapentaenoic acid) have been attracting a great deal of attention.
Nissui was among the first to focus on the qualities of EPA and has been involved in research since the 1970s. In 1981 Nissui, in cooperation with Mochida Pharmaceutical Co., Ltd., began its research into the pharmaceutical uses of EPA, and in subsequent years became the first in the world to successfully extract and purify high-purity EPA from fish.
In 1990, Mochida Pharmaceutical, upon obtaining approval to treat arteriosclerosis obliterans, began to market the new drug, "Epadel," which was based on the active pharmaceutical ingredient, EPA. Later the approval was expanded to include hyperlipidemia. Furthermore the drug has been found to be effective in the primary and secondary prevention of coronary artery disease and thus sales volume of this drug continues to rise even to this day, more than 19 years after it was first launched.
Epadel's effectiveness against coronary artery disease was proven through the Japan EPA Lipid Intervention Study (JELIS), which was conducted by administering Epadel to approximately 18,000 subjects over a period of five years. The study showed that Epadel was effective (in preventing cardiovascular events in hyperlipidemic patients) combined with Statin drugs.
Additionally, Mochida Pharmaceutical signed a distributorship agreement in April of this year with Taisho Pharmaceutical Co., Ltd. and Nissui Pharmaceutical Co., Ltd. to market a switch OTC drug for Epadel, a non-prescription drug that has been converted from the original prescription drug Epadel. The drug is scheduled to go on sale as early as the first half of 2010. Switch OTC drugs, which are being promoted by the Ministry of Health, Labour and Welfare, will enable users to purchase pharmaceutical drugs that previously required the prescription of a physician, over the counter at pharmacies. This is expected to lead to a further rise in demand for the pharmaceutical ingredient, EPA, which is produced by Nissui. This move is also thought to lead to even greater visibility for EPA.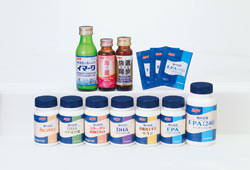 Products of the Fine Chemicals Business
Fine Chemicals Business Sales (Consolidated Sales)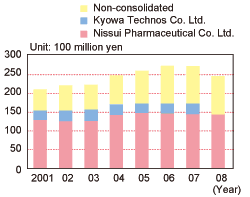 (Graph indicates sales prior to consolidation adjustment)
(Kyowa Technos Co. Ltd. was consolidated into the Nissui Kashima Plant in 2008)
For its part, Nissui, the pioneer in the development of EPA, has been striving to bring the benefits of EPA to as many people as possible by engaging in the development of nutritional supplements and has succeeded in commercializing the dietary supplement, "Umi no Genki EPA," and "IMARK," a food for specified health uses (FOSHU).
In 1987, the Fine Chemicals Business was established for the purpose of supplying EPA and for the further effective utilization of functional ingredients derived from marine products.
Sales of fish-origin functional lipids in the form of pharmaceutical ingredients and ingredients for health foods have been steadily increasing in line with the public's growing concern for health. Net sales, which amounted to 21,000 million yen in FY 2001, exhibited solid growth and reached 24,800 million yen by FY 2006, the initial year of Nissui's mid-term management plan (New TGL Plan).
Under such circumstances, the Fine Chemicals Operations Dept. has been operating the Kashima Plant (Ibaraki Prefecture), in addition to the Tsukuba Plant (Ibaraki Prefecture) and Sakaiminato Plant (Tottori Prefecture), while further expanding its operations by adding two new companies (one Japanese company and one overseas company) to the group.
Production Bases of the Fine Chemicals Business