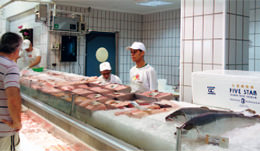 S.A. sea trout sold at a Brazilian volume seafood market
Fish consumption has been growing in recent years. In the past ten years or so, as fish catches level off, systematic production using aquaculture has become necessary to meet growing demand. Large-scale aquaculture technology has been established for the major fish species, salmon and trout. Nissui has been expanding its sales channels by developing unique products that match the needs.
In the industrialized nations, an awareness for health and the popularity of Japanese food are at the root of the growing consumption of marine products; while in the emerging nations, population growth, the rise in the level of consumption and the westernization of dietary habits are thought to be contributing factors.
Because of these factors, the world's consumption of marine products is expected to increase even further in the future.
Among the world's popular fish species, salmon and trout are heavily consumed in Europe, Japan and North America, while in the emerging nations, such as Russia, China and Brazil, consumption has also increased rapidly, to the extent where the total consumption of the three countries account for approximately twenty percent of world consumption.
In response to this growing demand, production volume has increased from 2.35 million tons in 2000 to 3.12 million tons in 2008 (Statistics of the Fisheries and Aquaculture Department, Food and Agriculture Organization [FAO] of the United Nations). While catches of wild stocks of salmon and trout become erratic, it is through the use of aquaculture that this increase in production has been possible (Figure 1).
As Norway and Chile, the giants in salmon and trout aquaculture, step up their production, the proportion of farmed salmon and trout to total world production has been increasing and in 2008 reached 73%. This increase in farmed salmon and trout has enabled the stable supply of these fish species.
Figure 1:World Salmon and Trout Production and Consumption