Nissui's businesses are inextricably linked to providing good food and health. Because of this, Nissui has developed its own quality control standards to better enable it to provide customers with safe products. Nissui applies these standards to raw materials procurement, production, inspection, and distribution, each of which is done in strict adherence to the pertinent laws.
At the core of Nissui's efforts is its Quality Assurance Code, which was established in October of 2002. The basic policies and philosophies underlying the code are three-fold: 1) to follow rules assuring quality; 2) to implement production control and quality control at plants; and 3) to utilize a robust inspection system.
The unit set up to implement the Quality Assurance Code is the Quality Assurance Office. The Quality Assurance Office is tasked with a broad mission, one that includes formulating and managing in-house standards, providing education, improving customer satisfaction, quality cost management, plant audits, handling complaint reports, raw materials information management, product labeling, quality control instruction at Nissui plants and affiliates in Thailand, Vietnam, and China, and many other duties.
At the same time, Nissui has established a Quality Assurance Committee, which is chaired by Nissui's president. The Quality Assurance Committee, whose members also include the Senior Managing Director and the relevant executive officers and department heads, as well as members from outside the Company, is convened twice a month to discuss the formulation or review of sets of quality assurance standards, to share information on and flesh out solutions to any recurring problems that come to light as a result of customer feedback, and to deliberate on improvements to be made at the Nissui Group's plants based on audit reports.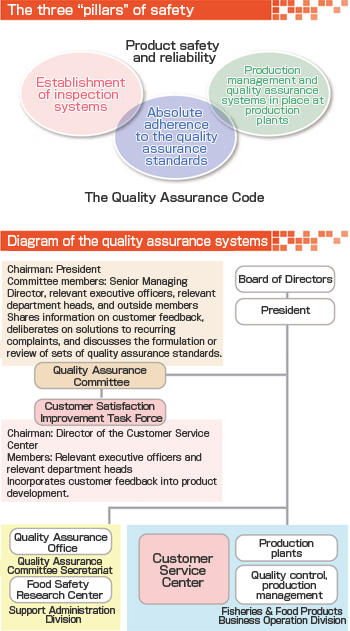 In October of 2009, Nissui established a Product Improvement Task Force (currently called the Customer Satisfaction Improvement Task Force). The job of the Task Force is to look at comments made by customers to the Customer Services Center, discuss solutions to problems, and incorporate those solutions into new products. The Task Force meets twice every three months and submits a report on the outcome of its deliberations to the Quality Assurance Committee. So far, Nissui has worked at and succeeded in reducing the number of customer complaints by addressing quality problems that have been identified by customers, specifically problems attributable to production processes. Now, however, we are taking this process to the next level by registering comments that are not necessarily quality control-related complaints (comments such as "This product is too salty," "It's not very tasty," or "The label is confusing") as instances of customer dissatisfaction that need to be addressed, and hence are currently using this valuable feedback to improve overall customer satisfaction as well.
For example, some of our chikuwa products used to come in packages that had top and bottom edges that were cut in a straight line. Customers pointed out to us that since the packages didn't have opening slits, they were difficult to open. To address this problem, we switched over to packages with zigzag cuts at the top and bottom, making them easier to open. In another example, we used to print only the last two digits of the year in the "Best consumed by" dates. The dates were in the Western calendar notation, but were sometimes a source of confusion as they could be mistaken for years in the Japanese calendar. To resolve this issue, we decided to list the full four digits of the year instead of just the two. These are just two of the many examples of how we use customer feedback to make improvements to our products.
In addition to the above, since January of 2011 we have been holding View-Exchange Sessions attended by the two outside members of the Quality Assurance Committee and employees from the various departments. The two outside Committee members, who are very knowledgeable about how things are done at other companies, serve has instructors and guide discussions on the topic of product development that takes into account the point of view of the customer. Fourteen such sessions have been held to date (as of the end of May, 2013).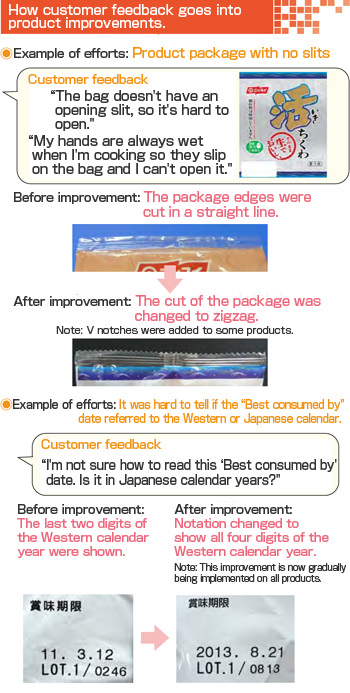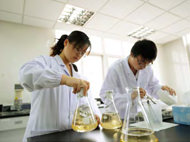 Inspections being performed at Qingdao Nissui Food Research and Development Co., Ltd.
We have also established standards designed to ensure the safety of the raw materials that go into the making of Nissui brand products. Under this system, only raw materials whose origins and provenance can be confirmed are used. Under this system, only raw materials whose origins and provenance can be confirmed are used. We receive a Nissui-designated "Raw Materials Compliance Guarantee Form" from suppliers and use that data to manage all information on materials. This enables us not only to ensure the traceability of raw materials, but also to provide proper responses to inquiries from customers concerning materials.
Another requirement is that the raw materials used in products made at overseas plants must meet Japanese standards. Before importing products, Nissui conducts inspections for pesticides, fertilizers, antibiotics, etc., and imports only those products that have passed these inspections.
Nissui takes painstaking steps to ensure that major production centers are managed properly. In Thailand, for example, Nissui (Thailand) Co.'s Quality Control Center is responsible for raw material and product safety checks, for training employees at local production plants, and for providing instruction on levels of quality control that comply with Japanese laws and Nissui's standards. In China, these functions are performed by Qingdao Nissui Food Research and Development Co., Ltd.
*Qingdao Nissui Food Research and Development Co., Ltd.
Established as the Quality Control Center China in 2003, it became a separate entity, the Qingdao Nissui Food Research and Development Co., Ltd. in April of 2008. Qingdao Nissui conducts safety inspections of raw materials and products for the Nissui Group in China. It also develops products to be produced in China.