Development at the Production Stage
Egg-free and Functional Food "O-sakana no Sausage" Fish Sausage

We succeeded in producing the egg-free surimi "O-sakana no Sausage" fish sausage, with added calcium, which has earned the product the functional food ("Tokuho") designation. It's a healthful, tasty product that everyone, including those sensitive to eggs, can enjoy.
In 1931, Nissui's predecessor company, Nippon Gyoryo. became the first to commercialize and market fish sausage.
Many customers later contacted us, asking for an egg-free version, so we created egg-free "O-sakana no Sausage."
We later changed the coloring agent from cochineal to plant-based colorings like tomato lycopene and gardenia buds.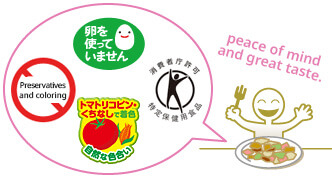 1. Using our very own technology, we improved the quality of the surimi raw material.
The main ingredients in "O-sakana no Sausage" are whitefish surimi and plant-based ingredients.
Surimi is made from the meat remaining after the fish head, innards, bones and skin have been removed.
The meat is then washed, soaked and ground to a fine paste. Nissui works with a local Group company in Alaska and partner companies elsewhere to obtain sufficient quantities of whitefish for making surimi.
This allows us to source the surimi we need consistently in both volume and quantity, regardless of the season or changes in conditions.
In the past, some of the surimi we produced contained eggs, in order to ensure consistent quality.
To keep the same great taste, we experimented for about a year by using a better grade of surimi or changing the product formula. We finally succeeded in developing our own technology to produce surimi of consistent quality without using eggs. We created egg-free "O-sakana no Sausage."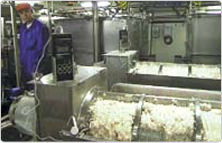 Surimi is processed without using eggs.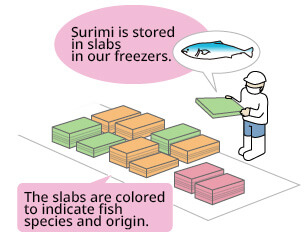 2. Production and Quality Control for Egg-free Production
Surimi production and testing
The production system for surimi, the main ingredient in "O-sakana no Sausage," is set up to ensure that no egg-derived substances (eggs and egg-derived substances) contaminate the production line. The surimi produced is tested to ensure that it contains no eggs.

Selection of secondary ingredients (seasonings, etc.)
Where seasonings and other secondary ingredients are concerned, we take all possible steps to ensure that those ingredients are egg-free too, sending our staff to ingredient manufacturers who use eggs to make sure that they have measures in place to avoid egg contamination of the ingredients.
Making "O-sakana no Sausage"
"O-sakana no Sausage" is made in production plants that use no egg-derived ingredients.
We also regularly analyze all principal and secondary ingredients for the presence of egg allergens (*2) to check that our products contain no egg-derived ingredients.
We have developed our own thoroughgoing quality control system to ensure that our egg-free products do not use any ingredients containing eggs and that no egg contamination occurs. We can say with confidence that our egg-free products use absolutely no eggs at all.
3. "Tokuho" Designation Obtained by Standardizing Ingredients and Making Quality Consistent
"O-sakana no Sausage" is a "Tokuho" product containing calcium that is permitted by Japan's Consumer Affairs Agency to be labeled as a food reducing health risks.
Each "O-sakana no Sausage" (weighing 75 g) contains half the daily requirement of calcium (350 mg) according to labeling standards for nutrient values.
"Tokuho" standards require that the nutrient, in this case calcium, exceed specified levels, so in order to launch products, we standardized its principal and secondary ingredients across our production plants to ensure consistent quality.
New Plant-derived Coloring Agents
We previously used animal-derived cochineal as a coloring agent for "O-sakana no Sausage," which we later changed to plant-based colorings like tomato lycopene and gardenia buds.
We were particular about the color of our product, and after extensive testing we decided to use natural coloring agents tomato lycopene and gardenia buds.
Lycopene, which has 100 times the anti-oxidant properties of vitamin E, is a pigment derived from tomatoes.
Gardenia buds, long used in Chinese medicine and as a coloring agent for foods and beverages, is a plant-based pigment.
Thanks to these two plant-derived pigments, our "O-sakana Sausage" is all new with natural coloring.

---
*1

"Tokuho" foods
"Tokuho," foods for specified health use, refers to food products on the market labeled as having a specific dietary use. The "Tokuho" designation requires a detailed review process as to the product's safety and efficacy and permission from the government to use the label. Only products approved as "Tokuho" may carry the "Tokuho" mark.

*2

Egg allergens
This refers to egg-derived proteins. There are over 40 different such proteins in egg whites alone.

*3

test-market the product
It refers to release a new product to see the market trend, when the new product is released.