Development at the Development Stage
"Okina Okina Yaki Onigiri" (Jumbo Rice Balls)

Nissui developed a new type of frozen food designed to thaw naturally at room temperature. It's as simple to use as selecting a portion in a cup and placing it in your lunch box.
Nissui was the first to market frozen grilled onigiri rice balls, in 1989.
In 1994, we changed the product name to "Okina Okina Yaki Onigiri."
This product has been successful for more than 30 years and has remained popular thanks to the incremental improvements we have made once or twice a year since product launch.
We've been very particular about the rice and the shoyu soy sauce we use in this product.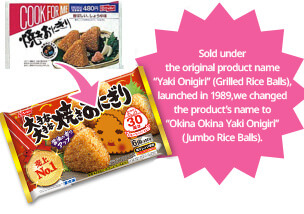 1. We use blended shoyu for fragrant aroma and mellow-bodied flavor.
To give our grilled rice balls a deeper flavor, we switched to a blend of tamari shoyu, which has strong umami, to a blend of tamari and deep-brewed shoyu, which offers superior aroma, color and flavor.
To further deepen the shoyu aroma and mellow-bodied flavor, we blended powdered dried shoyu, so that users can enjoy the fragrant aroma of shoyu from the moment they open the package.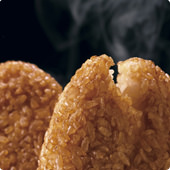 2. These rice balls are flavored right to the center--a distinctive Nissui touch.
To make sure the rice balls are fully flavored right to the center, they're double-brushed with shoyu before grilling.
This gives them an appetizing sheen and color and accentuates the shoyu aroma.
Grilling temperature is also carefully regulated to highlight the shoyu aroma. This care is thanks the technological expertise and knowhow that Nissui has gained from grilling fish and chikuwa.
3. We use a blend of rice for shape retention.
We researched the shape and the moisture content of rice balls and used this knowledge to develop the product, to ensure that the rice balls stay tasty and that both the rice grains and the rice balls retain their shape when microwaved.
Rice is the key to a tasty rice ball.
We use a blend of sticky Koshihikari rice and chewy Haenuki rice to give our rice balls a texture that's soft but not mushy, with the rice grains remaining fully distinct.