Acquisition of Capital in Seafarms Group Ltd.
2018/05/22
Nippon Suisan Kaisha, Ltd.(Nissui: President & CEO Akiyo Matono, Minato-ku, Tokyo) has announced that Nissui has entered into an agreement with Seafarms Group Ltd. (SFG) to acquire 14.99% of its outstanding issued share by the issue of new shares for A$25 million (approximately 2.1 billion yen).
SFG's existing prawn farming operations in the State of Queensland produces more than one-third of total domestic production of farmed prawn in Australia, where the required environmental standards create high barriers to entry. Nissui decided to proceed with its investment in SFG when it was satisfied that SFG's proposed new large-scale prawn farming project in Northern Territory of Australia, known as Project Sea Dragon, would obtain the necessary government approvals for the development. It is also of strategic significance for Nissui to secure a differentiated farmed prawn business base and products.
Project Sea Dragon Pty Ltd (PSD: a 100% subsidiary of SFG) plans to start the construction of Black Tiger prawn farming site in 2018 and bring the product to the market in 2021. At the first year of harvest PSD targets producing 10,000 tonnes of quality fresh prawns.
Through this equity participation, Nissui will market the black tiger prawn products from PSD exclusively in Japan, in the Australia and New Zealand markets, on top of potential global distribution through the Nissui Global Links network. Nissui Group will also distribute in Japan and Oceania region approximately 2,000 tons per annum of Black Tiger and other prawns sourced from SFG's existing Queensland prawn farming operations, including products from its complete farming cycle.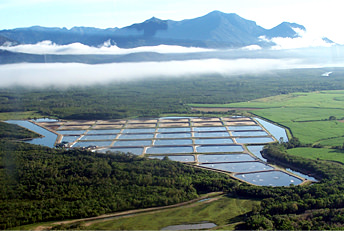 SFG's existing farming site, the State of Queensland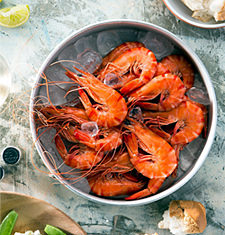 SFG's product, Black Tiger prawns
Despite a declining trend in the Japanese prawn market, expanding U.S.A.,Europe and China market supports substantial demand for farmed prawns due to its stable quality, quantity and price. Vannamei shrimp holds 80% of global farmed prawn market and once-dominant Black Tiger prawn holds 20%. However, the bigger-size, the vivid glossy color after being cooked, and the rich texture, which sustains demand for Black Tiger prawns, and has broadened the price differential with Vannamei shrimp in recent years.
Nissui pursues "Sophistication of Aquaculture Business" as one of the major themes in its Marine Products Business and has already started a feasibility study of on-shore farming of Vannamei shrimp for eating raw in Japan. It now invests in the development of farming businesses in the world consistent with its new mid-term plan "MVIP+2020", starting from 2018.
The investment in the SFG businesses will broaden its farmed shrimp product lineup and enable sustainable delivery for the long term.
Nissui will develop the prawn business to be a core business in the same way as its salmon/trout and white fish businesses.
Note: Summary of Seafarms Group Ltd
Headquarter

Perth, WA, Australia

Chairman

Mr. Ian Trahar

Business

Prawn farming etc.

Founded

June 1988

Equity capital

A$103.7 million (31stDec 2017)

Sales Revenue

A$35.7 million (FY2017)
Listed on ASX (Australian Securities Exchange)(ASX code: SFG)
End of Document