Innovating Aquaculture:
Technology Is the Future of Fisheries
Nissui: Consistently Delivering the Seas' Bounty to People Everywhere for Over 100 Years
High-tech Aquaculture for Higher Productivity, Labor Saving and Safety, Coupled with Sustainability
Joint Research in AI Technology for Managing Yellowtail Growth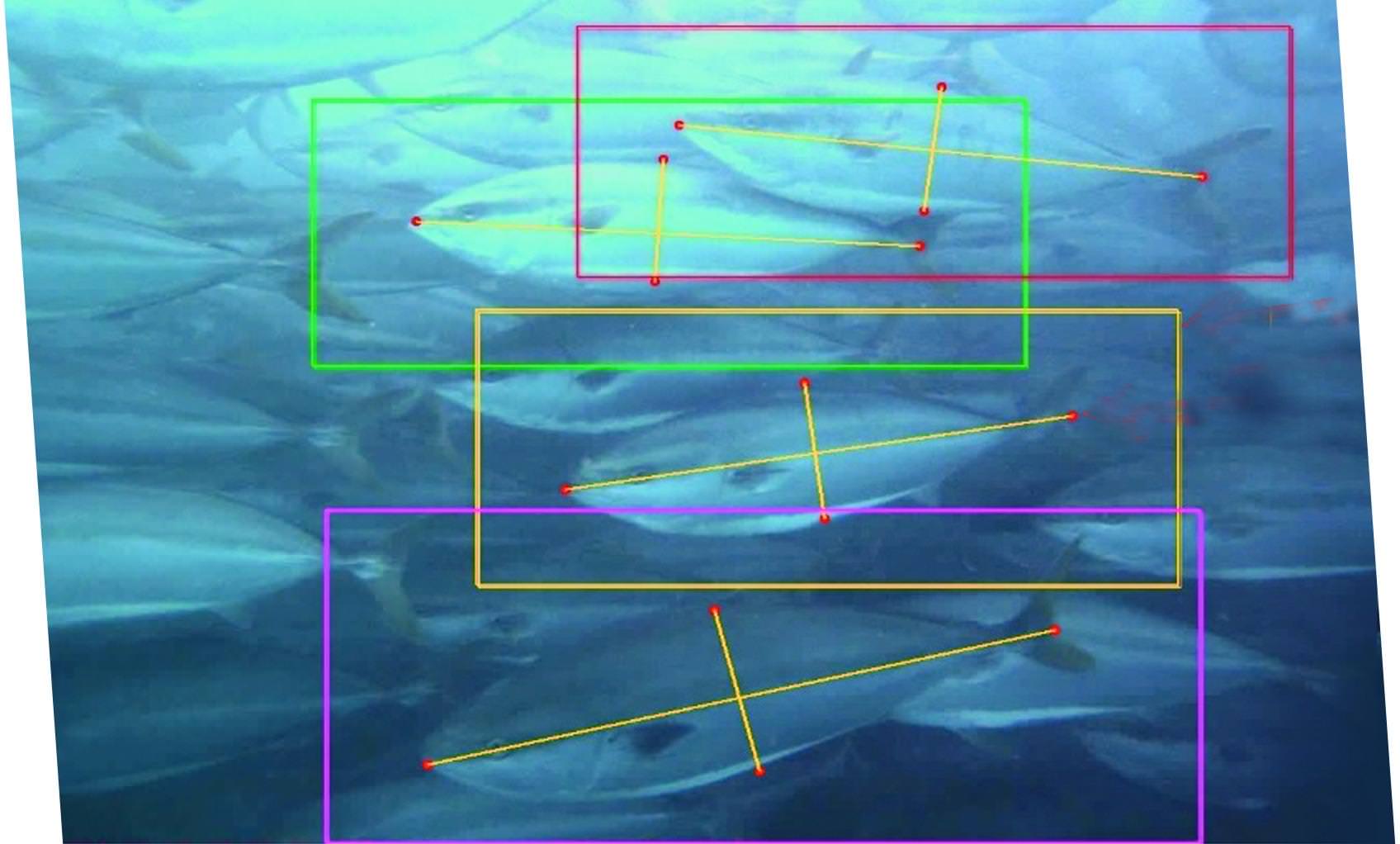 Working together with NEC Corporation, Nissan Group company Kurose Suisan Co. Ltd. has developed technology for monitoring yellowtail growth. An underwater camera takes pictures of fish in the cage. AI technology identifies the individual fish targeted for measurement and simultaneously measures various parts of the fish's body. Coupled with extensive data collected by Nissui over the years, this technology makes it possible to calculate fish weight.
In fish farming, it's important to have information about the feed amount used and fish growth rate so as to feed the fish with the optimum amount of feed. Until now, growth had been managed by sampling fish one by one and measuring their length and weight. With AI and IoT, it's now feasible to measure a greater number of fish much more quickly, with dramatically improved accuracy and no stress to the fish.
On-Demand Feeding
When fish are raised in sea pens, feeding timing and feed amount used greatly impact fish growth. Overfeeding is not just a waste of money but also contributes to pollution. To get around this problem, we developed and patented AqualingualR, an automated feeding system that allows farmed fish to feed on demand. This system is now being used for coho salmon brands such as Sakaiminato Salmon and Sado Salmon.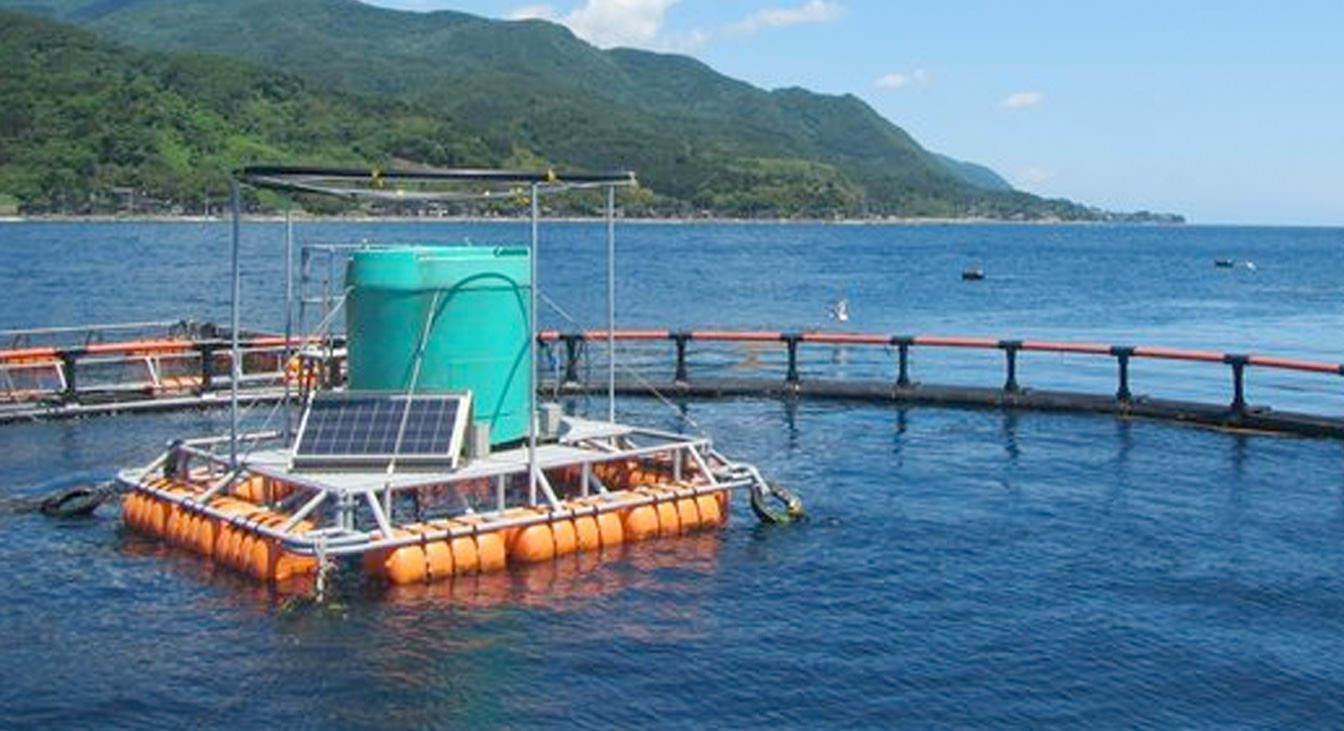 An automated feeder and feed sensor detect fish appetite and allow fish to feed on demand. Feeding time, feed amount, feeding interval and other operations can be controlled remotely.
Expanding Offshore Fish Farms
Yumigahama Suisan Co. Ltd., a Nissui Group company, is experimenting at its coho salmon farming operation together with Nippon Steel Engineering Co. Ltd. to develop a large offshore fish farming system. In general, fish farms are often located in bays or coastal areas, but to avoid interfering with local no large-scale fish farming operations are possible. Accordingly, Nissui is researching the possibility of creating large offshore fish farms.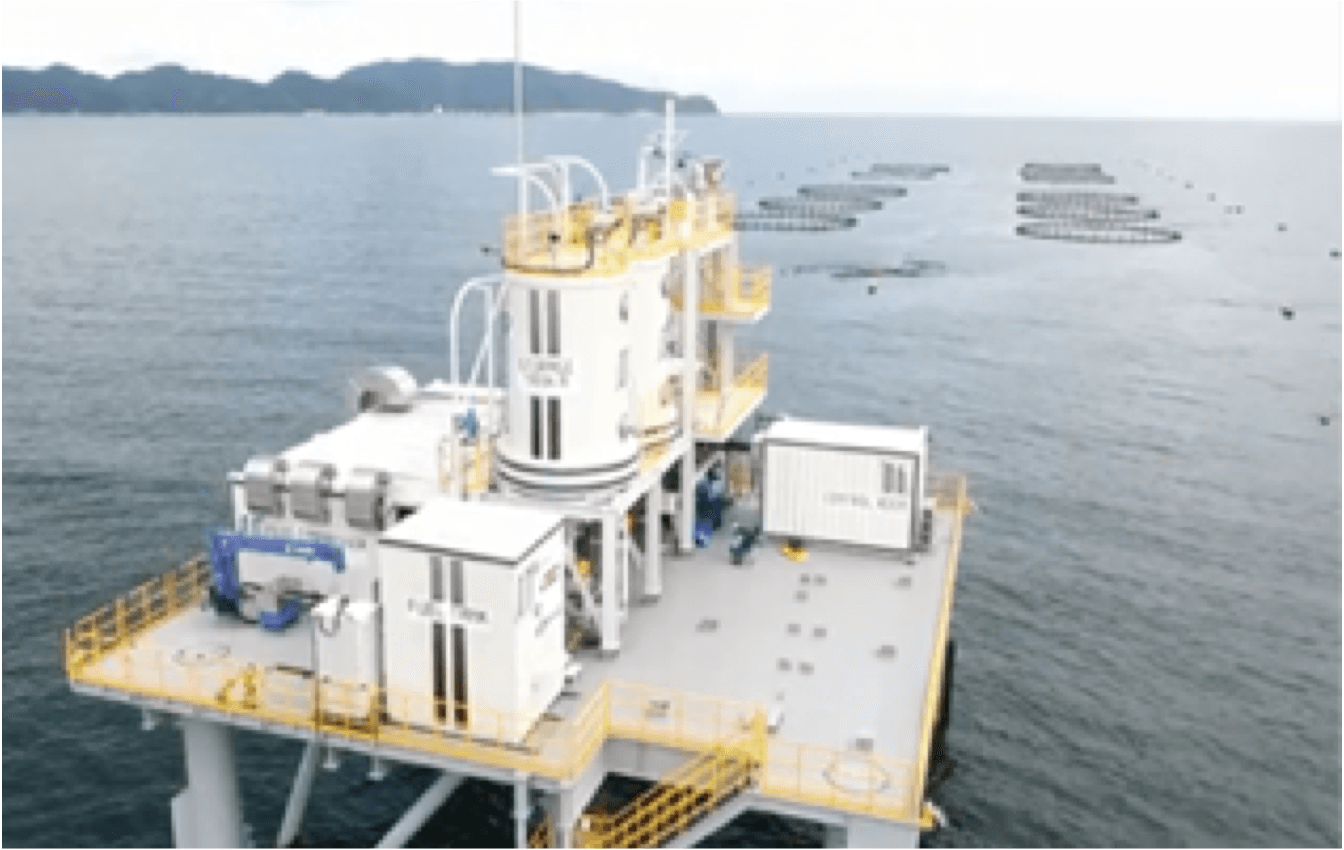 Mackerel Land-based Aquaculture in the Works
In 2019, we began jointly developing a large, land-based recirculating aquaculture system for chub mackerel, the first of its kind in Japan. Working with Yumigahama Suisan Co. Ltd., a Nissan Group company, and Hitachi Zosen Corporation, we aim to start commercial operation in 2023.
Land-based aquaculture is a system for raising fish on land. Undersea Underground seawater will be pumped and used, reducing the risk of disease or of parasites like anisakis. Dirty water will be treated inside the facility and recirculated, so this technology will reduce the operation's environmental footprint.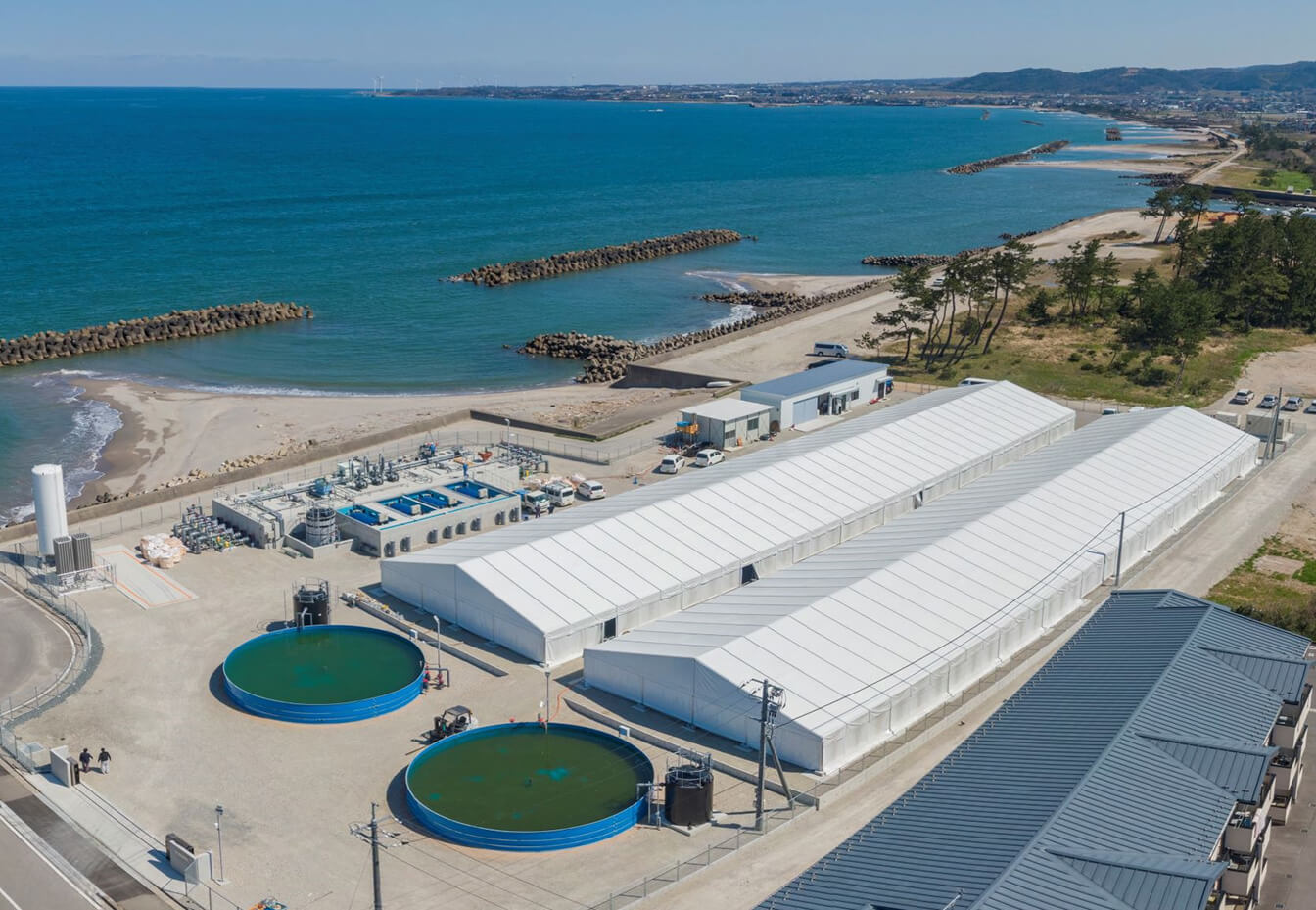 Formula Feed
Formula feed has come to play an important role in fish farming in recent years, since formula feed makes it easier to control nutritional input compared to raw feed and reduces the risk of polluting the facility. Nissui Group company Farm Choice Co., Ltd. produces formula feed. T-sage feed for bluefin tuna was formulated after researching bluefin tuna feeding behavior and the physical properties of the food preferred by bluefin tuna. We succeeded in developing a different feed format with high nutritional value, so the amount of feed used can be cut to one-third the amount of feed normally needed for growth, which also contributes to reducing the environmental burden.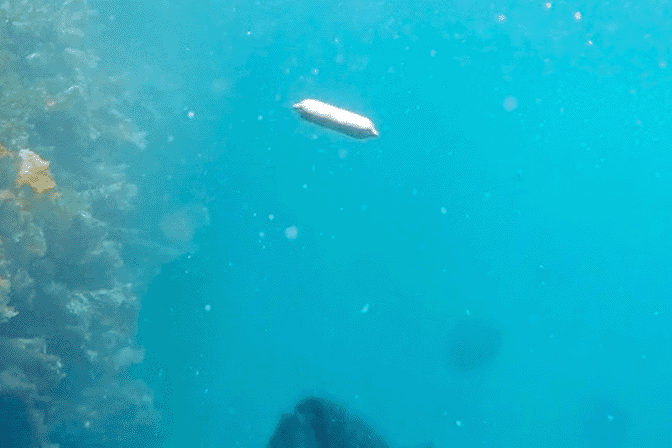 Entirely farmed Using No Natural Resources
Fish farming is playing an increasingly important role in helping achieve sustainable use of marine resources. Fish farming is promising because it can protect resources and because shipments can be timed [to meet market demand]. This can be said not only of fish farming where fry obtained in the wild are raised to harvest size but also of entirely farmed, where increasing the number of species that can be farmed using fry artificially get from brood stock that is also farmed from artificially spawned eggs . Nissui currently farms salmon trout, yellowtail, coho salmon, bluefin tuna, mackerel, shrimp, greater amberjack and other species. We have also been expanding our entirely farmed technology using no fry collected in the wild, to yellowtail, coho salmon and bluefin tuna. All processes for these aquafarming operations were developed through our own R&D, and we are continuing our research into ever more environmentally friend methods so that we can reliably supply safe, secure and tasty farmed fish to consumers everywhere.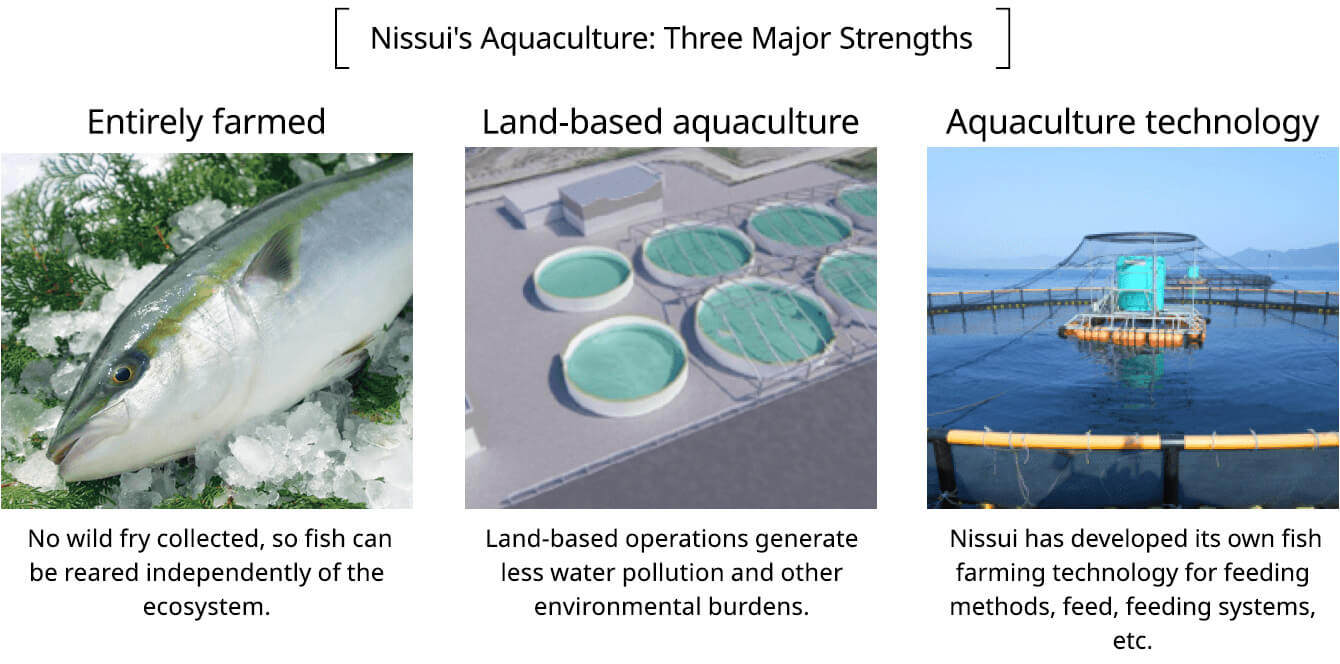 Recommended for those who read this article