Sports EPA
We will contribute to body-building that will allow runners to compete all the way to the finish line.
EPA contained in fish oils, by enhancing the flexibility of red blood cells and increasing oxygen-carrying capacity, has the effect of building a body that will not run out of steam until the very end. Focusing on these effects of EPA, Nissui is proposing SPORTS EPA based on the concept of Enjoy sports longer and more safely.
The effects of EPA that solves many of the problems faced in sports
Effects of improving endurance and relieving fatigue through the improvement of blood flow
Effects of relieving joint and muscle pain through anti-inflammatory effects
Effects of reducing body fat and preventing obesity through improvement of fat metabolism
EPA' s body-improvement effects that are also useful for sports.
Nissui has examined the effects of EPA on training with the cooperation of the long-distance relay team of Juntendo University. The results indicated that in 10,000 km races, runners who took EPA continuously for four months shortened their time by 51 seconds. This and various other research has revealed numerous body-improvement effects of EPA that contribute to athletic performance.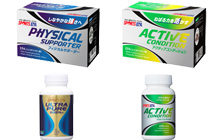 We provide information through exhibits and on the website. We intend to pursue further possibilities of EPA.
In order to popularize the use of EPA in sports, Nissui has co-sponsored such sports events as the Japan Masters Swimming Championships and SPORTEC 2013, and has proposed the use of EPA at free seminars.
Nissui has also established the SPORTS EPA Special Site and provides information including ways of building up strength in order to enjoy sports in the long-term. The Nissui Group is taking on the challenge
and making proposals that will contribute to health through the utilization of EPA and DHA.