Oita Marine Biological Technology Center
The Oita Marine Biological Technology Center is an R&D institution set up in 1994 to promote the aquaculture business both in Japan and abroad. The Center specializes in aquaculture R&D for sustainability of marine resources, handling a broad range of issues ranging from cutting-edge basic research to cutting edge R&D to apply at the business level.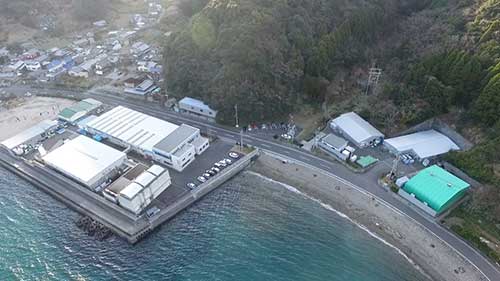 Oita Marine Biological Technology Center
Maturity Control
Using basic knowledge of reproductive physiology, the Oita Center works on technology to artificially control maturity of farmed fish so that fertilized eggs can be extracted systematically. For example, the yellowtail around the Center usually spawn from spring to early summer, but using the maturity control technology we have developed allows us to collect eggs throughout the year. [Due to the fixed spawning period], fish farming can usually start only at a specific time of year, which necessarily limits the optimum period for getting products to market. But our technology allows us to farm fish year-round, so we can harvest yellowtail of consistent quality throughout the year. More sophisticated technology for controlling sexual maturity also makes it possible to obtain quality fertilized eggs from selected individuals, which helps us rear the fish and produce fingerlings systematically. We are developing this technology to use with yellowtail, bluefin tuna, mackerel and greater amberjack to assist our fingerling production and breeding research.
Fingerling Production
The Oita Center conducts R&D on artificial production of fingerlings to lessen dependence on natural resources for obtaining seedlings for aquaculture and to ensure sustainable use of marine resources. This research is being carried out on yellowtail, bluefin tuna, mackerel tuna and other fish, and also on other forms of marine life like shrimp and common octopus.
Initially, we had difficulty producing yellowtail fingerlings, due to malformations which impeded growth. After much trial and error, in 2008 we arrived at technology that made it possible to mass-produce quality artificial seedlings on a consistent basis. By combining maturity control with breeding, we achieved year-round production of quick-growing artificial seedlings. This is the technology behind Kurose Yellowtail, including "Young Kurose Yellowtail," which is in season in early summer.
Until now, production of bluefin tuna had required large amounts of striped beakfish, red sea bream, Japanese whiting, Lethrinus nebulosus and other larval fish to feed fingerlings. In 2014, the Center became the first in the world to develop a seedling production method using mainly larval fish-free formula feed, which made it possible to produce over 100,000 artificial fingerlings. We also used this technology for mackerel tuna, which, like bluefin tuna, are highly dependent on larval fish for feed, and successfully mass-produced artificial seedlings without using any larval fish for feed.
In the case of vannamei shrimp, we pursued R&D to enable sustained, large-scale production of larvae of consistent quality from SPF (Specific Pathogen Free) brood stock. This technology has made it possible to produce and ship farmed shrimp year-round.
Producing common octopus larvae is difficult and no farming of this animal is being done as an industry now. In 2016, we succeeded in producing brood stock octopus of F1 generation from larvae and the next year, in 2017, we were able to produce larvae from artificial octopus. We have successfully established full life cycle farming for the common octopus, so the day is not far off when commercial farming of octopus will become a reality.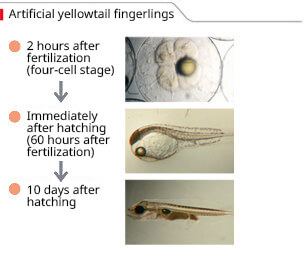 Breeding
Breeding research aims to improve farmed fish itself in order to provide high-quality farmed products. For example, since 2010 the Center has been carrying out a breeding project using artificial yellowtail fingerlings. Taking a hint from wagyu breeding, we conducted DNA analysis of the yellowtail brood stock to establish bloodlines. Based on that information, we accumulated data on around 10,000 fish, which we used to select brood stock with superior strains and prevent inbreeding. Most farmed fish breeding in Japan relies on experience, but our yellowtail breeding project is based on theoretical statistical genetics, in which all brood stock is evaluated according to common standards (breeding value*). This project has achieved outstanding results in the past few years, which has made it possible to ship full life cycle farmed yellowtail of sufficiently large size and good meat quality. This full life cycle farmed yellowtail is produced by the Kurose Suisan company and has become known on the market as "Young Kurose yellowtail." In the future, we will use genome information to introduce genomic breeding which does not use genetic modification technology, and breeding to further improve quality, in order to produce farmed fish that consumers enjoy. We are also researching breeding species other than farmed yellowtail, and we hope to succeed in producing farmed fish of the same high quality as our farmed yellowtail.
*Breeding value is a value representing the estimated genetic capabilities of individuals, correcting for the rearing environment and taking into account the performance of related individuals (parents, siblings). This value helps select brood stock with truly superior traits not influenced by the rearing environment.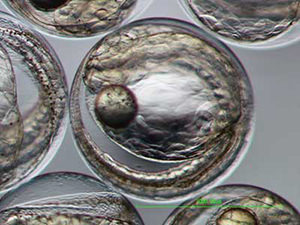 Fertilized yellowtail egg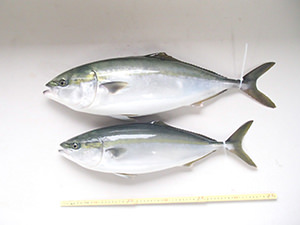 Full life cycle farmed yellowtail (top, 4.2 kg) and farmed yellowtail raised from wild yellowtail fingerlings (bottom: 2.6 kg)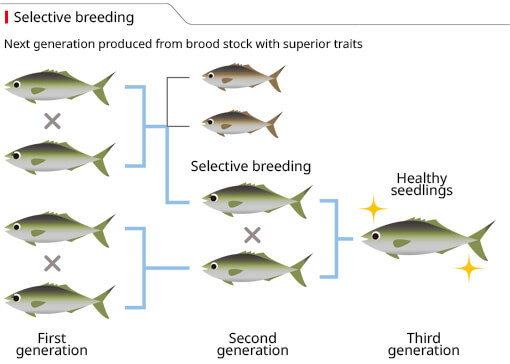 Health Management
The Center also contributes to Nissui's fish farming business by researching measures against fish diseases, which can destabilize aquaculture production. For example, fish farming has to contend with a fish disease called skin fluke, caused by Benedinia seriolae, a parasite that lives on fish skin. Working together with a maker of veterinary drugs, we developed and commercialized a method of using a diluted solution of hydrogen peroxide to eliminate skin fluke. The Nissui Group has also developed N-AHMSR (Nissui Aquaculture Health Management System) to monitor farmed fish health. Under N-AHMSR, Nissui has instituted an in-house certification system for Grade A inspectors and trainers who check the health of farmed fish at fish farming companies, to improve the precision and reliability of farmed fish health checks and standardize inspection quality.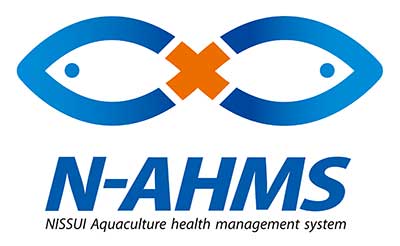 Land-based Aquaculture
Land-based aquaculture is a system for farming fish, etc. in large tanks erected on land. Land-based aquaculture makes it possible to produce farmed fish stably, intensively and without drugs. It is also a superior technology that reduces the burden on the environment.
The Center is currently working on establishing land-based aquaculture technology using the Biofloc farming method for vannamei shrimp, for which SPF (Specific Pathogen Free) brood stock is available. In the Biofloc method, which does not use filtration equipment, managing the floc (aggregates of microorganisms) that forms inside the closed fish tank system is crucial. Maintaining the aerobic environment and properly managing floc helps clean the water. This significantly reduces shrimp farming's environmental footprint compared to the usual methods and can also mitigate the risk of introducing disease pathogens from outside. We are continuing R&D to develop this method of raising safe, high-quality shrimp for the market in an environmentally-friendly manner.
Land-based farming of vannamei shrimp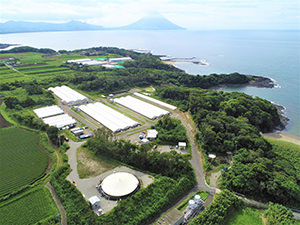 Aerial photo of the Ei district