Introducing the Research and the Development Divisions
To strengthen our research and development capabilities, we opened the Tokyo Innovation Center in Hachioji, Tokyo in 2011.
The Center consolidates our R&D and product development divisions, which had previously been located in separate facilities. The Center is a base for enhancing our value creation capabilities, concentrating R&D capabilities and encouraging cooperation across divisions; developing human resources for technology occupations; and pursuing scientific research into food safety.
To ensure food safety and promote research, the Center is equipped with cutting-edge analytical equipment and staffed by technological experts.
The building is designed to encourage communication with customers and incorporates many energy-saving and environment-friendly features.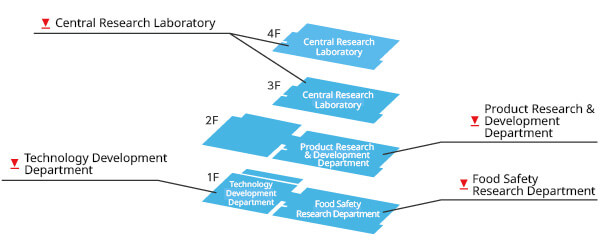 Central Research Laboratory
Since its founding in 1920, the Central Research Laboratory has focused on the importance of quality, cost, R&D and marketing, which together are one of the Nissui Group's five basic management policies, and to ensure that this policy is carried over into the future.
The Central Research Laboratory, at the heart of the Nissui Group's R&D functions, conducts research on a global scale.
The Central Research Laboratory works to rapidly introduce research results on production sites and complete the development of Nissui's own systems. Its mission is to perfect technologies for making full use of finite marine resources, and its three fields of research are marine foods, aquaculture and health.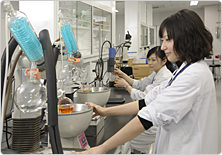 Product Research and Development Department
The Product Research & Development Department is primarily responsible for new product development of processed foods, including frozen prepared foods and shelf-stable foods, to create new lifestyles and bring smiles to customers' faces.
The Department is dedicated to creating new products with value by planning new products, ensuring the safety of the ingredients and continuously seeking out new materials and new technologies. To fulfill this ambition, the Department actively researches product formulation and production technologies and functionality to provide customers with the optimum taste and functions of marine, farm and livestock ingredients.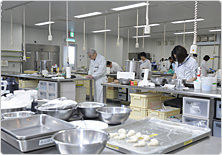 Food Safety Research Department
The Food Safety Research Department was established as a separate entity from the Central Research Laboratory in October 2002.
This department tests food safety, to give customers peace of mind. It conducts a wide range of food safety analyses, including analyzing residual pesticides and heavy metals, residual veterinary drugs, organisms that cause food poisoning and allergens. The department, linked with quality control centers in China and Thailand, is also part of a global inspection network.
To enhance the reliability of plant inspection departments in Japan and overseas, the department plays a leading role in Group activities in connection with Nissui's own Excellent Laboratory system.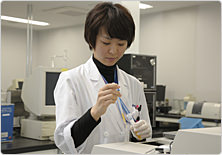 Technology Development Department
The Technology Development Department, set up in 1996, has a Production Equipment Section at the head office and a Technology Development Section at the Tokyo Innovation Center.
The cornerstone of Nissui's and the Nissui Group's technology division, this department is responsible for enhancing and improving production function productivity and pursuing original ideas for developing new technologies. Its work is to enhance production functions and contribute to business earnings.
This department oversees every aspect of the Foods, Marine Products and Fine Chemicals businesses in Japan and around the world. It is also responsible for passing on Nissui's technology through technology education, improving inspections at production plants and maximizing the potential of Nissui and Nissui Group production capabilities.