Food Research
Our Own Technology for Preserving aroma of a freshly-made dish
To deliver the best taste experience to consumers, our research focused on aroma. Aroma is important for enhancing the tastiness of freshly-made dish, as a survey of our customers showed. They told us that "aroma" and "fragrant scent" came next after "taste" in importance for a product like our "Yaki Onigiri" (grilled rice balls). (Figure 1)
Aroma dissipates quickly once food has been prepared, since it contains many volatile components that change after a while, so it is difficult to control.
We wanted to preserve the freshly-made aroma, so we conducted research to get an idea of the aroma characteristics of different foods and identify aroma components (Figure 2). Next, we developed our own technology to help foods retain specific aroma components and prevent aroma loss.
Foods lose moisture and aroma components evaporate along with the moisture. Possible causes of aroma loss include heating and freezing during manufacturing, and temperature changes during distribution and storage. Many aroma components being oil-soluble, we thought that using oil might offset aroma loss since oil can stop aroma components from evaporating. We selected the right oil to stir and mix with aroma components and dissolve them into the oil and succeeded in creating foods that retain their freshly-made aroma. (Patent no. 6490289)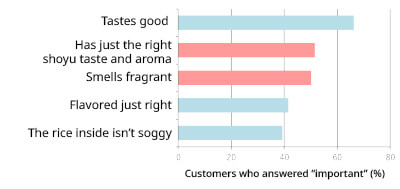 Figure 1. Survey of 1,000 People about Attributes They Consider Important when Eating "Yaki Onigiri"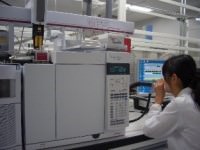 Figure 2. Identifying Aroma Components
(Sniffing Gas Chromatograph)
Aroma Research Results and Applying Them Using Nissui's Technology: Highlighting Umami and Boosting Aroma
We use the technology we developed for reproducing aroma via our manufacturing technology for highlighting umami and boosting aroma in our frozen foods (Figure 3). This technology helps keep our foods tasty by prolonging the freshly-cooked aroma that's so important for "Yaki Onigiri" right out of the microwave and for keeping our "Wakadori no Tatsuta-age" deep fried chicken smelling like it's just been cooked (Figure 4). These products, packed into a box lunch in the morning, will still deliver great freshly-made aroma at lunchtime.

Figure 3. Products that Use Our Aroma Technology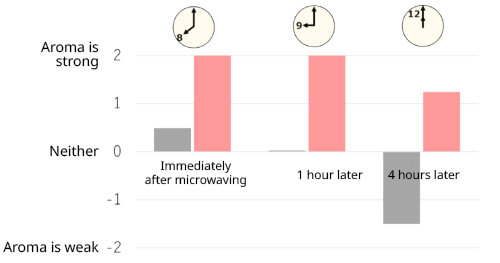 Figure 4. Time Elapsed after Microwaving and Aroma Strength
(Gray: does not use the technology; pink: uses the technology)