Overview of Each Business
The Five Businesses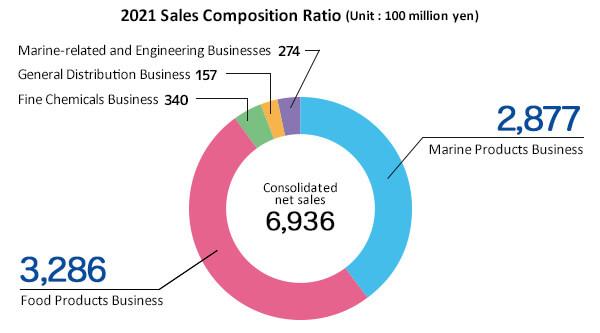 Marine Products Business
Sales volume for salmon/trout More than 40,000 tons
Salmon and trout account for approximately 29% of Nissui's Marine Products Business sales. With access to both wild and cultivated resources, figures for the year ended March 31, 2020 will be over 40,000 tons in volume and 40 billion yen in sales.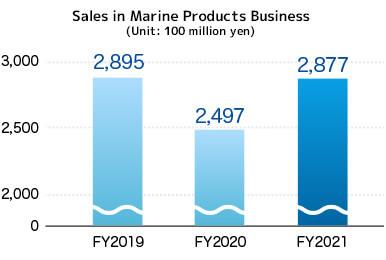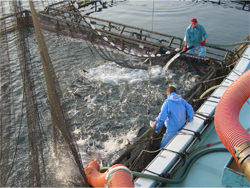 Food Products Business
More than 100 million Yaki Onigiri (grilled rice balls) sold
More delicious, more convenient. Nissui will continue to create diverse value for consumers.
In 1989, Nissui launched Yaki Onigiri (grilled rice balls), frozen prepared foods for household use, an industry first. Annual sales of "Okina Okina Yaki Onigiri" (Jumbo Rice Balls), which is currently being sold, exceeded 100 million in FY2012.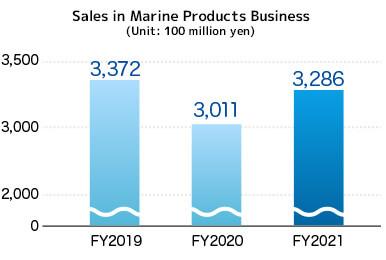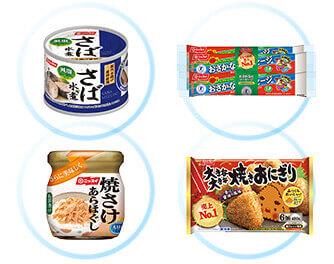 Fine Chemicals Business
Aiming to be the world's leading manufacturer of active ingredient EPA for pharmaceuticals
With a focus on research and development of EPA (eicosapentaenoic acid), which is mainly contained in sardines and mackerel and helps to reduce lipid levels in the blood and prevent arteriosclerosis, we are working to advance its application in pharmaceutical raw ingredients and health foods.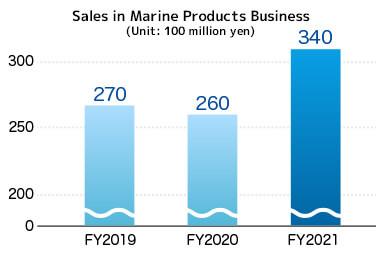 General Distribution Business
The General Distribution Business integrated the functions of Nissui's refrigerating business which supported the Marine/Food Products Businesses and a group company in 2007 to make Nissui Logistics Corporation, and it operates a distribution network comprised of 27 refrigerated warehouses throughout Japan.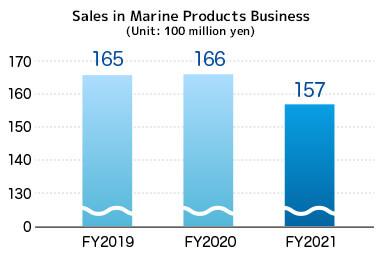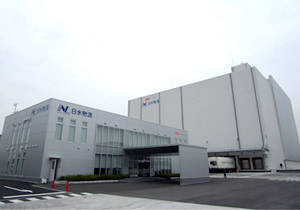 Marine-related and Engineering Businesses
The Marine-related Business is engaged in the building and repairing of ships, and commissioned management and operation of marine survey and deep-sea research vessels and vehicles by utilizing its human resources and marine-related technologies acquired over the years.
The Engineering Business is engaged in the planning, design and production of plants and machinery in the food processing-related segment, and the planning, design and construction of marine products processing and food plants and cold storage/logistic facilities.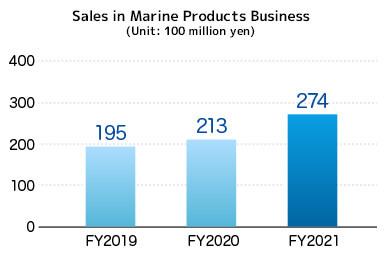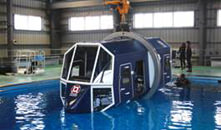 (Note) From the first quarter of the consolidated fiscal year 2019 under review, part of the consolidated subsidiary's segmentation was separated into the Food Products Business and the Marine Products Business which used to be divided into the Food Products Business only along with the review of organization change. Net Sales and operating profit by the segment for FY2018 and FY2019 under review was created according to the revised segmentation.