Global Supply Chain

NISSUI's integrated business process for supplying marine products to the customer
NISSUI's Global Supply Chain has been supported by the progress of its integrated business process. "Integrated business process" means the "management system" that considers the entire process from resources to commodities as a single business stream, thus maximizing the value of marine resources beyond the barriers of each stage of the process. The combination of improved technology and True Global Links, which efficiently link the world's marine resources to the global market, have made it possible to supply commodities having customer-oriented value and led to the development of an integrated business process (i.e., the Global Supply Chain). At present, NISSUI is placing great emphasis on creating new value based on marine resources. We are pursuing integrated management beyond the barrier of each business category and attempting to further improve the Global Supply Chain.
Integrated Fishery Business
In the integrated white-meat fish fishery business, one of NISSUI's core businesses, we access marine resources in waters throughout the world in cooperation with our Group companies and partners, processes these resources into various products, and then delivers the products to markets worldwide. By always considering how to get the maximum value from each fish, we attempt to maintain harmony between the customer expectations and each of our business bases (producers).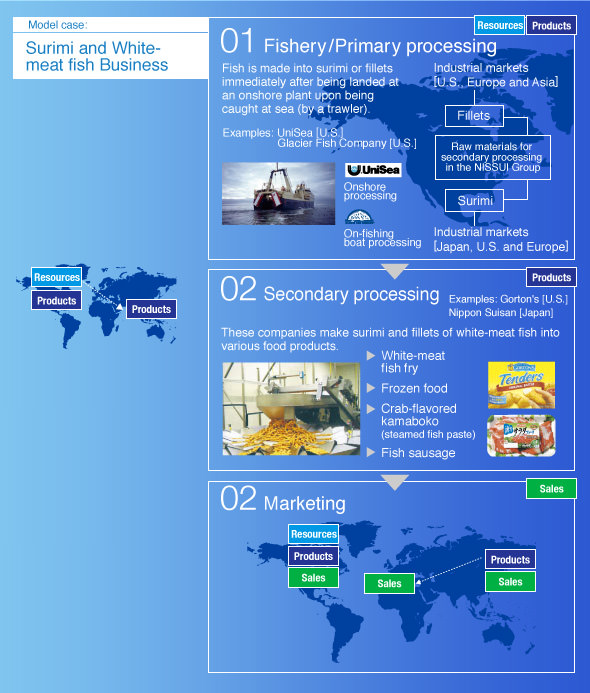 Integrated Aquaculture Business
[ Salmon, trout, yellowtail, shrimp, and bluefin tuna ]

The integrated management of aquaculture is intended to utilize NISSUI's original and highly reliable expertise regarding the entire process ranging from the development and breeding of parent fish to egg collection, hatching, smolt raising, feed preparation, adult fish farming, and processing. Because we also develop and produce our own feed, we can manage the history of both raw materials and finished products, and meet the needs for traceability (of the history of food production). NISSUI thus supplies the tables of customers with safe, secure, and healthy value.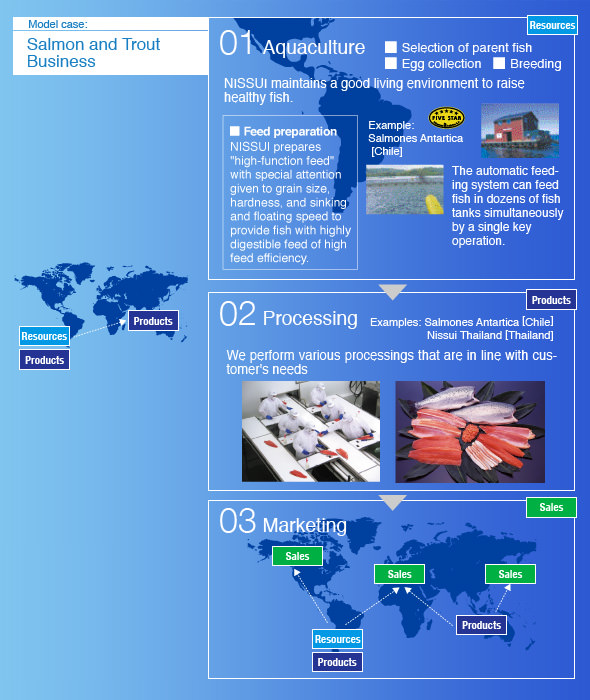 Fine Chemical Business
Nissui's production business supplies the customer not only with Food Products but also with new value for marine resources. The main activity in this business category is the production of Fine Chemicals (i.e., pharmaceuticals and functional materials made from active ingredients extracted or refined from marine resources based on the results of diversified R& D efforts). This business has helped to establish a new Global Supply Chain through a unique, integrated system of management that extends beyond the barriers of individual business segments.