Headquartered in Kagoshima Prefecture, Nakatani Suisan Co., Ltd. engages in Bluefin Tuna aquaculture as a Nissui Group company. Nakatani Suisan purchases young fish caught in July and August from fisherman operating in the Pacific Ocean off the Shikoku and in the Sea of Japan off the Oki Islands. These young fish are then given feed in taming fish cages set in Shikoku and Oki for about two months until they weigh about 500g to 1kg; they are then transported to farming fish cages set in each region in live fish vessels.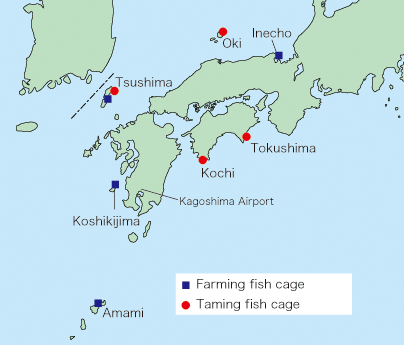 The farming fish cages are set in Amami, Kagoshima Prefecture; Koshikijima, Satsumasendai City, Kagoshima Prefecture; and Tsushima, Nagasaki Prefecture. The main cages are those in Amami and Koshikijima. In particular, Amami is a mecca for Bluefin Tuna aquaculture, where many companies including Nakatani Suisan set fish cages; it is also where half of the Bluefin Tuna produced through aquaculture in Japan is harvested. In Koshikijima, Nakatani Suisan is the exclusive operator of the Bluefin Tuna aquaculture business under a highly trusting relationship with the fishermen's cooperative. The company can also enjoy the advantage that young fish of Bluefin Tuna can be caught in the surrounding sea.
Flow of Supply Chain of Nissui's Aquacultured Bluefin Tuna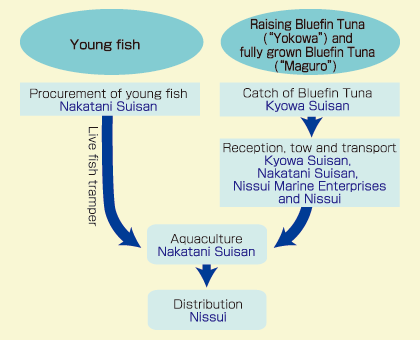 Mackerel are main feed
Two varieties of fish cages are used, of which most measure 45 m x 70 m, with some 30 m x 30 m. Mackerel are used as main feed, and while for most of the cages the feed is given by hand, for some, feeding machines are used. The fish are farmed for 2 to 3 years until they weigh about 50kg. Various monitoring systems are adopted in these fish cages, including daily measurement of water temperature and dissolved oxygen concentration to determine the amounts of feed and to control farming conditions.
Grown Bluefin Tuna are caught from the fish cages one at a time; then, their blood, gills and guts are removed at sea in just 1 to 2 minutes, which ensures the constant freshness of fish. After the Bluefin Tuna are transported in an ice water tank to a harbor processing plant, basic data such as length and weight is taken. Upon inspection, the raw fish are immediately put into ice-filled boxes and transported to Kagoshima Airport and flown to various cities across Japan. Traceability is ensured by recording the production and transportation history for each fish.
After purchasing the whole amount of safe, great-tasting Bluefin Tuna from Nakatani Suisan, Nissui distributes one half of the total amount to the market through wholesalers, while it processes the remaining half in Narita for shipment to mass merchandisers. In this way, Bluefin Tuna that were farmed for over 2 to 3 years are placed to tables at restaurants and at home in merely 3 days.