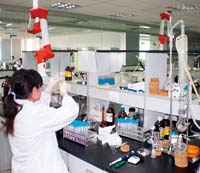 formerly the Quality Control Center China
Towards the end of every year in Japan, the Japan Kanji Proficiency Testing Association (Nihon Kanji Nouryoku Kentei Kyoukai) selects one Chinese character, a "Kanji of the Year", that captures the spirit of that year. In December 2007, the Association chose the character "

" ("gi" "itsuwari" "nise"), meaning "fake", "false", or "falsehood". The chief reason this character was chosen was that a seemingly endless stream of cases of food-related deception came to light in Japan, including multiple incidents of the falsification of production areas for meat and vegetables, producers lying about ingredients used in their processed foods, a major confectionary company using phony expiration dates, and a well-known, well-established, high-end restaurant chain reusing and serving leftover food.
The year 2007 was one in which much consumer trust in food and food producers was lost. Then, in January of 2008, at the beginning of the new year, as if to add insult to injury, there were serious cases of food poisoning from imported frozen meat dumplings made by Tianyang Food in China. An investigation revealed the presence of methamidophos and dichlorvos, which are used as pesticides, from the dumplings. In Chiba and Hyogo, three families, a total of 10 people, exhibited symptoms of food poisoning after ingesting the dumplings, and one child's condition became critical. The incident was treated sensationally in the media. It sent shockwaves throughout the country and created a sense of threat towards the safety of food in Japan. The market for domestic frozen foods was likewise devastated. The effect on sales of food products made in China as well as products in the Chinese food category in general was particularly damaging. The industry was faced with a serious crisis, in which merely having the words "made in China" on a package meant that orders for that product ceased. Sales of commercial frozen food products for February and March took a plunge of 30% on average.
However, as a practical matter, the Japanese food industry cannot survive without China. The most urgent matter is restoring trust in products made in China, instead of trying to eliminate them. In part due to this incident, Nissui has instituted re-inspections of quality control measures within China. In addition, in May of 2008, we held a meeting of managers of Chinese factories, and together with the managers of partner companies, reaffirmed that safety is an issue of the utmost priority. We also invited members of the media to our Chinese factories so they could observe the safety measures we have in place.